Watsonville High's girls volleyball team is off and running to another hot start following back-to-back league wins against Soledad and Alvarez high schools.
The Wildcatz improved to 2-0 in Pacific Coast Athletic League Mission Division play and currently own a 5-0 overall record.
"We just have that bond and then we just bring it on to the court," said Daisy Cornejo, a junior outside hitter and team captain. "We use all the different skills that we have and we just put it together as a team."
In 2022, Watsonville also had a 5-0 record to begin the season and won its league opener against Monterey.
However, they finished with a 17-11 record overall and tied for fourth place with Stevenson School in the PCAL Mission Division with a 6-6 record in league play.
Apart from missing the Central Coast Section playoffs, they also lost a chunk of seniors due graduation including Kaylani Trout-Lacy who played a key role in the front row as a middle.
Cornejo along with fellow team captains junior Leslie Ceja and senior Valeria Garcia are taking charge of a group aiming to make noise in the Mission.
"I feel like there's not a lot different, we just lost some amazing seniors from last year," Cornejo said. "We do have some pretty good seniors [this year] and they've been putting in so much work lately. They've been doing great."
The trio of 'Catz will work together as one, yet all three have different personalities, which head coach Crystal Cornejo-Perez said is a good balance for the team.
Cornejo-Perez's younger sister, Daisy, is usually the upbeat teammate leading the way with cheers, while Ceja lays down the law and is a bit more organized when it comes to team management.
Garcia is a little on the quieter side but she's a seasoned veteran who gives wise feedback to her teammates.
"I feel like last year they were kind of the babies of the team and were overseen," Cornejo-Perez said. "This year, they're kind of more of the leaders on the court."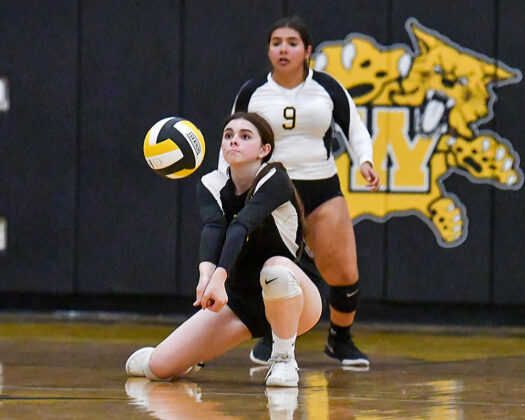 Cornejo-Perez expects her team captains to command their teammates in a positive way and guide the younger inexperienced players to fit into the system.
"I know years in the past sometimes our captains have gotten a little toxic but I want to change that this year, especially because I think the program is better when everybody works as one," she said.
Other up-and-coming returning players include senior opposite Destiny Montes along with juniors Leslie Renteria and Danika Hernandez, who had a big night in their five-set non-league win over North Salinas on Sept. 5.
"I'd say our hitting is one of our best things, but communication is one of the things where we need to work on a lot," Hernandez said. "Off the court we have our chemistry, on the court it's not as good."
Cornejo-Perez is proud of the team's success, there's no doubt about it.
However, she still wants to see more out of the bench players by picking up the energy and getting louder on the sideline, especially in crunch time situations.
The 'Catz had trouble closing out their match against the Vikings after winning the first two sets.
Watsonville was ultimately victorious but it's those moments that Cornejo-Perez is somewhat concerned about.
"I think it's their mentality, sometimes they just shut down," she said. "Because the skills are there, but it's kind of just them having the mindset of winning right away. Once I feel like my team makes a few mistakes, they mentally shut down for a while, and it's kind of hard to snap them out."
Watsonville will compete again in the Mission Division alongside returning competitors Stevenson and Monterey High.
The division also features newcomers Alisal and Alvarez—relegated from the Gabilan Division—along with Soledad and league champion Gonzales, which were bumped up from the Cypress Division.
Cornejo-Perez said she's hoping they could take advantage of the new realignment since they competed in the Mission Division in 2022.
The 'Catz will continue league play against Alisal High in Watsonville on Sept. 19 at 6:30pm.
Like most teams, Watsonville set goals in the beginning of the season including a run at the league title and a possible trip to the Central Coast Section playoffs.
"It's time to step up with the big dogs and do our league, and see if we can reach that goal because I know some girls really do want to go to CCS this year," Cornejo-Perez said. "So, we're aiming for that and I'm just hoping for the best."
Gabilan Division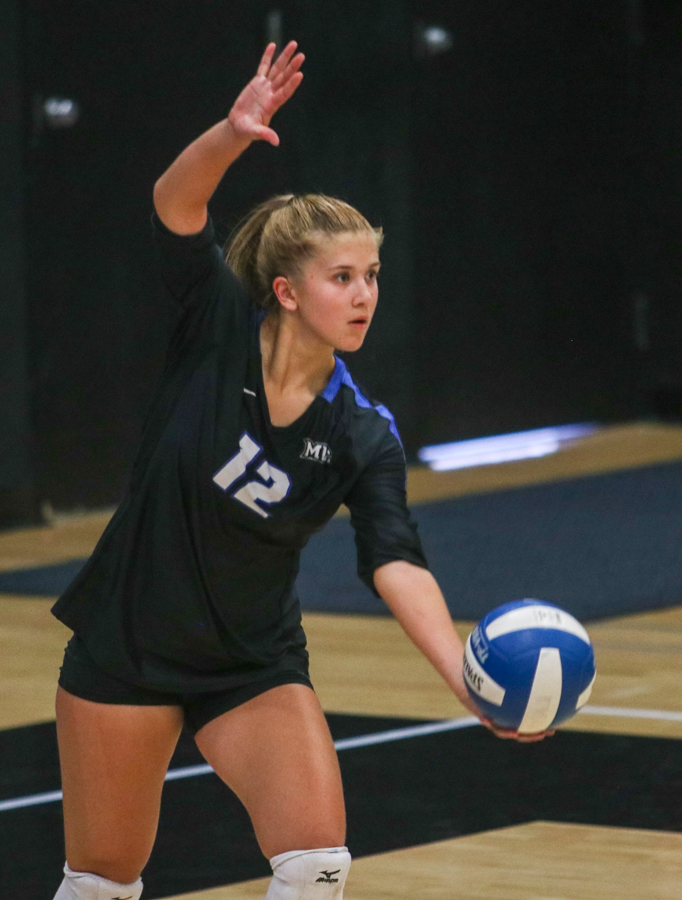 Monte Vista Christian was promoted to the PCAL Gabilan Division following a title run in the Mission Division in 2022.
However, they did lose six seniors from last year's group including all-leaguer Isabella Madrigal as she was an integral part of the Mustangs' championship run, going 10-2 in league play.
Lucky for them, MVC has junior Elizabeth McCuistion and senior Avery Coleman returning this season in hopes of competing for another league title banner.
The Mustangs along with fellow newcomers King City and Pacific Grove will face some of the best teams in the Gabilan Division—considered the top tier of the four divisions within the league.
Others include Carmel, Hollister, Notre Dame of Salinas, Santa Catalina and defending champion Salinas, which finished with an unblemished 12-0 record in league play.
The Mustangs (7-2, 1-1) are off to an excellent start after winning their league opener against King City in four sets (25-19, 25-16, 15-25, 25-10) on Sept. 12.
Next up, MVC will play at Pacific Grove on Sept. 18 at 6pm.
Santa Lucia Division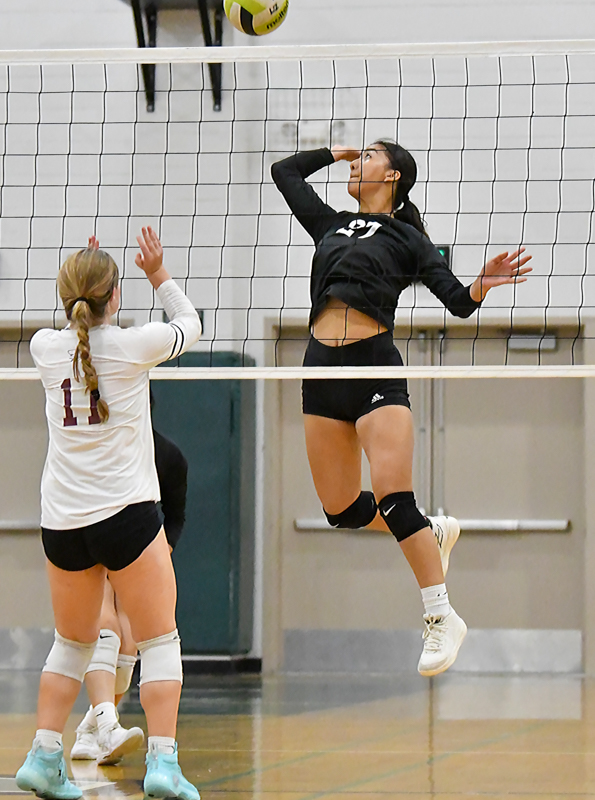 Pajaro Valley High senior Kalia Maravilla is in the process of helping rebuild the Grizzlies' program after an 0-13 campaign in 2022.
Maravilla is accompanied by fellow teammates seniors Jasmine Luengas, Katie Ortega and Giselle Quintero, who are looking to make an impact this season.
Pajaro Valley (1-3, 0-1) is off to another rocky start after dropping the league opener in three sets to Marina High.
The Grizzlies will try to get back on track in Friday's Santa Lucia Division match against York School (0-1, 0-1). First serve slated for 6pm.
Cypress Division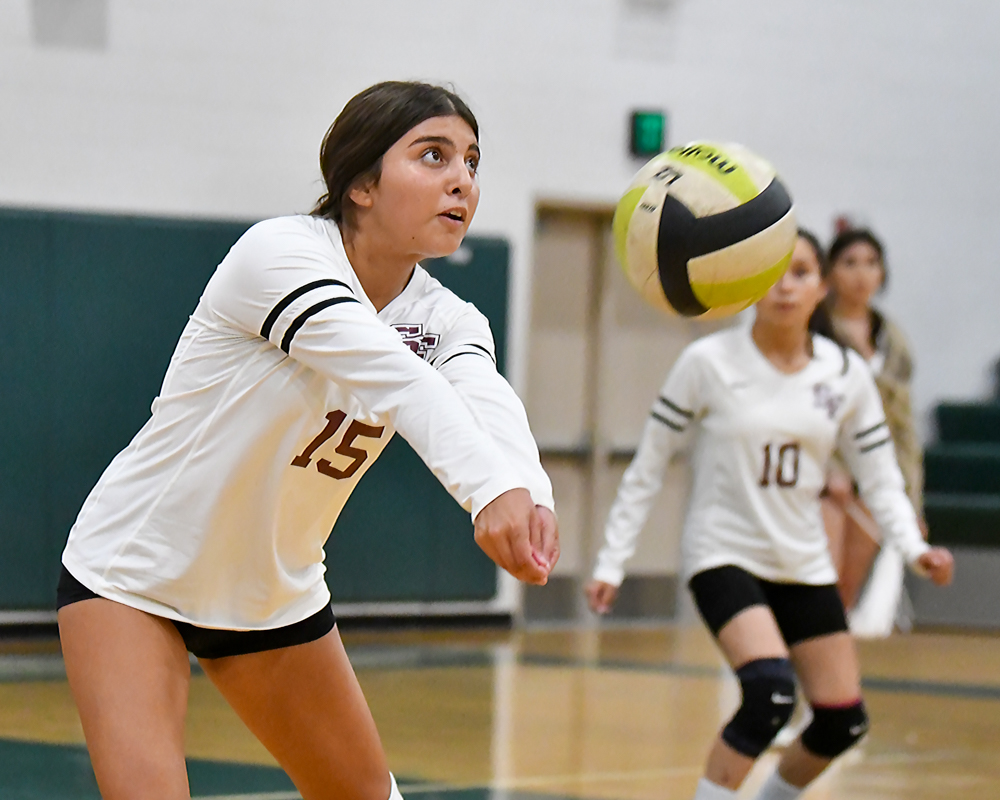 St. Francis High has a roster of just one senior in Samantha Martinez and five players with varsity experience. Yet, the young school of Sharks are eager to learn and play, always asking first-year head coach Daisy Lopez tons of questions on how they could improve.
"It's been nice to have a new team, but there's been some challenges that some of them are new and they haven't even played volleyball," Lopez said. "They're quick learners, so it's been fun."
St. Francis got back on the winning track following a win against North Monterey County in five sets (25-15, 10-25, 22-25, 25-23, 15-12) in PCAL Cypress Division action Thursday.  
Sophomore Peyton Orradre had a team-best 32 digs to go along with eight kills and two aces.
Fellow teammate Georgia Otzman also had a monster night with 20 digs, 21 assists and five kills, while Mia McKendon contributed 21 digs.
Lopez, 26, played at Pajaro Valley High and the Watsonville Crush volleyball club. She recently coached the Watsonville High freshman team in 2022 and was with the Watsonville Starlings volleyball club for four years before starting her own club, Watsonville Cobras.
Lopez is still showing most players some basic fundamentals but she's also helping build confidence within themselves, especially those without the gametime experience.
"The girls overall, they have the skills, but in a game when they start doubting themselves they all lose confidence and the game changes drastically," she said.
Orradre is one of those players with varsity experience who doesn't try to make her teammates feel any less no matter how well she does on the court, Lopez said.
Orradre is the type of player that is willing to sit on the bench in order to allow others to hone their skills.
"[Orradre] knows how to lead the team very well and even when she gets frustrated she finds ways to shake it off and put on a smile and cheer her team on," Lopez said.
The Sharks also have junior Carley Anderson who showed Lopez the ropes on what they did and things they needed to improve on.
Anderson, who primarily plays the middle, has been willing to try new positions on the court. She also has become one of the leaders for St. Francis by checking in with the new players, creating even a stronger bond with her teammates.
Anderson finished with four aces, four kills and five blocks in Thursday's win over NMC. The Sharks (2-4, 1-1) will host Aptos (4-5, 0-2) on Sept. 18 at 6pm.  
"So far, they've all been very close and I think that helps with the chemistry of the team," Lopez said.
Lopez's main goal is to see their confidence show on the court and mentally understand the game, which could go south in an instant.
"You want to be able to outsmart your opponent and that means looking for openings, looking for ways to take advantage of whatever they're doing on the other side of the court," she said. "Maybe next year we can work on being more competitive and putting St. Francis on the map."