Scores of emergency workers from around the Central Coast trudged up and down a lengthy staircase at Seacliff State Beach Monday during the annual 9/11 Memorial Stair Climb. The event is designed to pay tribute to those who died or were hurt in the Sept. 11, 2001 attacks.
"It's important to be out here, to remember and respect those that were lost," said Tommy Janow, a firefighter with Cal Fire. "It reminds us of the brotherhood and that we are all a tight community that supports one another."
The coordinated attacks by Al-Qaeda terrorists left 2,977 people dead, toppled buildings and sparked numerous counter-terrorism and safety measures worldwide.
Two hijacked passenger planes slammed into the Twin Towers in Manhattan, one into the Pentagon in Arlington, Va., and a fourth into a field in Pennsylvania.
The memorial event is meant to represent the 110 floors the first responders climbed in the Twin Towers.
On Monday, Elise MacGregor-Ferrell, garbed in traditional Scottish attire, played bagpipes at the top of the stairs for those in the Stair Climb.
"It's a big honor to be here to play music for them," she said. "I try to feed off of them and play to the spirit of the event. It can be trying to keep up with them. It's powerful."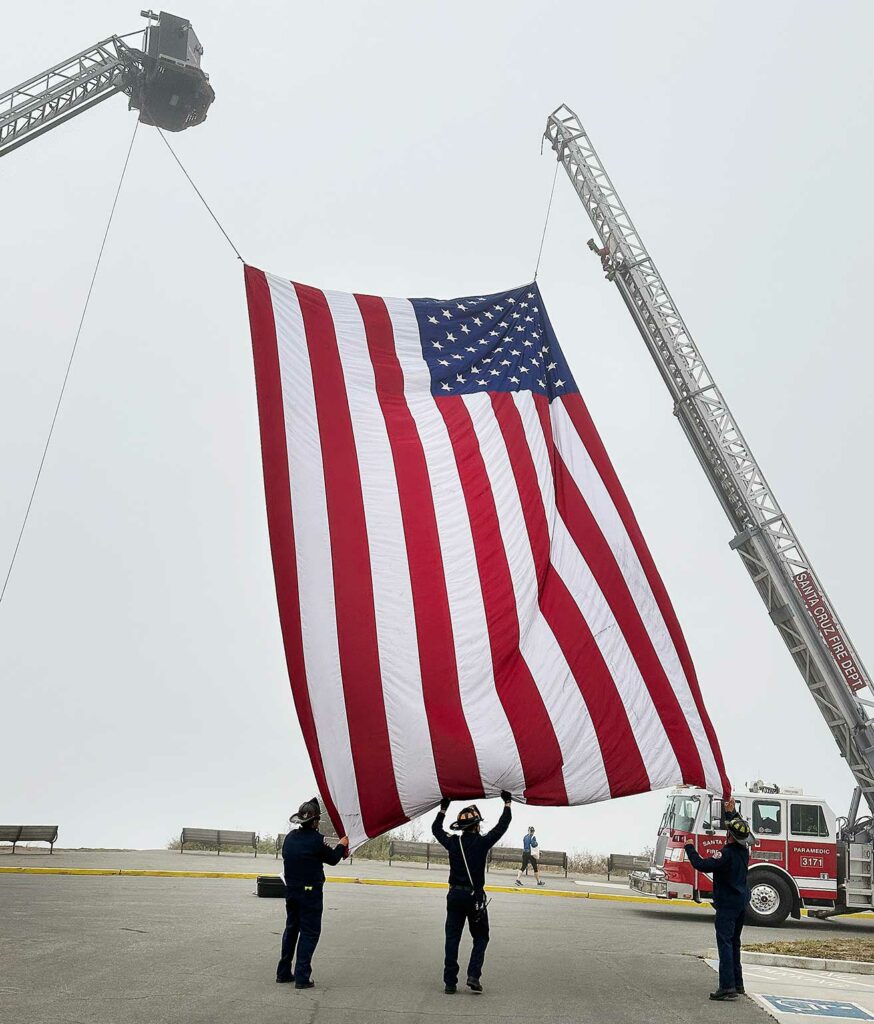 Today, the National 9/11 Memorial and Museum, at the base of the World Trade Center complex that collapsed during the attacks, draws scores of visitors daily to New York City.
More than 25,000 people were injured and many suffered long-term health issues from the fallout of the collapsing buildings and fires. Officials reported more than $10 billion in infrastructure and property damage.
The attacks delivered a dramatic blow to the global economy and triggered sweeping changes in security measures worldwide.
The events also launched the War on Terror—headed up by President George W. Bush's administration—which led to the wars in Iraq and Afghanistan.
Then, on May 2, 2011, under President Barack Obama, a Navy SEAL team killed Osama bin Laden—believed to be the mastermind of the attacks—in Pakistan.
Monday's event also called for the raising of a mammoth American Flag at the top of the cliffs with the Pacific Ocean as a backdrop. Firefighters from Watsonville, Central, Santa Cruz City, Scotts Valley, Gilroy and Fresno were joined by State Park Rangers, AMR ambulance crews, numerous family members and others, at the Stair Climb that was capped with a barbecue on the beach, headed up by retired Watsonville Fire Capt. Matt Ryan.