WATSONVILLE—Two people were seriously injured in a dramatic three-vehicle crash early Thursday on Freedom Boulevard.
Watsonville Police Sgt. Donny Thul said the male driver of a white SUV was traveling north on Freedom Boulevard north of Stanford Street around 6:30 a.m. when he attempted a U-turn. He was struck by a black SUV that was traveling south on Freedom Boulevard with a man and woman aboard. The black SUV then slammed into a parked Honda Civic with a man and a woman aboard.
The impact reduced the Honda to half its size and shoved it about 75 feet south on Freedom Boulevard. The black SUV ended up on its side with major damage and the white SUV sustained major front-end damage. All lanes of Freedom Boulevard were showered with car parts, including a battery, and anti-freeze reservoir, a large sound system speaker, bumpers, paneling and shattered glass.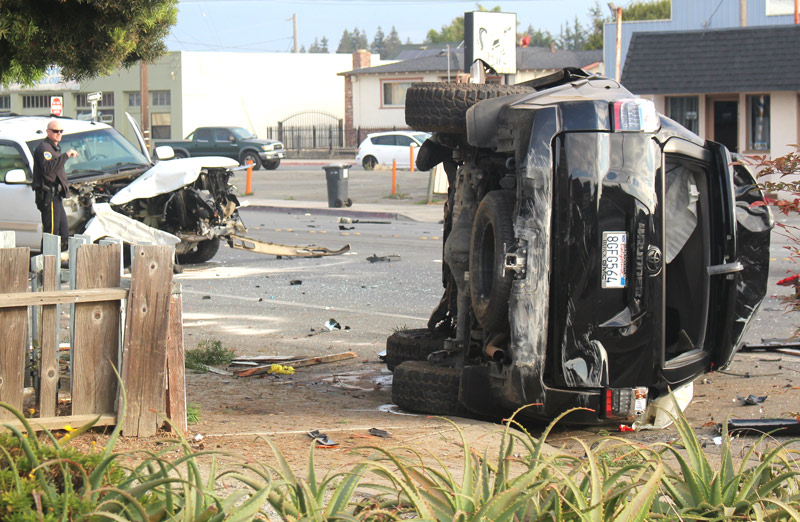 The crash also tore out a street sign, left a huge gash in the front of Tijerita Plomo Barbershop and tore out a section of a wood fence in front of 1103 Freedom Blvd.
Watsonville firefighters called for two ambulances to take the Honda occupants to an out of county trauma center. An investigation team from the Watsonville Police Department used a total station to aid them in measuring the entire scene with the help of GPS. That section of Freedom Boulevard remained closed in all directions until 12:30 p.m.
The morning commute was snarled along Freedom, Marin Street and nearby Lincoln Street. Clutches of curious onlookers stood nearby watching the investigation unfold.