Summer is in full swing along the Central Coast, and with it comes a surge in outdoor activity and recreation. From mountain biking to horseback riding, fishing to swimming, the Pajaro Valley in particular has plenty to offer.
Hiking is perhaps the most popular and accessible of these activities. One only needs a good pair of walking shoes, sun protection and a map in their back pocket.
Taylor Honrath, Director of Development & Communications for the Elkhorn Slough Foundation, said he is an avid hiker and an advocate for it as a way to exercise and reconnect with nature.
"What a lot of us have noticed, particularly in the last year with Covid, is how important it is to get outside," Honrath said. "It's one of the few things we've been allowed to do, really. And we think that when people get out on the land, if they get out there consistently, they'll notice things. They begin to see the cycles of the land that really impact our lives in ways that most people have sort of lost touch with. Hiking reconnects us to things that matter."
The Elkhorn Slough National Estuarine Research Reserve is one of the region's most impressive hiking spots. The 1,700-acre reserve located at the east end of Elkhorn Slough, inland from Moss Landing, offers guests access to five miles of hiking trails meandering through wetlands, oak woodlands and meadows.
Wildlife sightings are common in the reserve, especially migratory birds that pass through the Pacific Flyway, a major north-south route for migratory species in America. The area has been recognized by the National Audubon Society, and was designated as a Wetland of International Importance by the Ramsar Convention on Wetlands in 2018. 
Honrath said that compared to other areas of Monterey County, the Pajaro Valley area is quite underserved when it comes to hiking opportunities. This makes Elkhorn Slough unique, and important to the community. Just last week, the reserve reopened its popular Kirby Park Trail, one of the only ADA-accessible trails in the area, after closing it temporarily for safety repairs.
"We are proud of that trail—and eager to welcome people back," Honrath said.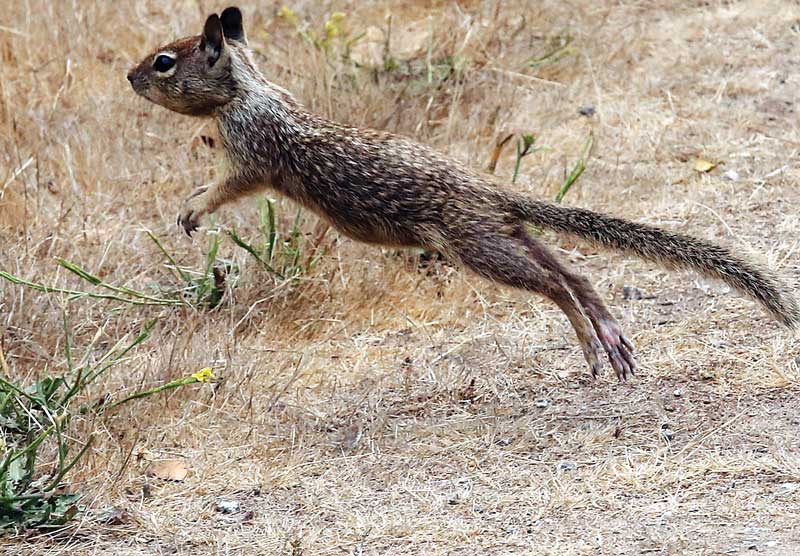 When heading out to Elkhorn Slough or any other park or trail system, there is plenty to take into account, Honrath said. Keeping the place you are visiting cleaner than you found it is one of the most important. The seven Leave No Trace principles are as follows:
• Plan Ahead and Prepare
• Travel and Camp on Durable Surfaces
• Dispose of Waste Properly
• Leave What You Find
• Minimize Campfire Impacts
• Respect Wildlife
• Be Considerate of Other Visitors
Honrath recommends that hikers familiarize themselves with Leave No Trace before going out to a wild setting.
"Learn how you can respect the land, and make sure that your impact is as minimal as possible," he said.
In addition to caring for the environment, hikers should also take care of themselves, their friends and family by bringing plenty of water, applying sunscreen and wearing hats. Be sure to wear durable shoes, and have a comfortable pack that includes some basic first aid supplies.
Paper maps, Honrath said, are also critically important.
"A lot of us live on our phone now, but you can go to areas where cell phone reception is no longer available," he said. "Being familiar with the area, having a paper map as a backup as opposed to digital is always recommended."
Planning ahead—the first of Leave No Trace's principles—can also be helpful, especially for novice hikers. Honrath noted a number of websites and apps, including alltrails.com that are packed full of important information.
"An eight-mile hike might not sound like a lot to somebody, but if there's a lot of elevation change… it could be a tough hike," he said. "Familiarize yourself with where you're going. Mentally be prepared, find something at your skill level."
The Elkhorn Slough National Estuarine Research Reserve is located at 1700 Elkhorn Slough Road, Watsonville.
•
More local hiking
Pinto Lake County Park — 757 Green Valley Road, Watsonville. Open sunrise to sunset, this 183-acre park includes picturesque views of Pinto Lake from its 2.7 mile hiking trail loop. Good for all skill levels.
Mt. Madonna County Park — 7850 Pole Line Road, Watsonville. A 3,600-plus-acre county park marked by redwood forest and chaparral. Visit the ruins of the Henry Miller Estate, search for banana slugs and take in the scenery at Valley View.
Byrne-Milliron Forest — 809 Browns Valley Road, Corralitos. Composed of 402 acres, this property includes trails to hike and explore, with ancient redwoods and panoramic views of the Pajaro Valley and Monterey Bay.