WATSONVILLE—Every year, Pajaro Valley Arts (PVA) hosts an annual exhibit inspired by Día de los Muertos (Day of the Dead in English), a traditional holiday in Mexico commemorating family and community members who have died.
But this year, after almost two years of the Covid-19 pandemic, the meaning and role of "Mi Casa es Tu Casa" has shifted. Now, it is much more than just an art show.
"Every other year, we come here and there are a few people who've lost someone. It's a ritual," said Shirley Flores-Muñoz, curator for this year's exhibit. "But this time … There is deep grief. We've all gone through it. We've all lost something."
"Mi Casa es Tu Casa: History, Loss and Healing" opens Oct. 27, and is shaping up to be the most extensive and diverse exhibit yet. A number of new participants, from nonprofit organizations, public institutions, schools and more have contributed.
Flores-Muñoz, historian and member of PVA's board, was chosen as this year's curator after retiring from her full-time instructor position at Cabrillo College (she still teaches part-time). She says she was looking to become more involved in the organization.
"But I realized I didn't have experience with exhibits," she said. "I didn't feel good about being on the board and having so much ignorance about how you conduct a show. They were looking for someone to curate Mi Casa … and I thought, 'OK, here's a space. No one else is stepping up. I think I can do this!'"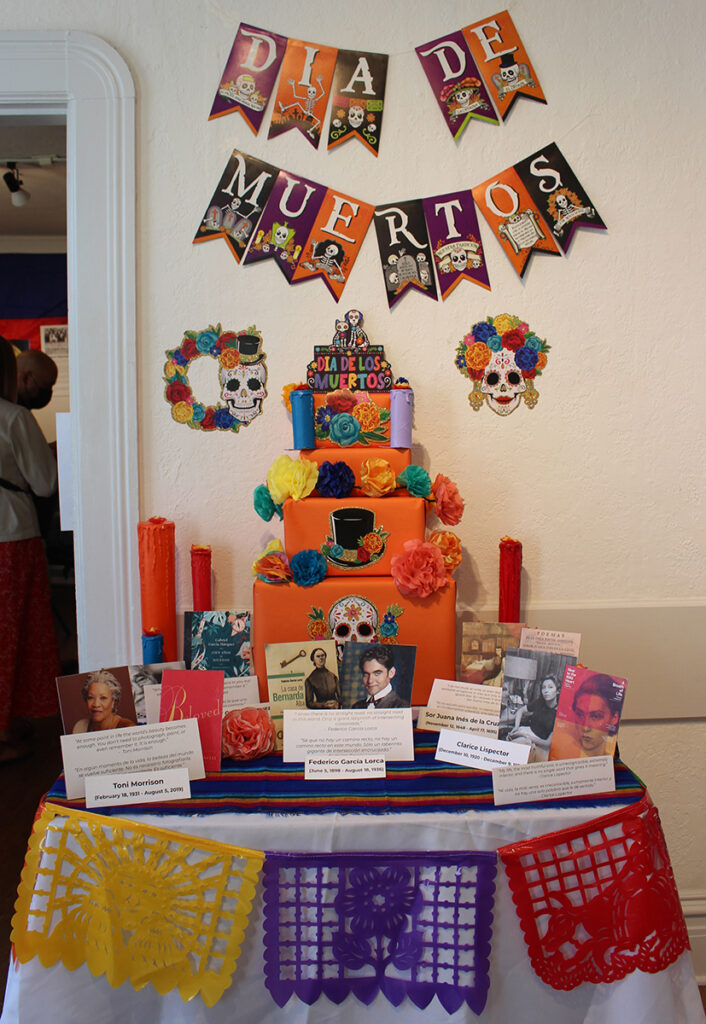 Flores-Muñoz began working on the exhibit in January, reaching out to the community to move things in "a more diverse, hands-on" direction. The exhibit will include 35 altars, with 25 pieces of 2D artwork.
On Oct. 15, members of Watsonville is in the Heart, a project aiming to preserve the history of Watsonville's Filipino community, were busy setting up their altar at PVA (35 Sudden St.). Organizer Roy Recio said that the group included those born and raised in Watsonville, many of them descendants of the region's first Filipino-American workers.
It is their first time participating in the show, he said.
"Everyone is so happy to contribute," Recio said. "It's fun to think outside the box, to be brought into the broader community, to share our stories and histories like everybody else. We can all learn from the same platform."
The exhibit focuses on three themes. The first is History, connecting with the 500-year commemoration of the Mexican smallpox pandemic of 1521, when a huge percentage of the country's indigenous population perished.
"The Mexican government has finally, now, recognized it as a pandemic," Flores-Muñoz said. "It's only when you yourself are experiencing the same things that you think, 'Oh, this is what they went through.'"
The second theme, Loss, focuses on this past year. Altars (called ofrendas in Spanish), art and installations allow the public to honor family and other community members they have lost during the pandemic—whether from the virus directly, or not.
"A lot of the deaths were not Covid-related, but Covid-impacted," Flores-Muñoz said. "There were so many families that had to bury people … but they couldn't attend funerals, or say goodbye."
Lastly, Healing: The concept of "La Cultura Cura," by writer Concha Saucedo, explains how everyone is born into a culture that has its own traditions and ways of healing.
Flores-Muñoz encouraged the public to bring their own photos to the gallery to be placed on the main altar, and to take their time in the exhibit.
"We want the community to come in and use this as a venue for processing what they've gone through," she said. "We want to be respectful, cognizant … We also want to offer this as a healing moment. Come in, bring a chair and sit down. You don't have to walk through in 10 minutes and leave."
A long list of events will coincide with "Mi Casa" through October and November. This includes a film screening of Disney/Pixar's "Coco" with the Watsonville Film Festival in the plaza on Oct. 29. A candlelight vigil will be held at the plaza on Oct. 30, followed by refreshments at PVA.
The official opening reception of "Mi Casa" will be held Nov. 7 at the gallery, with music, dance and art activities. The organization will also hold a number of writing workshops, book discussions, additional film screenings, and art activities both online and in-person.
"As Mexicans, or Latinos, this is what we bring to America," Flores-Muñoz said. "We have many things about ourselves that are valuable, and this country needs … and one of them is this practice around death. It's a very healthy practice."
---
For details of each event and the greater exhibit, visit pvarts.org/mi-casa-es-tu-casa2021.