More than 200 tickets were sold for the National Agriculture Day Spring Luncheon held April 26 in the Heritage Hall at the Santa Cruz County Fairgrounds in Watsonville.
The annual event is coordinated by the Santa Cruz County Farm Bureau and the educational organization, Agri-Culture.
At the luncheon, the 2023 Al Smith Friend of Agriculture award was presented to Randy Repass and Sally-Christine Rodgers for their support of local agriculture and their volunteerism. The award was announced and presented by Richard and Mary Travis, who received the award in 2022.
It is named after Al Smith, who was the founder of Orchard Supply Hardware and donated 3,000 acres (Swanton Pacific Ranch) on the north coast to Cal Poly. The ranch has row crops, timber and even a one-third-scale railroad, which was Smith's hobby. The award is presented to an individual, business or organization not involved in production agriculture but has done much for the industry.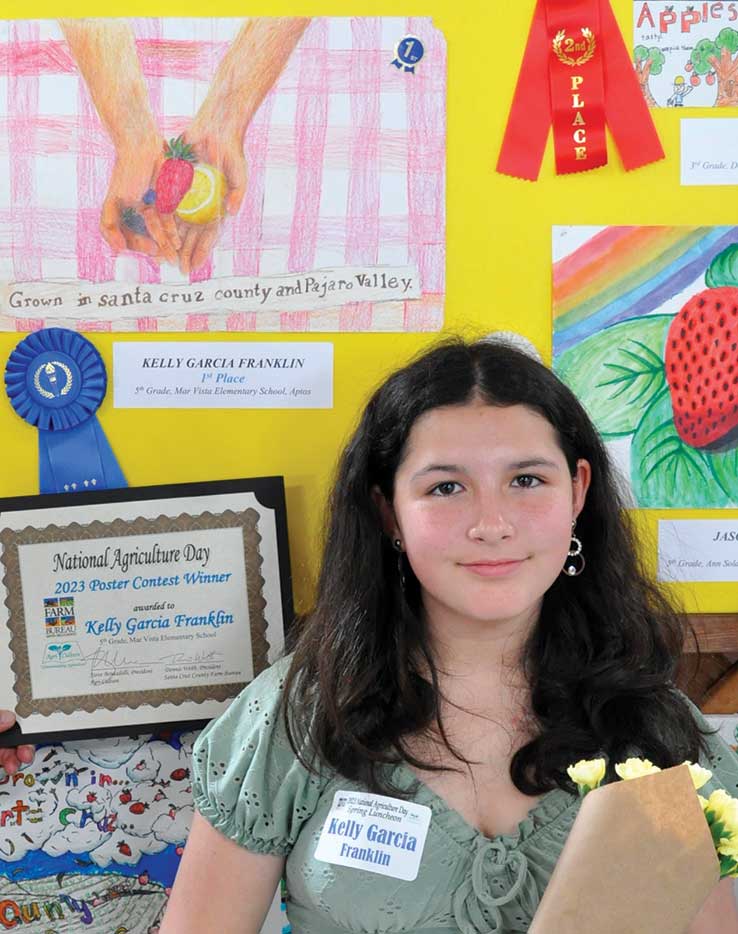 Also presented at the luncheon were the winners of the 2023 National Ag Day Poster and Poetry Contests. Kelly Garcia Franklin, a fifth-grader at Mar Vista Elementary School, won the poster contest. Luke Zamora, a Pajaro Valley High School senior, won the poetry contest for his poem, "Grown in Santa Cruz County."
This year, Agri-Culture streamlined its scholarship program so that all students could apply for multiple scholarships if they met the qualifications specified in each one. The winners of these scholarships were announced at the luncheon:
• 2023 Jimmie Cox Memorial Scholarship: Madison Kelley and Diego Ramirez
• 2023 JJ Crosetti Jr. Memorial Scholarship: Diego Ramirez
• 2023 Laura Brown Memorial Scholarship: Priscilla Noh
• 2023 Frank Prevedelli Memorial Scholarship: Diego Ramirez
The Master of Ceremonies for the event was Farm Bureau President Dennis Webb. The featured speaker for the luncheon was Sarah Newkirk, executive director of the Land Trust of Santa Cruz County, who spoke on the topic, "Conserving Working Lands in the Era of Climate Change."