For the past 16 years, Pajaro Valley Arts (PVA) has partnered with Sierra Azul Nursery and Gardens for an annual art exhibit. Artists install sculptures throughout Sierra Azul's two-acre demonstration garden, creating an open-air gallery surrounded by native trees and plants.
For this year's Sculpture IS: In the Garden, curators Susana Arias, Hedwig Heerschop, and Sierra Azul owner Jeff Rosendale selected more than 90 sculptures by 48 contributors to be displayed.
Sculpture IS began in 2004 as a satellite exhibit to a seven-week sculpture exhibit inside PVA's gallery on Sudden Street. Organizers quickly learned that many pieces were too big for the small gallery.
Kinetic artist Moto Ohtake suggested that PVA find a secondary location to display larger works. Volunteers Judy Stabile and Mary Warshaw approached Rosendale about holding the show at his nursery.
The show was so popular they decided to make it an annual event, eventually expanding it to a five-month exhibit.
"It's all about meeting the artists, and seeing their excitement," said Heerschop, who is also exhibit coordinator for PVA. "How grateful they are to have this opportunity to show something big, in such a nice setting."
Some artists have been participating in Sculpture IS since its inception, while others are new to it this year.
The show includes pieces by mostly local artists from across Santa Cruz County. However, artists from other regions have also joined in. This year, Cynthia Handel from Minnesota was picking up one of her sculptures in Southern California when she heard about the exhibit.
"She heard about our show and decided to just drive up here and drop it off," Heerschop said. "That's what I like about doing this every year. Drawing in new artists. People really start to connect with each other."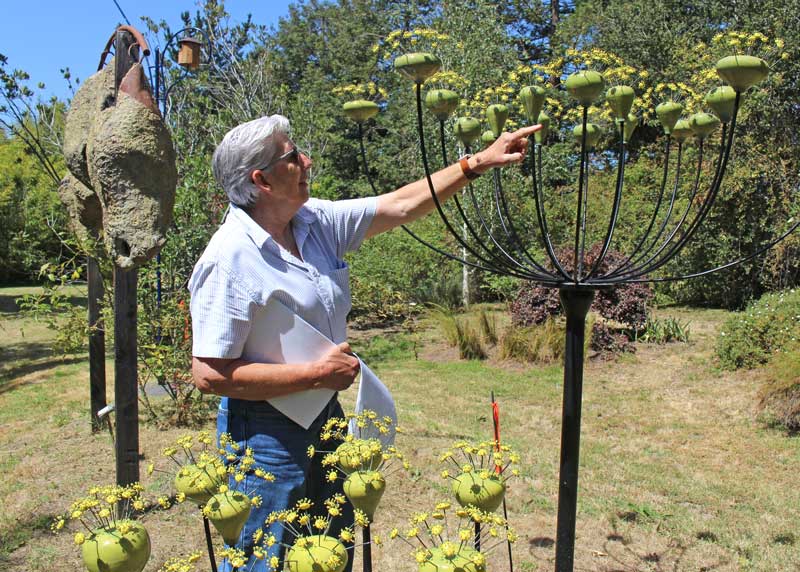 Heerschop also highlighted local ceramic artist Jenni Ward's sculpture "Feast of Fennels," Aromas artist Tony Berumen's "Tree Climber" series and Roger Heitzma's kinetic piece "StrataSphere."
"It's ceramics, it's stoneware, it's kinetic, it's marble, it's glass, it's found objects…all the different techniques," Heerschop said. "People are just so creative."
Sculpture IS: In the Garden opened Wednesday and will run through Oct. 31. No entrance fee is required. Guests are invited to stroll through the demonstration garden, view the art pieces and relax under the nursery's shade umbrellas.
"This exhibit just makes people happy," Heerschop said. "Especially nowadays, a lot of people are struggling, so if I can pull this off and make people happy by looking at beautiful art in a beautiful place, I've achieved my goal."
Sierra Azul Nursery & Gardens is located at 2660 East Lake Ave., Watsonville. It is open daily from 10am-5pm.