APTOS—Aptos High alumna Elizabeth Churchill has danced everything from ballet to more upbeat jazz and lyrical performances.
It's taken her years to hone her skills, including how to sauté with such ease that it looks like at times she could be floating in mid-air.
This past spring season, Churchill used a jumps and turns class to help with a record-setting performance on the Mariners' track and field team.
She wound up vaulting to a school-best 5-feet, 9 inches in the high jump at the Central Coast Section Championships in Gilroy on May 21. The mark also put her in a tie for the second-best jump in the state.
Churchill had an impressive performance at the CCS Top 8 meet at Los Gatos High in April. She won the long jump with a school-record leap of 18-10.75 and set a personal-best in the 100-meter hurdles in 15.10 seconds.
"Jumping was really where I felt the most powerful," she said. "When I realized I was pretty good at all three [events], I just wanted to stick with it."
The incredible part about all of this is she accomplished these feats in just one full season under her belt. The Pajaronian is naming Churchill our 2022 Female Athlete of the Year for her incredible performance.
"This was kind of an expected thing because [Churchill's] been so consistently amazing all year," Aptos coach Zach Hewett said about Churchill after she qualified for two events at last month's CIF State Championships. "She's had a bunch of moments this year where I have been in awe of her and her competitive spirit, competitive drive."
Churchill placed third in the 100 hurdles in 15.18 seconds at the CCS Championships, which was good for a state-qualifying finish.
Hewett said it'll be difficult to find another athlete in the area that accomplished what Churchill did and at the level she did it in.
"She's a pretty special, pretty incredible competitor," Hewett said.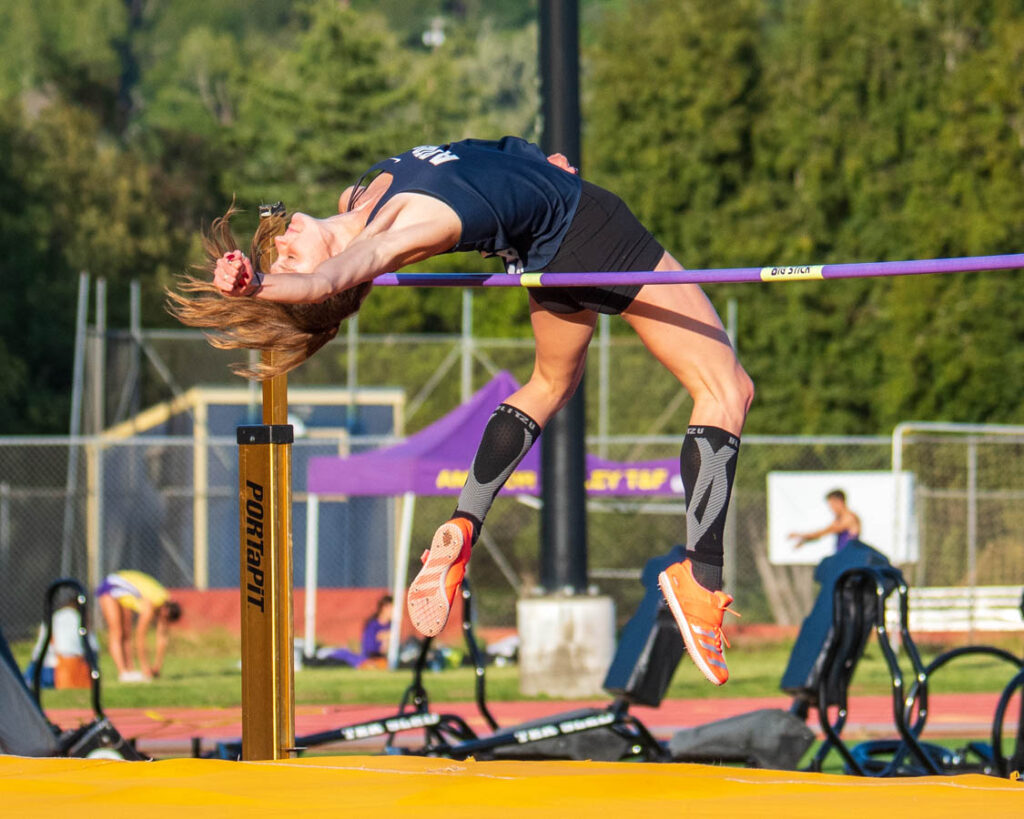 Churchill said her biggest challenge this season was to walk away from her performance at the CIF State Championships with a 5-4 jump that left her in fourth place.
"Going into it I had a good feeling, I had a good shot just placing higher," she said. "When I didn't clear 5-6 on the last attempt I was just kind of, 'What?' Because usually I can just clear that pretty easily."
The athletes didn't start jumping until 8pm in the final round. Plus, the wind was blowing much harder than usual, which was something none of them were used to.
When they weren't jumping, the wind knocked down the crossbar.
But, that was nothing compared to Churchill's sophomore season which was canceled after the Covid-19 pandemic. She cleared a 5-2 mark in her first and only meet of the season.
Churchill competed in the high jump for fun because some of her friends talked her into it, especially after watching her jump as high as a kangaroo. She tried it and ended up liking it in the end.
Churchill kept up with her training but once they said the season was over, the Mariners' track team also called it off.
"I was just really sad about it," Churchill said. "I was sad that I wasn't going to be seeing any of those people again. I was just wondering if I was ever going to be able to do the track season again."
Her junior year wasn't much better after an abbreviated 2021 spring season with just five meets hardly gave her a chance to shine.
Churchill finally got a chance this past spring to focus on four events and asked her coaches to pour on the criticism. She took private lessons with former Olympian and long jump coach Grace Upshaw.
"I didn't want them to go easy on me," she said. "I wanted people to tell me what I was doing wrong and how I could be better."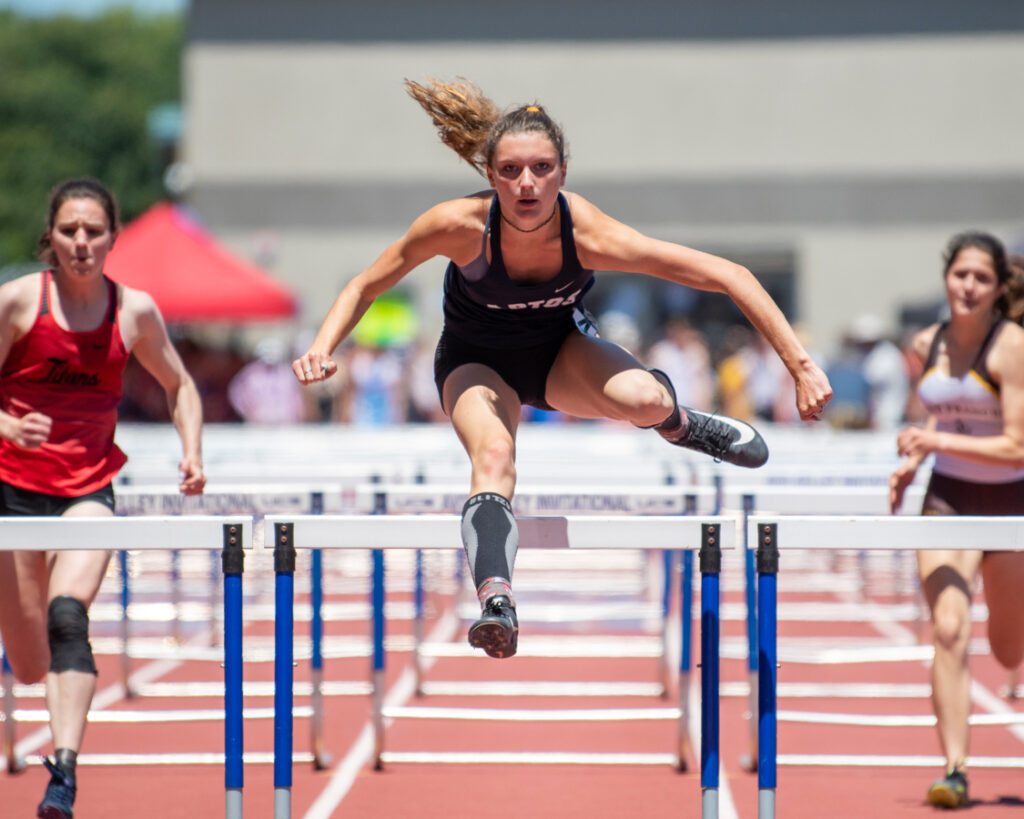 She even stopped attending dance classes that interfered with her training.
"It was just my life for those few months," she said. "Going into the season I really wanted to set a school record, I did not expect to set it in long jump though. That was like a one-time thing."
Churchill participated last summer in the Stanford Track Camp and received a lot of tips on the high jump.
She won the high jump and took fourth in the 100 hurdles on Day 2 of the Stanford Invitational in Palo Alto on April 2. She placed in the top five in three events at the prestigious meet.
She also won four events (high jump, 100 hurdles, long jump, triple jump) at the 49th Avis Kelley Invitational in Gilroy and at the Knights Invitational in Soquel.
Churchill won the same four events (high jump, 100 hurdles, long jump, triple jump) at the Santa Cruz Coast Athletic League Championships en route to the Bob Enzweiler Outstanding Athlete Award for accumulating the most points, helping the Mariners capture the team title.
"I really wanted to make my last year count because all of the previous years before either got cut short or I was involved in other events," she said. "I knew I had the potential to, so I just really came to practice everyday and focused on my strong suit, which was high jump and hurdles."
Churchill recalled when she was a lower classman watching the seniors ahead of her break records. She said she hopes the underclassmen from this year's team will remember and look up to her, thinking to themselves that they can do it, too.
"It's just nice to leave a mark because track was such a big part of my life here at Aptos," she said. "I'm happy that I can leave that legacy."
Churchill is committed to compete next year for UC Davis in the heptathlon, which she was skeptical about at first.
However, she thought about it and realized she was already doing three of the seven events in the heptathlon, so what's another four?
Churchill said she can easily transition into the shot put, javelin and both the 200 and 800.
"I've already done so many events, I don't think it'll be that difficult for me to add on a few more," she said.
Churchill said the goal is always to try to reach the Olympics and this might be another stepping stone to get there. Her coaches at UC Davis are excited to have her onboard and they have plans to take Churchill to the track and field nationals, and beyond.
"If I could continue doing track after college and just keep moving up, that would be really cool," she said.