The game of football is considered a game of inches and nothing proved it more than in last week's season opener for Aptos High.
The Mariners dropped their non-league contest to Oakdale High, 21-14, following three critical pass attempts that were dropped including an interception on defense that resulted in 21 unanswered points for the Mustangs.
"We played like a good football team, it's just those little things," said Aptos coach Randy Blankenship after the game on Aug. 25.
On their own 48-yard line, the Mariners had one final chance to go down the length of the field in 49 seconds to force overtime.
Instead, it was Oakdale—located about 15 miles northeast of Modesto—which made the 3-hour trek to steal one in Aptos.
Going into the Friday night's game the Mariners were ranked No. 162 in the state and No. 12 in the Central Coast Section behind league rivals Palma and Salinas, who are ranked No. 6 and 7 respectively.
The Mustangs came into last week's game ranked No. 36 in the CIF Sac-Joaquin Section and No. 225 in California, according to the MaxPreps website. They were also fresh off a 27-20 non-league win against Sonora High in the teams' season opener Aug. 19.
Meanwhile, the Mariners were plagued with several injuries, especially severe cramping that sidelined players throughout the evening.
"When you have a game under your belt like they had you get all those cramps out of your body," Blankenship said. "It's a shame to lose the game because you have so many guys cramping up. That's not taking care of your body and that's hard to handle but I admired how hard [Aptos] battled."
Aptos senior running back Lawrence Ingram IV couldn't agree more with his head coach.
"We need to hydrate better," he said. "A lot of us were getting cramps and hurt, and I think that's a big part of the loss in the second half."
The opening stanza was also awry for Ingram after he lost a fumble on the game's opening drive.
However, the Mariners' defense came through with a big play of its own with a goal-line stand midway in the second quarter.
Hood connected with Jasiah McKenzie with a 40-yard pass that set them up on Oakdale's own 4-yard line. One play later Hood bulldozed his way into the end zone for a 7-0 lead.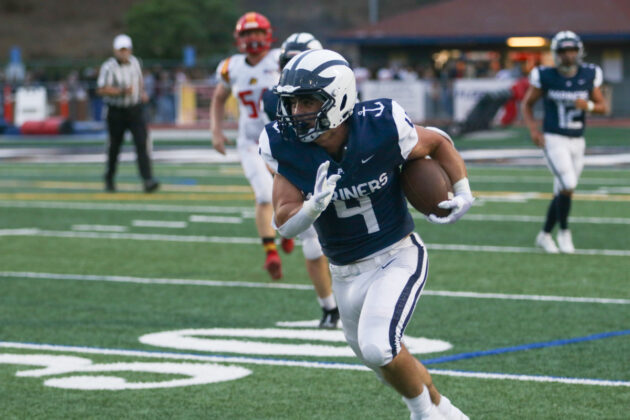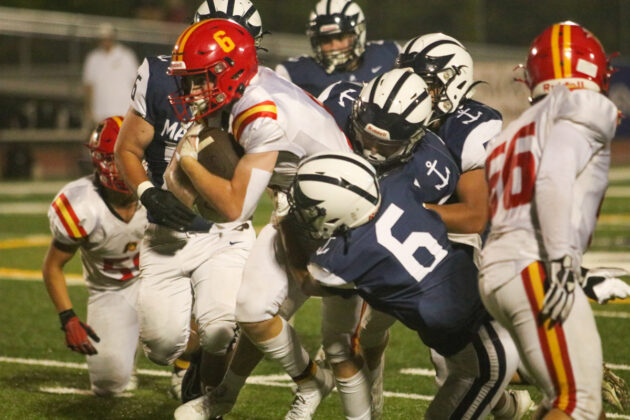 The momentum continued to sway in Aptos' way when Hood found McKenzie yet again, this time on a 35-yard pass for the score that gave them a 14-0 lead going into halftime.
"We had a lot of energy and we were feeding off the defense," Hood said. "Then in the second half we really didn't have that energy, that spark that we needed to get us going again."
Coming out of the break, Oakdale wung first with a long drive that took up nearly half of the third quarter. It was capped off by a 15-yard touchdown run from sophomore Wes Burford.
Burford scored his second touchdown of the evening just moments later but the extra point attempt was no good, allowing Aptos to hold on to a 14-13 lead.
"That first touchdown I felt like we were gaining momentum," he said. "Even during the first snap [of the third quarter] when we came out here, I think that's when we realized we could win this."
Aptos had plenty of chances to extend its lead in the second half but failed to convert on big-time plays including a chance to recover a fumble on defense. They also had a dropped pass attempt from Hood to McKenzie on 4th down at Oakdale's 21-yard line.
"It happens, it's part of football," Hood said. "In practice he catches 1,000 out of 1,001 balls, there's just gonna be one that he drops. It happens to everybody, I just told him to keep his head up because he's a great player and he's gonna keep on doing big things for us."
The Mustangs took advantage of the missed opportunities and found themselves taking their first lead of the game, 21-14, with less than a minute left in the game.
On the final drive of the game, Aptos was set up with great field position at its own 48-yard line but a pass attempt from Hood to McKenzie was intercepted by Malachi Modesto.
"We know that it's the first game," Hood said. "We got a lot of young kids that lost a lot last year, gotta get the nerves out. And I know we're gonna come back practicing even harder because we've got a bad taste in our mouth, and we're gonna want to win every game after this."
Next up, the Mariners will set sail to San Jose to take on Mitty High on Sept. 1 at 7:30pm.
Week 1 scoreboard
Friday
Monterey 35, St. Francis 0: The Sharks were blanked by the Toreadors in non-league play on Aug. 25. St. Francis (0-1) will try to bounce back this week at Stevenson (0-0), which will kick off its season against the Sharks on Saturday at 2pm.
Ripon 68, Pajaro Valley 0: The Grizzlies were throttled in their season opener by the Indians in non-league action on Aug. 25. Pajaro Valley will battle for the Belgard Kup at cross-town rival Watsonville on Sept. 1 at 7:30pm.
Saturday
Monte Vista Christian 20, Los Altos 13 (OT): Connor Pallott recorded a pair of touchdowns for the Mustangs including the game-winning score in overtime over the Eagles in non-league action Aug. 26.
Pallott finished with 82 yards rushing on 11 carries and the two TDs, while fellow teammate Dominic Pierini completed 15-of-32 pass attempts for 219 yards and one touchdown.
Pierini's touchdown pass was to Nico Downie, who tied the game at 13-all late in the fourth quarter that forced the overtime period.
Next up, the Mustangs (1-0) will host Santa Clara on Sept. 1 at 7:30pm.
Carmel 49, Watsonville 20: Patrick Miller-Brown went the distance on an 85-yard kickoff return for a touchdown for the Wildcatz in their non-league loss to the Padres on Aug. 26.
Miller-Brown recorded two touchdowns, while fellow teammate Alex Arevalo scored once for Watsonville (0-1), which will have a chance to rebound at home against cross-town rival Pajaro Valley in the battle for the Belgard Kup on Sept. 1 at 7:30pm.