Two years ago Amy Thomas, principal at Watsonville Charter School of the Arts, noticed that her students were getting a bit restless during and in between classes. She and staff began searching for something both educational and physical to engage the kids during the day. 
Thomas saw other schools installing "sensory paths" and was intrigued. A sensory path is a series of guided movements for kids to follow, shown by markings—usually stickers or mats—on the ground or walls. The paths encourage them to expel excess energy and develop motor skills.
Since her school's hallways were outdoors, Thomas reached out to Martina Goulart, who works as a teaching artist with the school through Arts Council Santa Cruz County's SPECTRA program. Goulart came on board and created a mural around the main thoroughfare of the arts school. 
"The kids love it," said Thomas, who helped paint the path. "Whole classrooms will come out during breaks, and students will play on it when they're just walking around in between classes."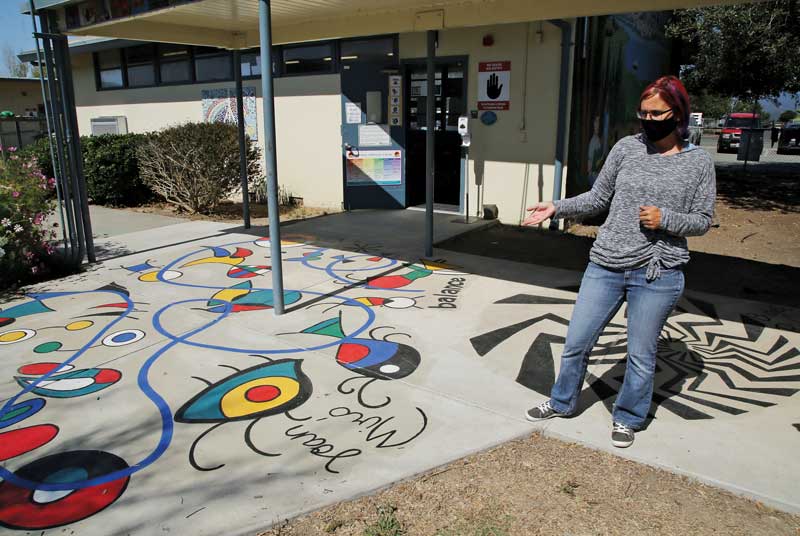 The success of the school's sensory path, which depicts a number of famous artworks by artists such as Vincent Van Gough, Katsushika Hokusai and Salvador Dali, attracted the attention of other institutions. Teachers and principals who visited became interested in creating one at their own school.
After securing some grant money, Goulart began working on more murals, with each school choosing its own theme. At Radcliff Elementary, whose mascot is the dragon, a large storybook opens to a path that leads children on a fantasy adventure—while learning numbers and the alphabet. Another at Ohlone depicts an ocean scene. 
"It gives students a way to play, learn and create their own stories," Goulart said. "It provides exercise… and adds more color and life to the school."
Goulart, who moved to the U.S. from her home country of Czechoslovakia about 20 years ago, said she tries to push her own creativity each time she works on a new piece.
"On each project I take the next step, and I ask, 'How can I make it better?'" Goulart said. "How can we help students learn more?"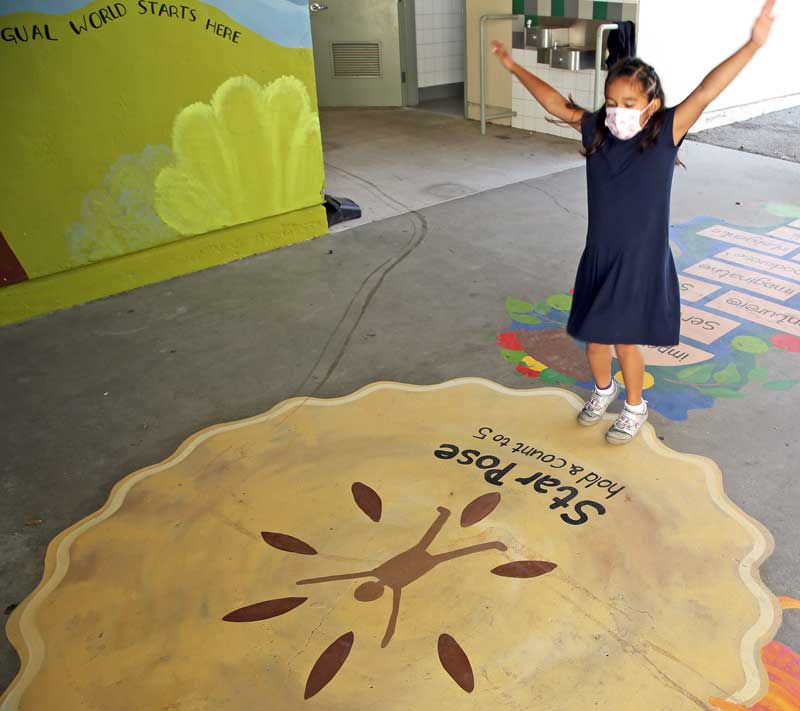 Goulart lives in Felton, but says that working in the Pajaro Valley has been very rewarding.
"I love the people down here," she said. "They are so open to art and what it can do for a community… They appreciate me and what I'm doing. It's wonderful."
In addition to the five schools Goulart has worked with, other institutions in the Pajaro Valley have taken the idea and done their own version of the project.
Thomas called the paths "incredible" and that her school would not be the same without it.
"I love everything about it," she said. "It's my favorite thing at the whole school."