SANTA CRUZ COUNTY—Joe Biden has reportedly won the presidency and ousted President Donald Trump after winning the 20 electoral votes in Pennsylvania, putting him over the 270 he needed, results showed Saturday morning.
Results are still being counted in Nevada, Arizona and Georgia, all of which showed Biden with a slight lead over the president.
Santa Cruz County Republican Party Chair Kristen Collishaw warned that the results are not yet official, and said that the media prematurely called the election for Biden.
"The media has been after this president for four full years, so that's what they are telling us," she said. "I hope people keep an open mind. There is a lot of celebration going on, and I don't think this race is over."
Collishaw added that there are five states that have not called their respective elections, and said that there is evidence of election fraud in several states.
"I don't trust what I'm seeing," Collishaw said.
The Trump administration on Saturday filed a lawsuit in Philadelphia, after the Associated Press called the election in Pennsylvania for Biden, alleging fraud.
Trump has also filed lawsuits in Georgia, Michigan and Nevada.
The projected victory would be a historic one, as Senator Kamala Harris would become the first woman, Black and Asian American Vice President.
Coco Raner-Walter, chair of the Santa Cruz County Democratic Central Committee, said she heard the news on a morning trip to the post office. She then raced home to watch the news on television.
"I really still can't believe it," she said. "Thank God they won. I really do believe that we are fighting for the soul of our country."
Raner-Walter added that it is "disheartening" that more than 70 million people still support Trump.
"I just find it so sad that the religious right in our country supports that, just because of their three issues: immigration, guns and anti-abortion," she said. "And they support anything, any bad behavior, for those three issues."
Raner-Walter said that it will take more than a decade to "clean up" from the Trump administration. She added that Biden's victory should come with a grain of salt, as the control of the Senate is still in play as votes are tallied.
"That's why we fight," she said. "That's why we work, and we're not done. We have so much more now Trump gutted so much of our democracy."
Celebrations sprouted up around the U.S. and in other countries as the news broke. In Watsonville, roughly three dozen people showed to the City Plaza Saturday evening to waive signs and dance to music. Most signs praised the return of democracy. Some lauded Trump's loss.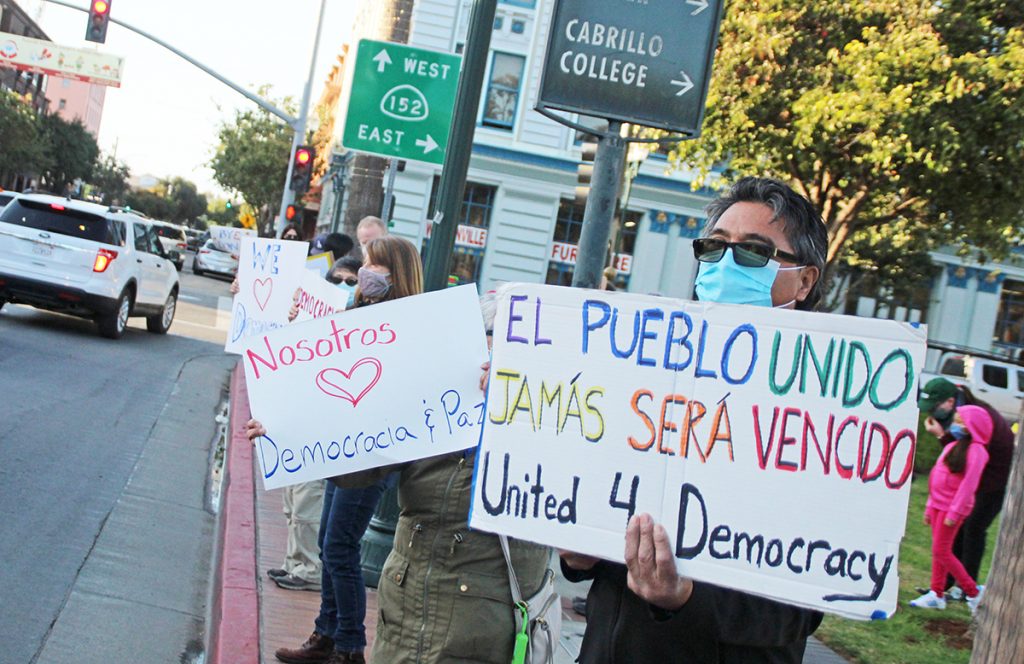 Regeneración-Pajaro Valley Climate Action Executive Director Nancy Faulstich was part of the group at the Plaza. She said that Biden's win was a win for science and marginalized communities of color, and hoped that the country would once again become a leader in the battle against climate change—one of Biden's promises during his campaign.
"[The Trump] administration was very dangerous in many ways but that's possibly the greatest," she said.
Indivisible South County (ISC), a group that was established in the days after President Trump was elected, coordinated Saturday's gathering. Jenny Sarmiento, a member of ISC, said the group has no plans of disbanding following the election, and that they will continue to advocate for the civil rights of people in the community.
"We realized this is just the beginning of repairing all those relationships in the community and the country," she said. "We have faith that things will be better."