CORRALITOS—Bradley Elementary School third-grader Kylie Barnard loves animals. She has grown up around horses, goats, dogs and more—and she knows they can sometimes escape from their pens.
That is why she invented the Animal Rescue Pouch, a small pouch attached to an animal's collar or harness that contains things such as a rope to lead the creature to safety and an ID tracker, giving its owner's name and contact information.
"I made the horse tracker last year," she said. "This is an improvement on that. It works for lots of animals. I wanted to make sure my animals stayed safe."
Barnard was one of many students at Bradley Elementary on Wednesday morning showing off their inventions to classmates, teachers and staff. The event is part of the Invention Convention, a national program launched to inspire young people to solve problems in creative new ways. Two student projects from the school will go on to compete at the state level, and then it's on to nationals, which will be held at the Henry Ford Museum of American Innovation in Dearborn, Michigan in June.
"This is an opportunity for kids who want to do something more," said teacher Rebecca Said, who was instrumental in bringing the Invention Convention to the school last year. "My daughter loves to build…I wanted to find a free after-school program for kids who were interested in doing things like that—to build, to create."
On Wednesday a panel of judges stopped at every student's project to hear them present. One such judge was Bradley Elementary's Administrative Assistant Raquel Pulido.
"It's incredible to see what these kids come up with," Pulido said. "Just listening to them talk about their projects…I'm in awe."
Fifth-graders Elliott Roth-Bensusan and Mark Kristien presented to judges their Cook Cam, a device that allows one to watch your food when you are away from the kitchen. The students connected a camera to an app called Wyze. The contraption has an oven mode and stove mode (it adjusts to the right angle) and a built-in alarm feature.
Elliott said they had made pizza and chicken using the invention. When a judge asked them how it turned out, Mark responded confidently: "Well, they did not burn."
Sixth-grader Sofia Espinoza created the EZ Dispenser, made from PVC pipe and wood, which hangs on the wall above washers and dryers to dispense laundry detergent, bleach or softener. She said that it helps to keep things cleaner in her laundry room.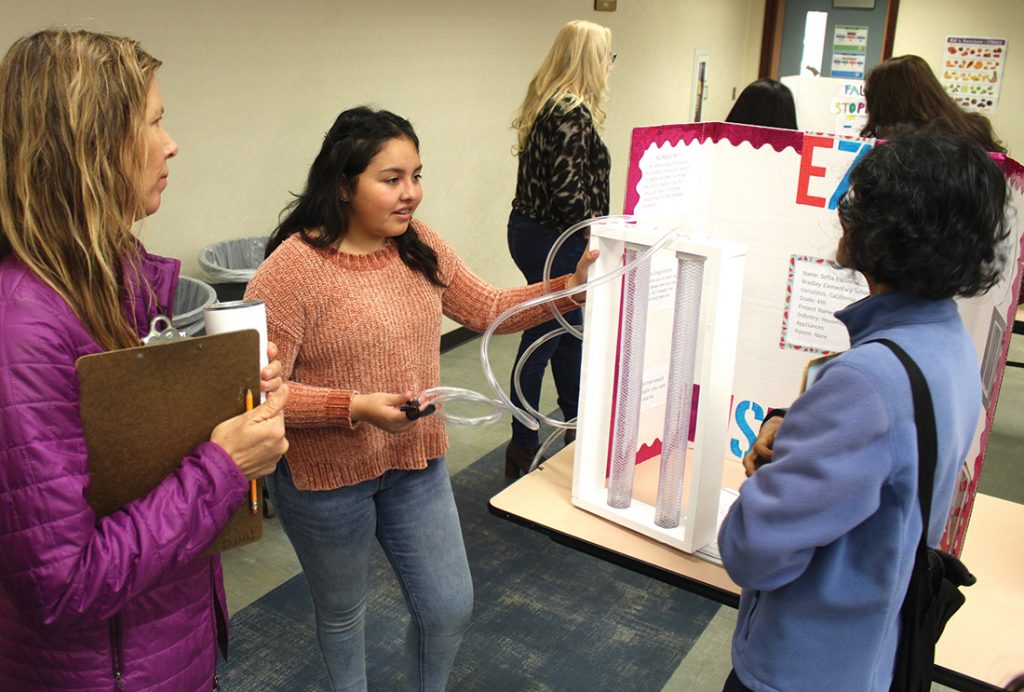 And fifth-grader Tabitha Bane invented the K.O.M. (Kid of the Mountain), a retractable towing device for mountain biking. The device connects from an adult's bike to a child's, allowing the adult's momentum to assist the smaller rider on hills and rough terrain.
"Honestly, they come up with much better inventions than I could ever come up with," Said said. "It's pretty inspiring."
To learn more about the Invention Convention visit inventionconvention.org.