Tarmo Hannula: Genaro Garcia Luna, Mexico's former public security secretary, the very man who brazenly took on Mexico's chief drug traffickers, has now been arrested and charged with taking millions of dollars in bribes from the Sinaloa cartel, the New York Times reported. His actions, under the guise of heading up Mexico's militarized war of traffickers, allowed Sinaloa to smuggle tons of cocaine and other drugs into the U.S. Luna worked under presidents Fox, Calderon, Nieto, and the current president, Andres Manuel Lopez Obrador for more than a decade. His arrest in Dallas Tuesday has stunned Mexico.
•••
A gun battle erupted in Gonzales Wednesday night. The incident started when Salinas Police began chasing a vehicle driven by a man suspected of attempted murder. During the pursuit the man allegedly fired a gun at officers. The chase then sailed outside the Salinas city limits near Old Stage Road in Gonzales. News agencies reported that when the man pulled over he began shooting again at officers. Several officers fired their weapons and hit the suspect. Emergency personnel treated him at the scene and took him to the hospital in critical condition.
•••
A short section of Brennan Street remains closed between East Lake Avenue and East Fifth Street to make way for underground utilities work by a crew from Don Chapin. The work is part of getting the new Laundry Day Laundromat up and running inside the former Union Bank at the corner of East Lake Avenue and Brennan Street. A foreman at the scene Thursday said the work will most likely pause Friday, but underground gas line work will spill into next week. Be aware that part of Brennan Street had a full hard closure to motor traffic.
•••
Metro Diary
Has anyone noticed the number of parked RVs along Nielson Street by Watsonville Community Hospital? Since the 69 bus cruises along that street, I've noticed anywhere between 6-15 camper trucks of various designs, in run-down shape, staged there for many days and nights running.
I've reached a point now that when I get rides from others, and don't take the bus for a day or so, I miss it. From the people that ride to the drivers and the unfolding land and cityscapes out the windows, the METRO has proven to be a valuable and rich window to the world. This morning as I waited for the 69W on Soquel Avenue in Santa Cruz, in a light rain, I met a young woman who told me she was in the middle of final tests at Cabrillo College. She said she's studying music engineering, like recording, production and sound systems. She said it was "really complex and difficult," but that so far she was enjoying her classes.
As I boarded the bus it struck me that the busses I've been on are routinely used by a wide mix of Latinos, whites, Asians, African Americans and on and on. I regularly hear Spanish chiming back and forth on the bus, both from passengers and coach operators. I also frequently see wheelchairs, canes, crutches, walkers, service dogs and comfort dogs.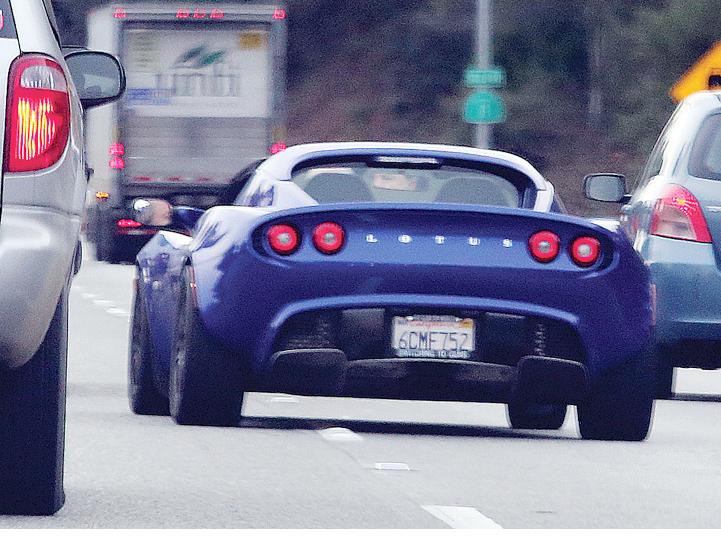 On Wednesday my friend Noel drove me to Watsonville. As we headed south on Highway 1 a man in a blue Lotus sports car landed on our bumper and started aggressively tailgating and jamming us. At one point he whipped around us in the slow lane and shot ahead up us while making a rude hand gesture out his expensive sunroof at us. He then shot ahead and started the same campaign with the next driver, made the same dangerous abrupt pass on the right accompanied by the same hand gesture that that driver as well. We laughed it off. By the time we took the Riverside exit in Watsonville the Lotus was three cars ahead of us, jamming the next driver and the next. This driver was more than eager to spread all that hostility and rudeness to gain a few seconds on the highway.