Hike to support CASA
Court Appointed Special Advocates of Santa Cruz County will hold the third annual Move for CASA at Elkhorn Slough Reserve, 1700 Elkhorn Road, on May 6 from 9-11:30am.
The public is invited to join a team or form one of their own to walk, run and hike.
All proceeds from this event support CASA of Monterey and Santa Cruz County's missions to match every foster youth referred to the organizations with a trained volunteer Advocate.
Every person who registers to walk and raises at least $100 will be entered into a raffle, thanks to the Sock Shop and Shoe Company.
For information, visit casaofsantacruz.org/moveforcasa.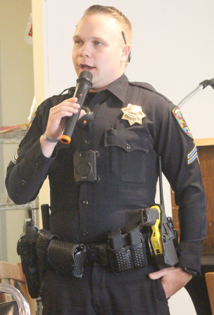 Poetry contest seeks entries
The Watsonville Public Library's 2023 Poetry Contest is now open for submissions.
Poets of all age groups are encouraged to participate in the contest and share their original work.
There are four divisions for the contest:
• Elementary Students (Grades K-5)
• Middle School Students (Grades 6-8)
• High School Students (Grades 9-12)
• Adults
The deadline for submissions is May 14 at 11:59pm.
Voting will take place online from May 19 to June 2.
Winning entries will receive a writing journal and writing utensils.
For information, visit cityofwatsonville.org/1757/Poetry-Month-Contest.
Wetlands Watch to host annual native plant sale
Watsonville Wetlands Watch will host its Annual Spring Native Plant Sale on May 20 from 9am-1pm at the Fitz Wetlands Educational Resource Center at Pajaro Valley High School, 500 Harkins Slough Road in Watsonville.
The sale will feature native and drought tolerant plant species, grown by interns, volunteers and staff, that attract birds, bees and butterflies and help save water.
More than three dozen species of plants will be available for purchase. Guests will be able to tour an on-site native plant demonstration garden at the Resource Center.
For more than 30 years, Watsonville Wetlands Watch has been committed to the preservation and restoration of the sloughs of the Pajaro Valley. Proceeds from the plant sale support its ongoing wetlands restoration and education programs in Watsonville, which restore habitat across more than 1,000 acres of wetlands, uplands, and trails, reach over 6,000 students each year with hands-on outdoor learning, host community habitat restoration and tree planting events, and preserve wetlands and natural places for wildlife and people.
For information, visit watsonvillewetlandswatch.org.