APTOS—Last fall, Cabrillo Gallery opened its doors to the public for the first time in 17 months. The annual "12×12: An Open Invitational" exhibit was a return to in-person viewing after a string of virtual shows.
But with the Omicron variant of Covid-19 surging and Cabrillo College classes switching to online for at least the first two weeks of the semester, gallery staff decided to return to a virtual format for its first exhibit of 2022.
"We had to make the call," said Gallery Director Beverly Rayner. "We had to let the artists know what was happening. It was hard, but we knew we needed to protect ourselves and our community."
"Natural Habitats" will feature 38 artists from the U.S., with pieces that range from painting and sculpture to video and even taxidermy. It will officially launch via the gallery's website on Jan. 24.
"There's always a benefit to online shows," said Gallery Program Coordinator Victoria May. "People can see it from anywhere. If we'd opened, with the school closed … who knows how many people would've come into the gallery?"
Rayner agreed.
"[Online exhibits] are great in the way that there's not a big expectation of having the show in a gallery, with a reception," Rayner said. "And it's a great way for people who are holed up and can't go anywhere to show their art. Having said that, we were fully expecting to have this show in the gallery. There is definitely a lot of work that would've really benefited from being seen in person."
The exhibit explores the concept of what a "natural" habitat really is—going beyond the obvious idea that they are only places that occur in the wild, for animals. Pieces represent everything from human-built, physical locations to more abstract, metaphysical spaces.
"We wanted a theme that was broad, that a lot of people could respond to," Rayner said. "We wanted to bring in the perspective of human habitats, and how we build our own. How they're not necessarily 'natural,' but they feel natural to us. That opened it up to a lot of interpretation."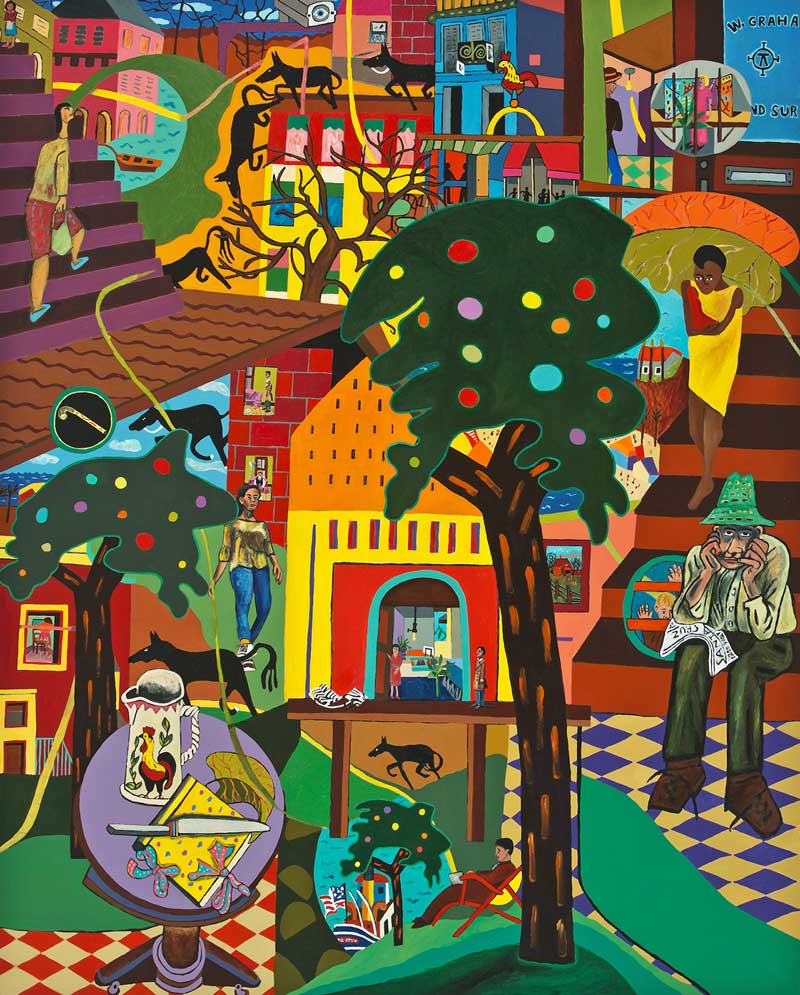 Rayner and May brought on a team of jurors from the Seager Gray Gallery in Mill Valley, Calif. to put together the show. Owners Suzanne Gray and Donna Seager were tasked with selecting work.
"From what I've seen of their gallery, it seemed like a good match as far as the theme," Rayner said. "It's always a surprising situation, seeing what jurors choose and what the show ends up being like. It's always educational for me to see that process."
The "Natural Habitats" exhibit is partially an effort to raise money for the gallery's ongoing track lighting replacement project. They received a grant in 2019 to replace the current, 21-year-old lighting, but things slowed during the pandemic.
"We were hoping to finish it in 2021," Rayner said. "But when we finally got the estimate, it was much higher than anyone had anticipated."
A generous donor, wanting to support Cabrillo's art department, has also offered them a matching grant.
"That's what we'll be working on this month," Rayner said. "Hopefully it will help us raise the rest of the funds we need."
"Natural Habitats" will be open Jan. 24-Feb. 25. Three participating artists will have the chance to receive Juror's Pick awards during the show's run.
Going virtual again after getting "a taste" of normalcy has been frustrating sometimes, May said.
"We have an artist who has this huge piece," she said. "They sent multiple photographs to us, trying to offer different options, to see the work from a different angle. And I was thinking, 'Wow, this one would've been really nice to see in person."
May and Rayner hope to return to in-person shows starting in the spring.
"We will go back into the gallery as soon as we can," Rayner said. "As soon as it's responsible to do so."
For information visit their website or follow them on Facebook and Instagram. A virtual juror's talk will be held Feb. 5 at 4pm on Zoom. Click here to register.