WATSONVILLE—Watsonville High's Abraham Bonilla was credited with the victory for the Wildcatz baseball team in its 10-2 win over Alvarez High in Pacific Coast Athletic League Mission Division action on Thursday afternoon.
The right-hander allowed one run on four hits and tallied four strikeouts, while fellow teammates Josh Ybarra and Brody Legions came out of the bullpen in relief to help Watsonville keep its league record unblemished at 2-0 this season.
Miguel Lopez, Aiden Rodriguez and Zander Miller-Brown each had multiple hits for Watsonville.
Rodriguez batted 2-for-4 with two doubles and three RBIs, Lopez batted 2-for-4 with one RBI and Miller-Brown batted 2-for-2 with one RBI and a pair of runs scored.
The Wildcatz (3-1, 2-0) will play a non-league game at Harbor High (7-0, 2-0) on Saturday at noon.
St. Francis 2, Carmel 1: Senior Kyle Dyer was clutch for the Sharks with a two-out base hit that drove in two runs in the sixth inning in their win over the Padres in PCAL Gabilan Division action on Friday afternoon.
Sophomore Nash Horton recorded four strikeouts in five innings of work, while junior Junior Ibarra threw for two innings, allowing an unearned run and recorded a pair of strikeouts for the Sharks (3-1, 2-1), who will host Salinas on March 22 at 4pm.
High school softball
San Lorenzo Valley 4, Aptos 0: Junior Mileena Carbajal gave up four runs–two unearned–on seven hits and recorded three strikeouts for the Mariners in their loss to the Cougars in Santa Cruz Coast Athletic League play Friday afternoon.
Jewels Chavez, Bailey Fulton, Kailani Aguayo and Charlotte Ramirez each recorded a base hit for Aptos (2-2, 1-1), which will compete at the Watsonville High Tournament on Saturday.
Boys golf
Aptos 207, Soquel 273: Luke Garvey earned medalist honors after he shot a 40 for the Mariners in their win over the Knights in SCCAL action at Seascape Golf Club on Thursday.
Tyler Grosdidier, Shawn Roschelle and Ben Nowark each shot a 41, while Justin Rifkind finished with a 44 for Aptos.
Luke English shot a 44 for Soquel, followed by Cole Johnson (49), Ryan Niizawa (55), Tyler Smith (62) and Cameron Jones (63).
Boys tennis
Aptos 6, Soquel 1: Koosha Safari wins his No. 1 singles match in two sets (6-2, 6-2) for the Mariners in their win against the Knights in SCCAL action on Thursday.
John McGown and Jack Eldredge both won their singles match in sweeping fashion (6-0, 6-0), while Ben Zaretsky battled in his two-set (6-4, 6-3) loss.
The trio of doubles teams were victorious starting with the No. 1 doubles team of Sean Spencer and Nick Hambright, who won their match in two sets (6-2, 7-5).
Jack Taylor and Patrick Morrisy won their match in two sets (6-0, 6-4), and Adam Allen and Jack Hickey won their match by default.
The Mariners (4-0, 3-0) will play at Scotts Valley on March 21 at 4pm.
Boys track and field
Watsonville 99, North Salinas 29: Watsonville High senior Adan Rivas sprinted his way to victory in the 100 meter race in 11.68 seconds for the Wildcatz ahead of the North Salinas' Bradley Moyer (12.09) and Justin Pascone (12.26) in Thursday's PCAL Mission Division dual meet victory over the Vikings.
Rivas also won the 200 in 24.24 ahead of fellow teammates Angel Mendoza (25.07) and Isaac Urbina (25.36).
Watsonville senior Freddy Lopez won the 800 in 2:17.93, while long distance runners Rodrigo Barranco (4:56.68) and Desi Salinas-Holz (11:30.03) won the 1,600 and 3,200, respectively.
Ruben Mora, a junior, won both the 110 hurdles (19.13) and 300 hurdles (43.92).
David Rocha-Vargas, a junior, won the discus with a throw of 119 feet, 8 inches, while fellow teammate sophomore Nathaniel Aceves-Aguilar won the high jump (5 feet-4 inches) and triple jump (36-10.5).
Junior Jovani Guerrero (9-6) won the pole vault and senior Tajin Olivas (19-07) won the long jump for Watsonville.
Girls track and field
Watsonville 81, North Salinas 41: Watsonville High senior Edith Rodriguez won both the 200- and 400 meter races for the Wildcatz in a dual meet victory against the Vikings in PCAL Mission Division action Thursday afternoon.
Rodriguez won the 200 in 29.42 seconds ahead of teammates junior Natalie Martinez (30.97) and Joselyn Gutierrez (31.86) who finished second and third, respectively.
Dahlia Barranco, a senior, won both the 800 (2:32.03) and 1,600 (5:29) races, while fellow teammate sophomore Katelynn Ruiz won the 3,200 in 12:08.73.
Kassandra Hernandez, a senior, won the 100 (17.79) and 300 (53.56) hurdles, junior Evangelina Gaona won the triple jump with a leap of 29 feet, 7 inches and sophomore Arredondo won the pole vault with a leap of 7-feet-6. 
Boys Volleyball
Aptos 3, Mount Madonna 1: Senior setter/right side Roberto Munoz finished with four aces, 11 kills and 20 assists for the Mariners in their four set (25-15, 25-15, 23-25, 25-18) win over the Hawks in SCCAL play Friday night.
Senior outside hitter Alonzo "Chuy" Munoz had 11 kills and the game winning point in the fourth set, while fellow teammate senior outside hitter Jackson Miller recorded three aces, seven kills and five digs for Aptos (2-2, 1-0), which will host Pajaro Valley on Saturday at noon.
Mount Madonna senior outside hitter Sky Weir had 18 kills, 10 digs, and fellow teammate junior Matteo Borrego had 23 assists.
Coaches and athletic directors are encouraged to submit scores and stats to [email protected]. Follow sports editor Juan Reyes on Twitter @jmreyes831 for scores and news updates.  
Side Notes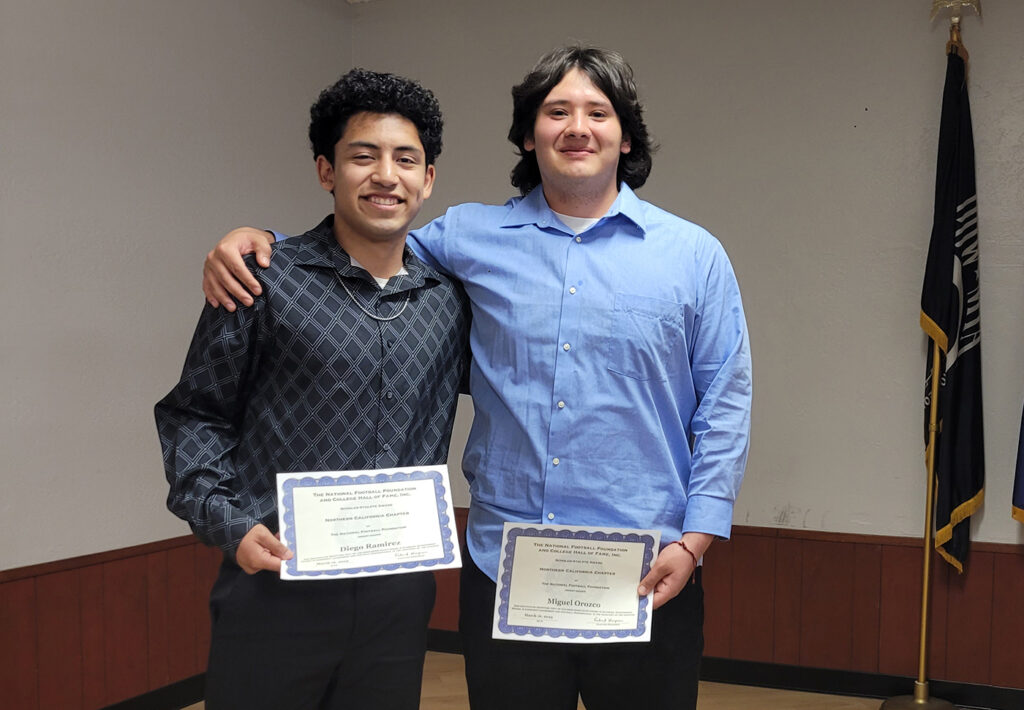 Student-athletes receive academic awards: St. Francis High seniors Diego Ramirez and Miguel Orozco both received a $1,000 scholarship from the National Football Foundation and College Hall of Fame, Inc. this week.
The Scholar-Athlete Award was presented by the Northern California Chapter of the NFFCHOF and the event was hosted by the Santa Cruz Lions Club.
Ramirez and Orozco were selected among senior nominees of Santa Cruz County high school football programs. The selection was based on academic and football achievement, along with leadership and community service.
NBA G League
Golden State signs Quiñones to two-way contract: The Golden State Warriors announced it signed Lester Quiñones to a two-way contract.
The 22-year old guard appeared in 44 games for the Santa Cruz Warriors, averaging 19.8 points on 46.7% shooting from the field and 38.2% shooting from beyond the arc to go along with 6.2 rebounds and 3.8 assists in 31.2 minutes per game.
Quiñones–who was unselected in the 2022 NBA Draft out of the University of Memphis–signed a 10-day contract with Golden State on March 2.
He scored a season-high 46 points to go along with 12 rebounds, four assists and one steal in Santa Cruz's 132-129 win against the Salt Lake City Stars on March 15.
Quiñones has recorded 10 double-doubles this season and he was named the NBA G League Player of the Week for games played from Feb. 13-26.