WATSONVILLE—It's been more than a decade since the Watsonville High girls' tennis team has won a league title.
But that all changed last week after the Wildcatz wrapped up the Pacific Coast Athletic League season undefeated, 12-0, in Cypress Division play.
The last time Watsonville brought home a league title was during the 2008 season when it won the Monterey Bay League championship under Tony Navarro. Prior to that, many of those years they played in the Santa Cruz Coast Athletic League, which had some very strong teams at the time.
"They hustled, they wanted to learn and they supported each other really well," Watsonville coach Anne Childers said. "There's a lot of talent."
This year's team featured three seniors: Lina Urabe Chavez, Wendi Atilano-Gemartino and Mariah Segura, who also happens to be on the softball team.
In fact, there are a handful of softball players including junior Brooklyn Llamas, who made the transition to tennis.
"This was a big goal and accomplishment for the team overall," she said. "I wasn't surprised because I knew we had it in ourselves and I knew we could get the job done."
Llamas was the No. 1 singles player for the Wildcatz and she was awarded the "Most Improved at the Inner Game of Tennis" this season by Childers.
Other standouts for Watsonville include Samantha Rubio-Campos, who was named the Most Valuable Player, Haley Koda (Sportsmanship and Mental Strength), Cameron Llamas (Most Improved Serve), Erin De La Torre (Most Consistent Physically and Mentally), Evelyn Avalos-Quiroz (Best All-Around Attitude), Emma Gutierrez (Most Improved Groundstrokes), Selina Salvador-Lopez (Most Improved Footwork), Mia Larios (Most Improved at Persisting Through Tough Matches), Cassandra Thorson (Most Supportive Teammate), Fernanda Jordan (Most Improved all Around Game) and Angie Martinez (Most Winners Hit in the Season).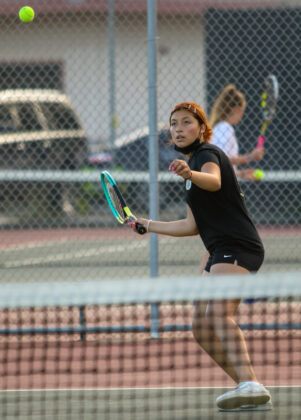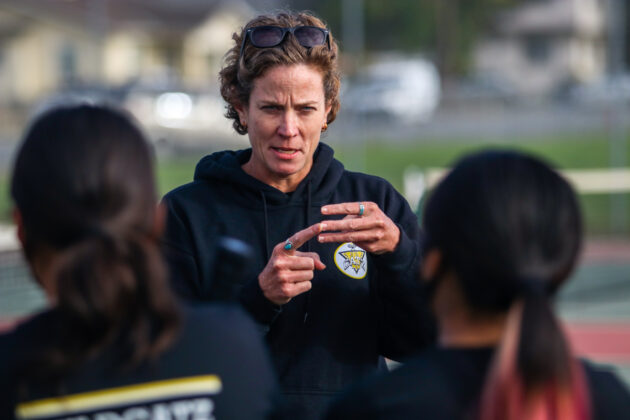 Martinez said she wasn't expecting for them to go undefeated but she wasn't surprised they were able to pull it off. She added that she's proud to be part of a great team that was part of a historical run.
"We got to bond a lot during practices, van rides, playing and cheering each other on," Martinez said.
Childers also got some help from Carrie Goodwin, who stepped in as an assistant coach for a couple of weeks while Childers was out recovering from foot surgery.
The first-year head coach said her goal coming in was to provide a space where the players can succeed.
"I believe that if you feel better, you do better," she said. "I always try to have fun with it but also promote competitiveness."
Mariners win league crown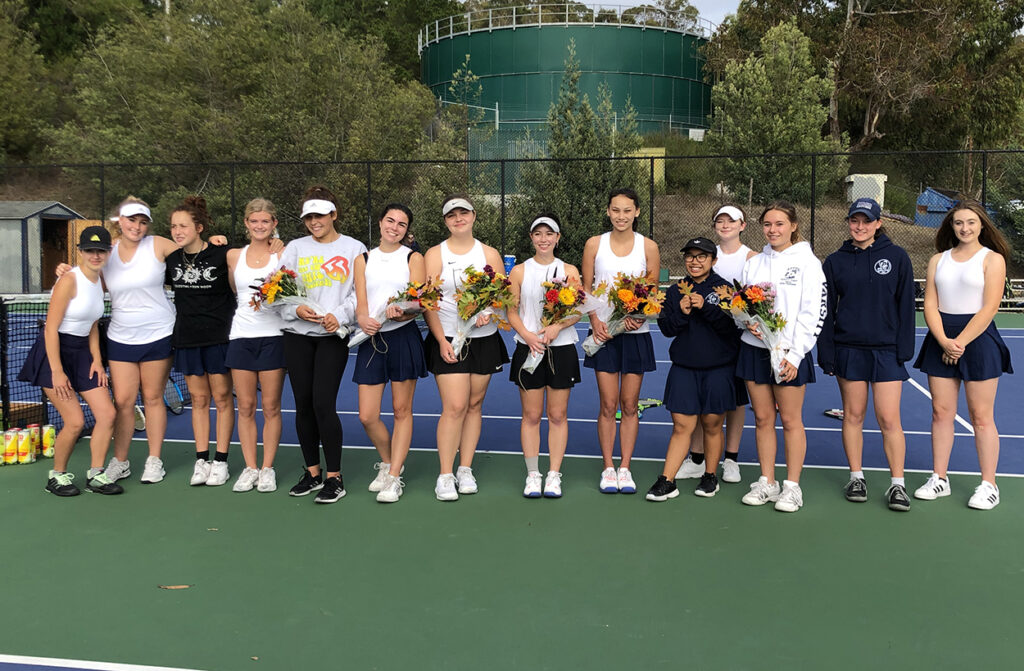 Aptos High's Chloe Chausee-Garrett and Taylor Hilger won 6-3, 4-6, 7-5 at No. 2 doubles to help sweep the doubles competition against Scotts Valley High on Tuesday.
With the win, the Mariners captured the Santa Cruz Coast Athletic League title outright.
"That was a big win for them," Aptos coach Linda Hitchcock said.
The Mariners went 9-1 in league play and they finished with a 10-2 overall record this season. They had earned no worse than a share of the league title with a 7-0 win against Harbor High on Oct. 21.
It's the third straight SCCAL championship and the seventh overall under Hitchcock, who took the helm in 2010.
The Mariners earned a share of the league title with Soquel during the abbreviated 2021 spring season. Hitchcock said they were aiming to come out as the lone champion.
"The team was really excited about the match," she said.
No. 2 Holly Hegna and No. 3 Autumn Zaretsky won their singles matches. Zaretsky prevailed with a 6-3, 6-7, 6-2 thriller over Veronica Farquhar.
"[Zaretsky] really just pulled all the stops in the third set and won pretty easily," Hitchcock said.
No. 1 Annika Lee and Madison Phillips and No. 3 Jilliane Beltran and Erin Schmidt earned doubles wins in straight sets.
Scotts Valley's Gabrielle Casper beat Rebecca Fuller (6-1, 7-5) at No. 1 singles and Stella Cheney edged Ashley Lavender (3-6, 6-3, 6-4) at No. 4 singles.
Hitchcock said the team has been together for quite some time and they became closer during the pandemic. She mentioned that three months of practice turned into a full year.
"It kind of really bonded the team in a really tight way that you might not have seen without so much time spent together," Hitchcock said. "Plus, all that practice helped their skills."
Hitchcock said that each player contributed throughout the season and it was special for her to watch them do so well at a high level.
This year's Central Coast Section honor coach, Hitchcock announced she will step down at the end of the season.
"I feel like I put my stamp on the Aptos program and I'm ready to turn it over to someone new to keep the tradition alive," she said.
The SCCAL Singles and Doubles Championships begin on Nov. 2 at 10am at Seascape Sports Club. The finals take place the following day at Seascape at 3pm.