WATSONVILLE—Watsonville High senior Brooklyn Llamas and the Wildcatz girls' tennis team last year reached new heights after a successful run to a league championship.
The 'Catz clawed their way through the Pacific Coast Athletic League season undefeated, 12-0, in Cypress Division play and captured a league title for the first time in 13 years.
Llamas and company have their eyes set on back-to-back championships. But, this year they'll have to do so in the more challenging Mission Division after getting bumped up for winning the Cypress.
Llamas believes they're still seen as the underdogs.
"Personally, I don't mind it. I like it," she said. "It makes me want to prove everybody wrong, I want to go out there and win. I'm going to show everyone what I have, regardless…It gives me a little chip on my shoulder."
Watsonville defeated Alisal on Sept. 8 to improve to 2-0 in Mission Division play.
Llamas got off to a strong start herself on Sept. 6 in the 'Catz's league opener against North Salinas by winning her first match in straight sets (6-4, 6-1).
Llamas, who competes at the No. 1 spot, said she was on edge entering a new division where the competition is much tougher. She said getting the win to start the season was just the cherry on top of what was a good day for her and the Wildcatz.
"I was nervous but once I started getting out there, hitting the ball back and forth and got my serves in, I got a little more comfortable and started playing my game," she said.
Watsonville coach Anne Childers last season named Llamas the Most Improved at the Inner Game of Tennis for getting better game-by-game.
"She's ready to compete, ready to play," Childers said.
Llamas told herself this season she was going to ball out and leave it all out on the tennis court, especially because it's her final year in a 'Catz uniform.
Llamas said she also has a winning drive that sometimes gives her a competitive edge and will face anyone no matter the skill level.
"Just don't play scared, pretty much," she said. "My dad was just, 'Go out there and try your best. Whatever happens, happens.'"
Llamas, who is also a standout on the softball team, said she's already involved with conditioning that includes weight lifting and going on runs.
"I know I went on a lot of runs this summer, so it pretty much helped with the lateral aspect, staying fit and conditioned and the weights was just to get stronger," she said.
Llamas said she saw major improvement in her serves and added more zip to her delivery. She mentioned most of it came from just working out and not necessarily hitting balls on the court.
Childers said they've been working on different shots, being more aggressive and attempting to win the points, not just getting the ball back across the net.
"Each point, whether you win or lose, you just try your best on the next point and just try to get them to keep playing aggressively," she said. "Try to win the point."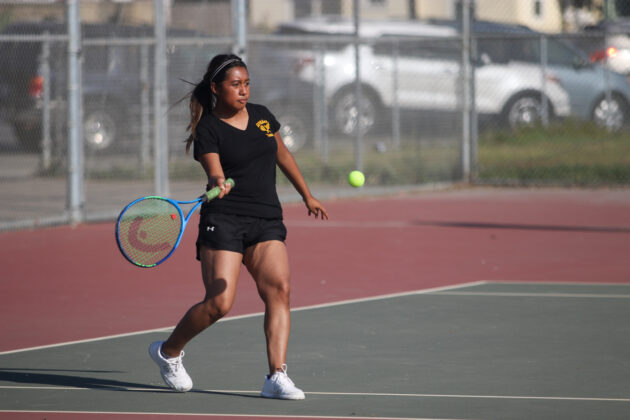 The Wildcatz lost three seniors—Wendi Atilano-Gemartino, Lina Urabe Chavez and Mariah Segura—from last year's team, but the second-year head coach believes the team dynamics are right on point.
Haley Koda, Erin De La Torre and Cameron Llamas are all returning to singles action.
Watsonville also has a pair of returners in Angie Martinez and Evelyn Avalos-Quiroz, who went undefeated in doubles action in 2021.
"Having people kind of know each other, know how each other plays, is really helpful. They like the camaraderie," Childers said.
Martinez and Avalos-Quiroz are at the No. 1 spot, while Mia Larios and Emma Gutierrez are teaming up at No. 2.
Childers said they have a couple of newcomers including Julie Ramirez, who's had an immediate impact teaming up with returner Selina Salvador in doubles competition.
"Some of these guys, they pick it up really quick," Childers said.
Childers said this year's group seems excited to play and they have that camaraderie back again. She mentioned the upperclassmen have really taken the newcomers under their wing.
Childers also mentioned it's nice going into her second year with the program because the players know what to expect such as coaching style and how teammates play on the court.
"They really support each other," Childers said.
Llamas said she's making sure everybody feels comfortable, including their new teammates. She added that it's the little things such as showing them how to grip the racket properly or something mechanical, as well.
"We're all working on things to improve and just leading by example," Llamas said.
The last time Watsonville brought home a league title was during the 2008 season when it won the Monterey Bay League championship under Tony Navarro.
Prior to that, many of those years they played in the Santa Cruz Coast Athletic League, which had some strong teams at the time.
Llamas said there's been a lot of talk about the 'Catz being the returning PCAL Cypress Division champion.
"You want to defend that title but at the same time we know where we stand with these higher level teams and girls who maybe take private lessons or not, just been playing the game a lot longer," Llamas said.
The 'Catz (2-1, 2-0) will compete this season against Alisal, Alvarez, Hollister, North Salinas, Notre Dame of Salinas and York School in the Mission Division.
The big goal for Llamas is, of course, to win as many games as possible individually, and as a team. But she also wants her teammates to be able to compete against the higher level of competition.
"I look forward to competing against players that are better than me because I want to be able to compete against girls that serve harder than me, know what they're doing more, it's pretty cool," she said.
Childers said they might feel like they're the underdogs again, yet, she still sees the same drive she witnessed from last year's championship run.
"Last year, I was really proud that they had fun and they were competitive," Childers said. "I'm just trying to keep that attitude going."
Next up, the Wildcatz will travel to San Benito County to take on Hollister in PCAL Mission Division action Thursday at 4pm.