WATSONVILLE—It took a little more than a quarter of action for the Watsonville High football team to get the jitters and rust off its shoulder pads in Friday night's season opener at Emmett M. Geiser Field. 
But once they got going it seemed like nothing was going to stop the Wildcatz.
They scored in all three facets of the game in a 32-0 win over cross-city rival Pajaro Valley High, keeping the Belgard Kup trophy for a fifth straight year.
Watsonville posted its fifth overall shutout and took a 14-2 lead in the lifetime series against the Grizzlies.
"I feel happy that we took our first step forward in what our long-term goals are for our football program for this season," Watsonville coach Anthony Valdivia said. "I'm always happy to win the Belgard Kup, I know it's big for our community. But more so, we were able to be successful in our first game this week."
Senior quarterback Colin Parker said it was extremely important to start the season with a win. Christening the school's new synthetic turf field with a victory, and beating a longtime rival was also sweet.
"We gotta make our fans happy, too," he said.
The stands were packed with nearly 2,000 fans on both sides of the field, cheering loud enough that it could be heard from Taylor Brothers Hot Dogs stand downtown.
Both teams came out just as fired up to start the game. Parker said the Grizzlies' defense surprised him in the first couple of series, but he managed to settle down as they continued to find ways to move the ball.
Parker completed 5 of his 11 pass attempts for 116 yards and a touchdown, a 30-yard bomb to Anthony Campos, who split a pair of Grizzlies defensive backs to get into the end zone.
"They were pressing [Campos] and our receiver got a nice little cut and I just threw it to him," Parker said.
Campos finished with two catches for 61 yards and the touchdown.
Watsonville's top returning rusher Adrian Arevalo sat out of the game after just five carries. Valdivia said it was for precautionary reasons and they'll continue to monitor him as they head into this week's game against St. Francis High.
The Wildcatz, who run a Wing-T style offense, have usually relied on the run game in the past. This year might look a lot different as Parker spent time improving his passing skills.
"It's something that we want to continue to do, especially with the loss of Adrian Arevalo as our feature back for the time being, at least for tonight," Valdivia said. "We had every confidence that people like Anthony Campos and Colin Parker were going to pick up and do what we do."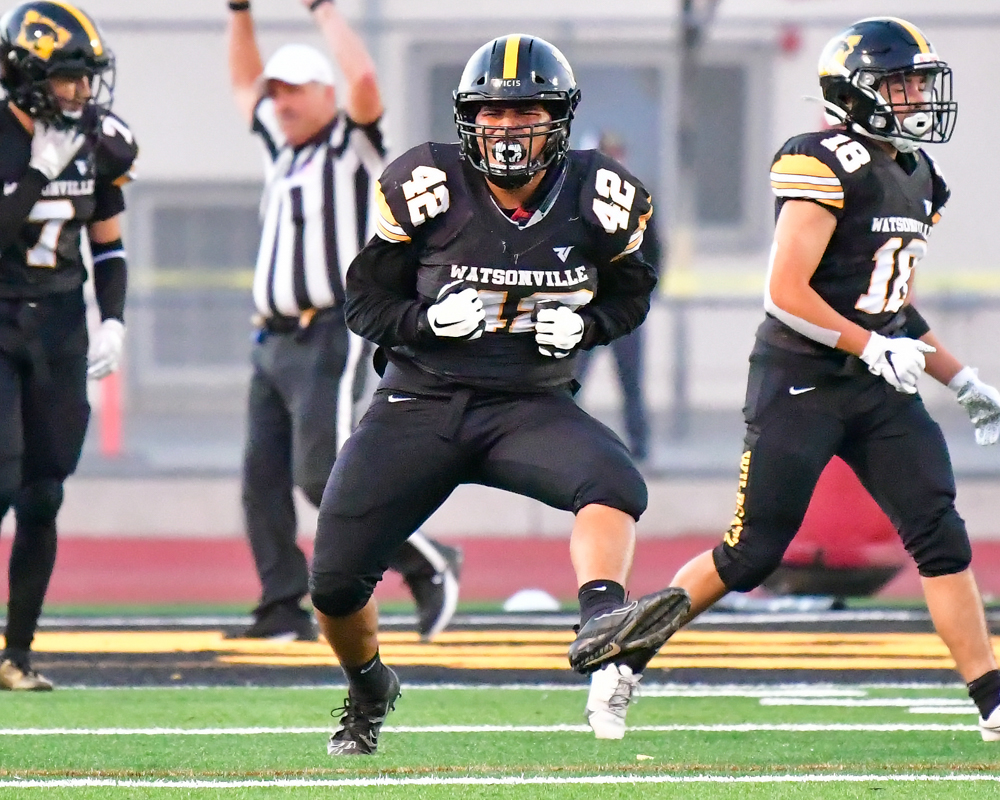 The defense also picked it up as linebacker Mathew Flores recorded a safety that gave the Wildcatz an 8-0 lead.
"The mindset was to come out shooting, come out ready for them and come out as a team," he said. "We're a well-prepared team this year."
Parker connected with Andrew Alvarado for a 40-yard completion to set the Wildcatz up at the 3-yard line. Two plays later, Jacob Martinez bulldozed his way in for a 1-yard touchdown that made it 15-0 with 3:35 left in the first half.
Watsonville's defensive line continued to attack Grizzlies quarterback Jesus Basulto, forcing him to make some errant throws. One of those throws was an interception by Campos, who returned it 58 yards for a touchdown just before halftime.
Albert De Haro made a 35-yard field goal in the third quarter to extend the lead to 25-0.
In the fourth, Flores recovered a fumble for a touchdown after a bad snap on a punt attempt got away in the end zone. He nearly blocked an earlier punt after he was unblocked coming off the edge, getting his fingertips on the ball.
"They left me ignored, the punt protectors in the back, so I knew it was bound to happen and at that point, it was a bad snap," he said. "There was a bit of a tumble, I got there and I secured the ball."
Flores' teammate Robert Caput also recovered a fumble for the Wildcatz, who held Pajaro Valley to 68 yards rushing on 35 carries and five yards passing on five attempts.
Juan Macias ran for 54 yards on 10 carries, and Isaac Ortiz gained 31 yards on 10 attempts for the Grizzlies.
On the defensive side, linebacker Manny Rodriguez recorded a sack and a pair of tackles for loss.
PV coach Joe Manfre said the loss was tough because the players really get hyped up for the Belgard Kup.
"We just gotta bounce back from it," he said. "Like I told these guys, we have nine more games. This season has just begun."
THE SCORE
Watsonville 32, Pajaro Valley 0
Up next for P.V.: vs. NMC
When: Sept. 4, 2 pm
Up next for Watsonville: vs. St. Francis at Cabrillo College
When: Sept. 4, 7:30 pm