CASTROVILLE—Last week was the final time that Adrian Arevalo suited up in a Wildcatz uniform.
The senior running back made the most of it by finishing with 76 yards rushing and a touchdown on 13 carries for Watsonville High in a 28-6 win against North Monterey County High in the teams' Pacific Coast Athletic League Cypress Division season finale on Nov. 5.
Arevalo took a minute after the game to reflect on their season and his ability to return after suffering some injuries that sidelined him.
"I've been with these boys for a cool while and there's nothing like it than to finish off with a win," he said. "I'm speechless, to be honest. It's something I'll remember forever."
Watsonville, winners of two straight, went 3-3 in league play and they finished with a 5-5 overall record this season.
Arevalo said midway through the season they began to hit the weight room more often and practice became much more competitive, which showed on game day.
Plus, it was important for him and senior Matthew Flores to end the season on a high note for those returning next year.
"It was really important for us so that we keep going, keep the momentum going into next year," Flores said.
Watsonville coach Anthony Valdivia said teams that usually chase the final game of the season are fighting for a league title. That wasn't the case for them but he still wanted them to win the finale for other reasons.
"Both: to send seniors off with great memories and to have juice going into the next season with the younger guys," he said.
It wasn't a pretty start for either team on Friday night. They combined for 13 penalties in the first half and the game was scoreless going into halftime.
Coming out of the break, Vicente Mosqueda woke up the Wildcatz sideline. The speedster slipped by the entire Condors' special teams for a 90-yard kickoff return for a touchdown.
"I feel like when one of us wakes up, all of us wake up," Mosqueda said.
NMC's special teams unit made another mistake in the fourth quarter after a bad snap on a punt attempt turned into a safety. Mosqueda made them pay again on the ensuing kickoff return by taking it back 60 yards down to the Condors' 10-yard line.
"My blockers did really, really good and I'm really proud of them," he said.
Three plays later, senior quarterback Colin Parker connected with Flores on a play-action pass for a 2-yard touchdown.
NMC's lone bright spot of the evening came in the final stanza when quarterback Marcos Muñoz connected with Marcos Machuca on an 11-yard touchdown pass to make it 15-6. But that's as close as the Condors got.
The Wildcatz defense got to Muñoz twice and forced two fumbles, including one on the final play of the game that Flores scooped and scored to close out the season with a bang.
"I'm happy we ended it on a win but honestly I'm just at a loss for words. I don't know how to feel about it right now," Flores said. "It'll definitely hit tomorrow … but for right now we're happy. I'll celebrate with my family, I'll celebrate with my team."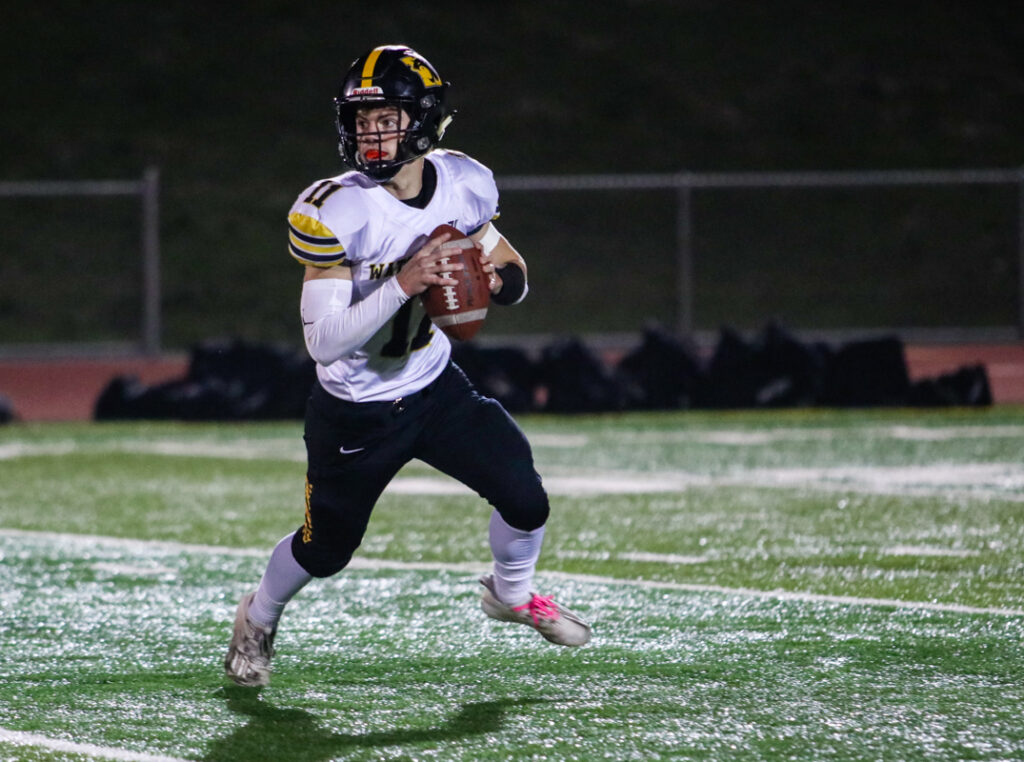 Aptos 59, Monte Vista Christian 8: Vito Riccabona scored three touchdowns to help the Mariners in a smashing win against the Mustangs in Friday night's PCAL Gabilan Division season finale.
Aptos (8-1, 6-1) tied for second in the division with Hollister (8-1, 6-1) behind champion Salinas (8-0, 7-0). MVC finished with a 1-8 overall record and went 0-8 in league play.
It was the third time this season that the Mariners scored 50-plus points against opponents within the division.
Senior quarterback Nick Forbes completed 3 of 7 pass attempts for 85 yards with touchdown passes to Caden Prichard and Riccabona, who also rushed for one touchdown.
Riccabona also had a 38-yard interception return for a touchdown and recorded a sack for a loss of seven yards.
The Mariners ran wild against the Mustangs, racking up 304 yards rushing on 36 carries and five touchdowns.
Prichard had 62 yards rushing and two scores, and Seamus Carey had a game-high 74 yards rushing and a touchdown for Aptos, which earned the No. 8 seed in the Division I bracket of the Central Coast Section playoffs.
The Mariners play at No. 1 Saint Francis (9-0) of Mountain View on Friday at 7pm. The Lancers, who stunned national power De La Salle earlier this season, won the West Catholic Athletic League title.
St. Francis 56, Pajaro Valley 7: Junior quarterback Kyle Dyer threw six touchdown passes for the Sharks in a crushing victory over the Grizzlies in the teams' PCAL Santa Lucia Division game on Saturday night at Cabrillo College.
With the win, St. Francis also brings home the Santa Lucia division title, which is the second league title in the program's history and first since winning the now-defunct Mission Trail Athletic League–Coastal Division in 2017.
Dyer threw two touchdowns each to receivers Dez Litel and Garrett Lee, and tossed one each to Seth Vasquez and Erik Kane.
Johrdan Garibay and Christian Magana each scored a touchdown in the first quarter for the Sharks (7-3, 4-0), who have won seven straight games.
St. Francis earned the No. 7 seed in the CCS D-V bracket and they will play at No. 2 Cupertino (9-1) on Friday at 7pm.
Senior fullback Nolan Villa scored on a 1-yard run for the Grizzlies (2-7, 1-3).
WEEK 11 SCORES
Friday
Aptos 59, at MVC 8
Watsonville 28, at NMC 6
Saturday
St. Francis 56, Pajaro Valley 7