WATSONVILLE—Watsonville High senior Lombardo Flores scored a late goal to help the Wildcatz earn a 1-1 draw against San Luis Opispo in non-league action on Nov. 30.
"I was hoping for the win but it was a tough game," he said.
The Tigers (3-1-2) were first introduced to the Wildcatz at a tournament in San Clemente but they only got a chance to watch them play.
SLO coach James Boscaro said he had been working with Watsonville coach Roland Hedgpeth for the past two years to put together a match.
This year they made it happen and Boscaro said it was worth the trip.
"I'd love it to be an annual game, maybe Watsonville can come find us next year because it was two great competitive teams," he said.
Hedgpeth said it was the first time this season that they went up against an opponent that was well organized.
"We had to kind of fight through that," he said. "Sometimes not knowing what to do, we tried to use our passes real quick and they weren't happening."
Boscaro said he truly appreciated the Wildcatz's possession style. However, he also knew that they were one of the faster teams that Watsonville had faced this season.
Bsocaro said he knew they could pick one of the opportunities off.
"We kind of game planned for that knowing the possession that Watsonville likes to play," Boscaro said. "Be patient, be committed to our possession and when the opportunity arises, make it count."
Camden Lunceford, a senior, put the Tigers on the scoreboard first with a goal in the 29th minute that gave them a 1-0 lead going into halftime.
Flores said the Tigers' long balls and their height is what threw them off.
"We didn't know what to expect, we've never played them," he said. "We just wanted to keep the ball. As long as they didn't get the ball, we're good."
Flores' opportunity came to him in the 68th minute when he blasted a shot to the back of the net to tie the match at 1-all.
"I saw an open opportunity, I saw the goal wide open," Flores said. "[The ball] was a little bit moist, it was a little bit wet so it slipped off right into it."
Flores said going through a hard fought battle such as Thursday night's draw is just something that'll help them get prepared for the rest of the season.
"It helps us to expect teams like this and every other team that comes out at us," he said. "We'll be prepared for them."
On Saturday, Watsonville bounced back with a 2-0 win against Gunn High to open Gold Division pool play at the Homestead Christmas Cup at Homestead High in Cupertino.
The Wildcatz (2-0-1) will resume play at the Homestead Christmas Cup with a match against Los Gatos (1-0-0) on Thursday at 6pm.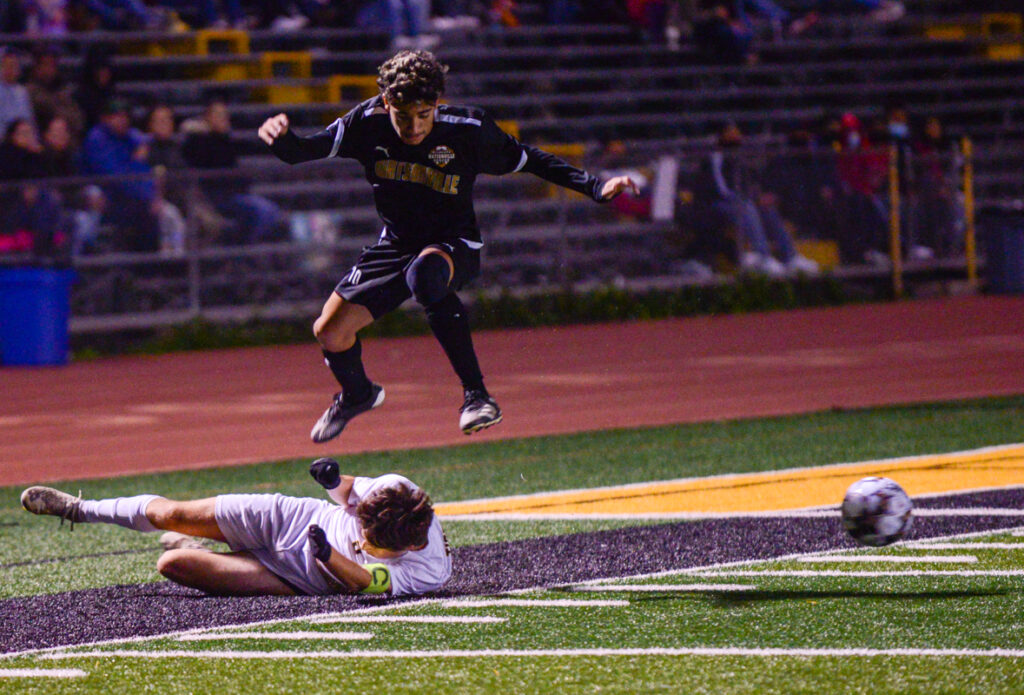 Salinas 4, Aptos 2: Erik Hernández put the Mariners up 2-1 with his penalty kick in the 67th minute, but the Cowboys scored three unanswered goals late in Wednesday's non-league win against Aptos.
Salinas also scored in the seventh minute on a penalty kick. Aptos' Fredys Abrego tied the score 1-all in the 30th minute on a corner kick from Eddie Alvarez.
Goalie Ulises Hernández made four saves for the Mariners (2-1), who host Pajaro Valley on Tuesday at 7pm.
Ceiba 1, Palma 0: The Spartans won their non-league game against the Chieftains on Nov. 29. Ceiba College Prep (1-1-0) will open Pacific Coast Athletic League Arroyo Division play against St. Francis at Depot Park in Santa Cruz on Jan. 11 at 3:30pm.
Soquel 3, MVC 0: Monte Vista Christian lost their non-league game to the Knights on Dec. 3. The Mustangs (0-1-1) host Seaside on Tuesday at 6 pm.
MVC 0, Rancho San Juan 0: The Mustangs opened their preseason with a scoreless draw on Nov. 30.
Alisal 3, Pajaro Valley 0: The Grizzlies lost their non-league game to the Trojans on Dec. 2. Pajaro Valley (0-2-0) will play at Aptos on Tuesday at 7 pm.
Harbor 2, Pajaro Valley 1: The Grizzlies lost their non-league game to the Pirates on Nov. 30.
Soledad 1, NMC 0: North Monterey County lost its non-league game to the Aztecs on Dec. 2.