SALINAS–Law enforcement officials have arrested a man suspected of using a slingshot to shoot glass marbles at dozens of vehicles traveling on highways 156 and 101 in Prunedale and San Benito County since February.
Charles Kenneth Lafferty, 52, has been charged with 21 felony counts, including throwing an object at a motor vehicle, assault with a deadly weapon and possession of a silencer. He was booked into Monterey County Jail in lieu of $250,000 bail, jail records showed.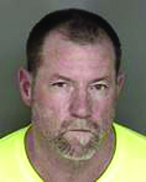 Investigators from the California Highway Patrol and Monterey County Sheriff's Office have investigated 69 incidents since Feb. 19 in which vehicles were struck by objects. Five people were injured.
Investigators do not believe a firearm was used in the attacks.
The strikes abruptly ended after the last attack, which was reported Jan. 5 near Dunbarton and Highway 101.
According to CHP Coastal Division Chief LD Maples, investigators connected Lafferty's GMC Sonoma pickup to the incidents and identified him as a suspect after watching the vehicle.
Lafferty was surprised by his arrest, Maples said.