In the weeks leading up to Christmas, tree farms across the nation are thrust into the spotlight and sellers start their busiest time of year.
This year, the industry is holding steady, despite a nationwide shortage that is pushing up prices. Heatwaves and fires that raged across the western states during the last two fire seasons, as well as a strained supply chain due to the pandemic, have severely impacted both production and distribution.
According to the National Christmas Tree Association (NCTA), the national trade association representing the Christmas tree industry, the state of Oregon produces 40% of the nation's trees. But recent heatwaves have resulted in many losses and price increases. In late June, record temperatures in the Pacific Northwest were shattered.
"Where we usually get them from, in Oregon and Washington … The hottest year on record has been 107," said Timber Taylor, owner of Pacific Firewood & Lumber, a family-owned business that has been selling Christmas trees in Corralitos. "But this summer, when all the fresh, new growth was coming out, it got to 117 degrees. A lot of growers lost quite a bit of trees. They got baked."
In California, farms lost trees not only through heat waves but wildfires as well. Crest Ranch, a family-owned, U-Cut tree farm in the Santa Cruz Mountains that has been in business since 1948, lost 40 acres of their crop in the CZU Lightning Complex fires—that is, about 80% of their trees.
NCTA cited all of these issues, along with rising costs to grow, cultivate and ship trees, as reasons for this (and last) year's soaring retail prices.
But sellers are staying positive. Taylor said that they have been able to make ends meet, selecting trees from what their sources have left. At one farm, trees under six feet were burned, but they could supply him with ones over that height. Another farm could offer the complete opposite.
"So I was able to get what I needed from both farmers," Taylor said. "We're still doing pretty good."
Taylor said that so far, sales are doing well compared to 2020.
"But that's kind of like saying, 'our cruise was better than the Titanic,'" he said. "During Covid, we had hundreds of unsold trees we had to chip at the end of the season."
Pacific Firewood & Lumber services year-round to the Monterey Bay Area with products to heat homes: firewood, boxed wood, pellets, energy logs and more. They have been selling Christmas trees for over 31 years. They sell Noble Firs, Douglas Firs, Grand Firs and Silver Tips. They are one of the only sellers in the area that offer "flocking," the process of covering a bare tree in a white synthetic powder to give the illusion of fresh snow.
Taylor said he has really enjoyed hosting families at his tree lot every year.
"I have kids who used to come here with their parents in the '90s," he said. "Now they're coming here with their kids! It's so cool."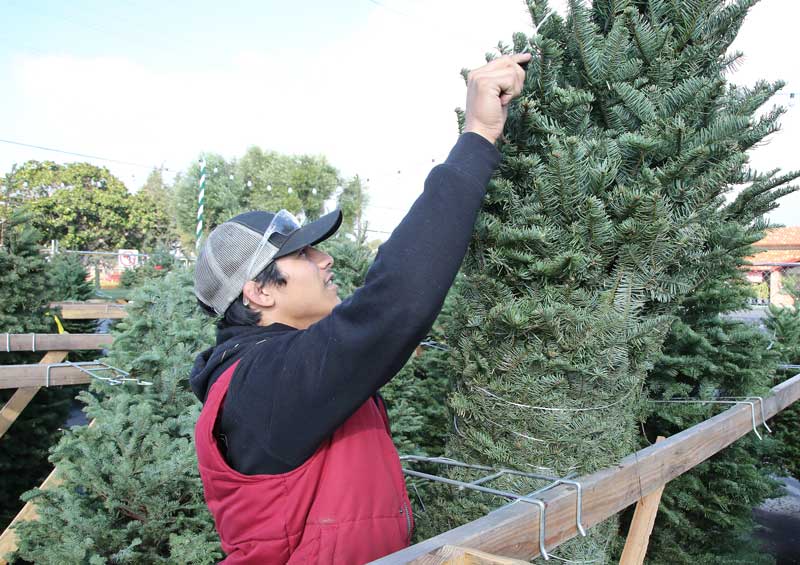 In Watsonville, another long-standing tree lot popped up just after Thanksgiving in the East Lake Shopping Center. Corrigan's Christmas Trees has sold trees, wreaths and more to the community since 1992. The family-owned business was recently awarded a proclamation by Watsonville Mayor Jimmy Dutra in recognition of its 30th year in business.
Nancy Chames, who has worked at the lot every season for the past few years, reported that their supply of trees from Oregon has been looking good.
"There was not as much rain, but it was still enough," Chames said. "We have Douglas Fir and Noble Firs. They look pretty nice, and quite healthy."
Chames offered some advice for families on how to care for their trees once they are set up in their homes.
"They need to be in water," she said. "Keep them hydrated. Not hot or cold—tepid. They will drink a lot for the first few days, then settle down a bit."
She also recommended keeping trees away from heater vents and constant, direct sunlight.
"Remember, they are cut trees. So they're depending on that," she said.