WATSONVILLE—Situated on the outskirts of Watsonville, just down the road from Pajaro Valley High School, sits Esperanza Community Farms.
Established in 2017, the farm provides affordable organic produce to about 100 local families through a biweekly Community Supported Agriculture (CSA) program, while aiming to promote healthy eating, sustainability and economic justice in the Pajaro Valley.
And for the past month, they've also hosted a series of special art workshops.
Dubbed "Pintando Verduras" (Painting Produce), the workshops were offered by donation to people of all skill levels and ages, and were taught by Watsonville-based artists and educators Ome Garcia and Josefina Rocha. The final event was held Sunday.
"We have such a deep relationship with art, but also with plants, and the land," Garcia said. "At a time when people can't come together in the way they used to … this can help people restore relationships, to heal."
The art classes came about through a grant Garcia was awarded by Arts Council Santa Cruz County. According to Mireya Gomez-Contreras, co-leader at Esperanza, Garcia applied for the grant not knowing how or where they'd offer classes (especially during Covid-19).
Garcia reached out to Gomez-Contreras, who is also deputy director of the Arts Council, after they had the funding—in part because they wanted to find a way to hold the classes outside.
Garcia has taught arts in the Pajaro Valley for nearly a decade, and recognized that the community was "hungry" for opportunities to express themselves and connect during the pandemic. This led them to start bringing paint supplies to local parks for small group painting sessions.
"It wasn't much, but it was something," Garcia said. "And after observing their experiences, it occurred to me that this was not only providing the potential for participants to process what was happening, but served as a way to reconnect and heal our relationship with the Earth, ourselves, and each other."
With additional funding and support from Pajaro Valley Arts, Garcia and Gomez-Contreras began to envision a summer arts program, which would eventually become "Pintando Verduras." 
The workshops had organizers setting up tables on site at Esperanza, mere feet away from the fields of organic produce. Farm employees harvested the crops and passed them over to participants to paint.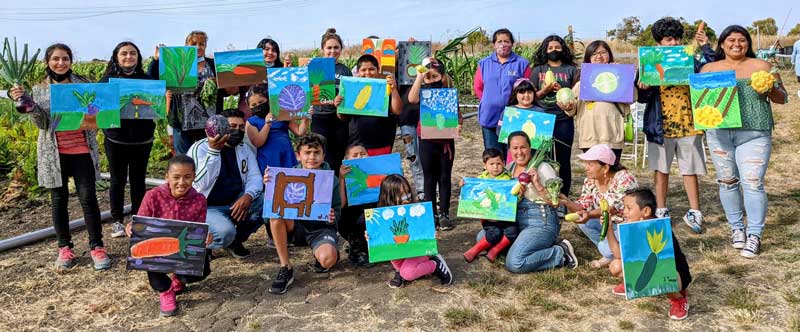 Teaching artists instructed painters from ages 2 to 70 years old, of all skill levels, helping them distinguish the various colors and textures in the food and how to translate that to their canvas.
Rocha said her mother attended the workshop, creating a painting for the very first time.
"It was quite the experience," she said. "She'd never done anything like it."
Rocha, who grew up in Watsonville and attended Cal State East Bay to study Fine Arts, said that she knew Garcia prior and was eager to work with them on the project.
"This sort of project really puts things in perspective, and shows how much potential there is here in Watsonville," she said.
Many participants who signed up were from the farm's CSA program—but others were drop-ins, who noticed the excitement happening at the farm along Lee Road and decided to check it out.
"We're pretty far out … there's not much out here," Gomez-Contreras said. "So the fact that people just found us, and then wanted to participate … It was exciting."
Gomez-Contreras said that Esperanza Community Farms will most likely hold similar events later this year.
Garcia said that projects like "Pintando Verduras" are the key to Esperanza's mission.
"This is how we restore our relations, and plant seeds of freedom for future generations," Garcia said.
You can stay in touch with the farm at esperanzacommunityfarms.org or by following them on social media.