North Monterey County High's cross country team has had a rich history of success in its program, combining for 35 boys and girls league championships.
However, there's recently been a small drop off for the Condors who haven't won a crown since the boys' team in 2011 and two years earlier by the girls' team.
NMC coach Francisco Cornejo is entering his third year with the program and is looking to restart the legacy again.
Cornejo, who is also the head coach of the track and field team, said the both groups are young and it's going to take some rebuilding. But he believes they're on the right track back to success.
"It's been a rebuilding process ever since I came in, we definitely have a young team but the kids have risen to the occasion and they know the goals for the program," Cornejo said.
The Condors currently have 66 runners in their program—half on the boys' and half on the girls' team.
The boys' team competed in the Pacific Coast Athletic League's Gabilan Division this season.
The Condors finished in the top 3 in three league meets and no worse than 10th place in five non-league races.
Cornejo said although the competition is tough, he loves to have the boys go against the top competition in hopes to prepare them mentally for bigger and better events in the future.
"If we just focus on preparing kids for just the league, when we get to CCS or state level of competition we are just going to get destroyed," Cornejo said.
Senior captain Irineo Navarro mentioned it's tough going against tough runners every race but it only motivates him to get better every day.
"It's not easy going against some of these top competitors, they don't take it easy on us. But it pushes us and makes us better runners," Navarro said.
Cornejo said Navarro is one of his top runners this year and he has really improved since his freshman year.
Navarro started running for fun when he was just six years old and loved it but he didn't start competitively running until middle school.
"Irineo was one of the freshmen that started with me my first year, he has improved big time since then," Cornejo said.
Cornejo also highlighted senior runner Gael Godinez as his No. 2 runner and junior Alvaro Ruelas in the third spot.
"Alvaro Ruelas is in his second year running and has improved a lot this year," Cornejo said.
Navarro spoke highly of Godinez and said they try to push and motivate each other to get better.
"Gael is my running partner, he really motivates me to get better, we are always neck and neck at practice and races," Navarro said. "We really try to push ourselves, we are always running and training together."
Cornejo said the team will be losing some key seniors next year and hopes the current upperclassman can set the standards of the program.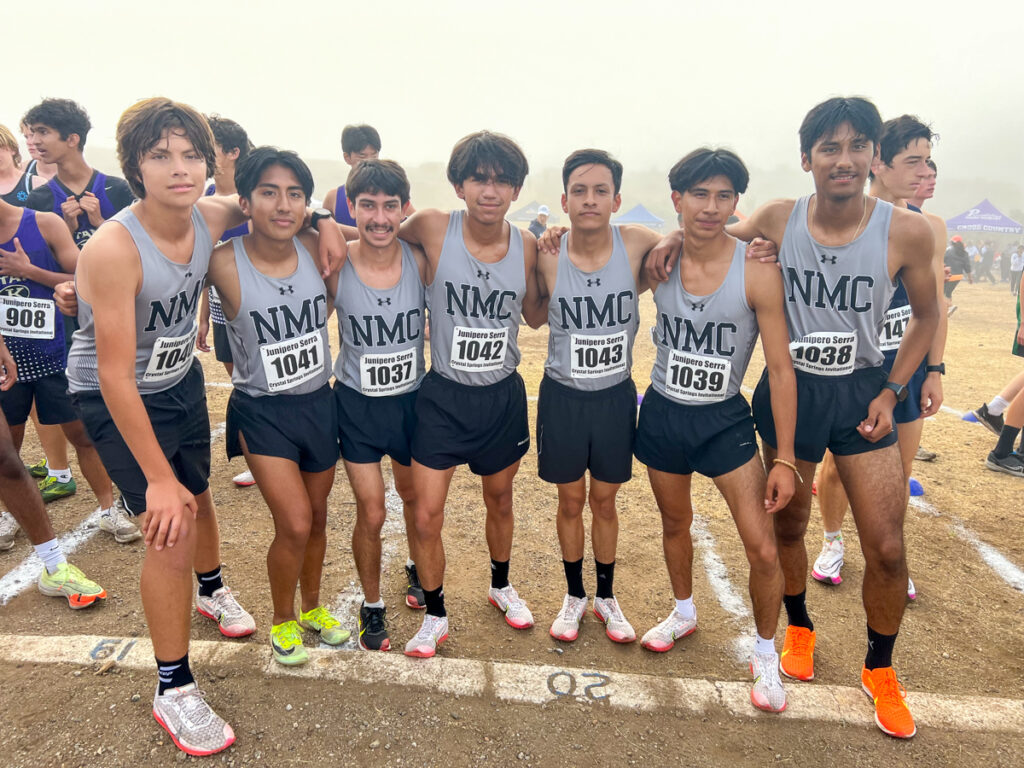 "I know next year we are going to lose half my varsity but the young kids are going to replace them so I'm hoping the ones that are graduating this year will set the standards for the future," he said.
The girls' team competed in the Mission Division this season. Cornejo said he was impressed that the young squad improved in one year and how they competed strongly against tough competitors.
Last year's group was mostly made up of freshmen and they failed to qualify for the CCS championships as a team.
The Condors have just one senior on this year's roster but they are still one of the favorites to win the Mission Division title at this weekend's PCAL Cross Country Championships in Carmel.
"Our goal is to make it to CCS and hopefully state as well," Cornejo said.
Sophomore runner Nadia Anastacio said going against top competitors each week is tough but it makes her a better athlete.
"It's honestly nerve racking sometimes, but it's great to go against these runners and it really motivates us to get better," she said.
Cornejo said Anastacio has also been one of the Condors' top runners this season and emphasized her desire to get better every day.
Anastacio said she's looking forward to the next two years of running and has goals she plans to complete before leaving North Monterey County.
"I'm really looking forward to getting better, I hope to be in the 19 minute range or better by my senior year, right now I am around the 20-23 minutes range," she said.
Cornejo also emphasized junior Melissa Macias, who qualified for CCS as an individual, and sophomore Marialba Diaz-Perea as some of their top runners to look out for.
Cornejo said that great chemistry within the team is one the most important keys into rebuilding the program.
"All our coaches work so well together, all our kids get along. When they join the team we want to make them feel like they are a part of a family," Cornejo said.
The Condors will compete in the PCAL Championship on Saturday at Palo Corona Regional Park in Carmel to cap off the league season.
Cornejo said he doesn't plan to change his game plan and wants to stay consistent to what he has been doing.
"We are just going to keep doing the same thing, going to keep focusing on ourselves and our goals," he said. "It's a tough 5k but it's tough for everyone. But our kids can do it."
Navarro said he's not worried about the course and he'll need to stay consistent if he wants to be successful in the race.
"From what I remembered it wasn't too bad, very hilly, small hills that slowed me down sometimes…I just need to stay consistent with my plan," he said.
Anastacio said her game plan for the big race is to increase pace as she goes and to make sure her body is well rested.
"I have been trying pretty hard lately, I'm going to try to rest my body before, then go all out the day of the race… my goal is to progress and get faster each mile I run," she said.