SAN JOSE—It's been more than 40 years since the North Monterey County softball team began competing in the Central Coast Section postseason. But each time they've gone to the playoffs, the results were never in their favor.
That changed this year.
The No. 3-seeded Condors brought home a title after they defeated top-seed Piedmont Hills, 11-3, in the Division IV championship Thursday.
Senior utility player Joslyne Holmes was beyond emotional after winning the program's first-ever title, She said without a doubt this has been the best moment in her life, so far.
"All my four years, I never thought I'd leave my mark at the high school like this," she said. "I'm glad I was able to take advantage of the Covid season and not let it bring us down. It was just really a blessing."
Trying to pick up the final three outs in the championship game was like a roller coaster for Joslyne, who at times felt excited and on edge. She told her sister, Gaby, that the nerves began to kick in but in the end she was able to control herself.
Sophomore infielder Jasmynne Oliva caught the final out and her teammates rushed to the middle of the infield to celebrate.
"When she caught it I had chills running down my spine," Joslyne said. "I never thought we'd make it this far. It was just all amazing."
Condors coach Joe Holmes—Joslyne and Gaby's father—said they were able to play small ball against the Pirates, which allowed NMC to run free on the bases.
The second-year coach said it was a wild ride from the start. They went from not knowing if there was going to be a season to making their historic CCS run.
The Condors finished the regular season with a 7-7 overall record and they went 1-7 in Pacific Coast Athletic League play. Now they can add D-IV champ in the record book.
"It just lets you know that the girls bought into what you say," Holmes said. "It's awesome."
Their first challenge was getting past Pacific Grove High in the play-in game on June 1. NMC defeated the Breakers, 9-2.
"That's when girls got hot and we just ran with it," Holmes said.
Then, they notched a 10-1 victory against No. 6 Design Tech in Monday's quarterfinals. Sophomore pitcher Amelia Visesio was in the circle for all four playoff games, including Thursday's championship.
"She never came out, she sat on the mound for us the whole time and pitched phenomenal," Holmes said.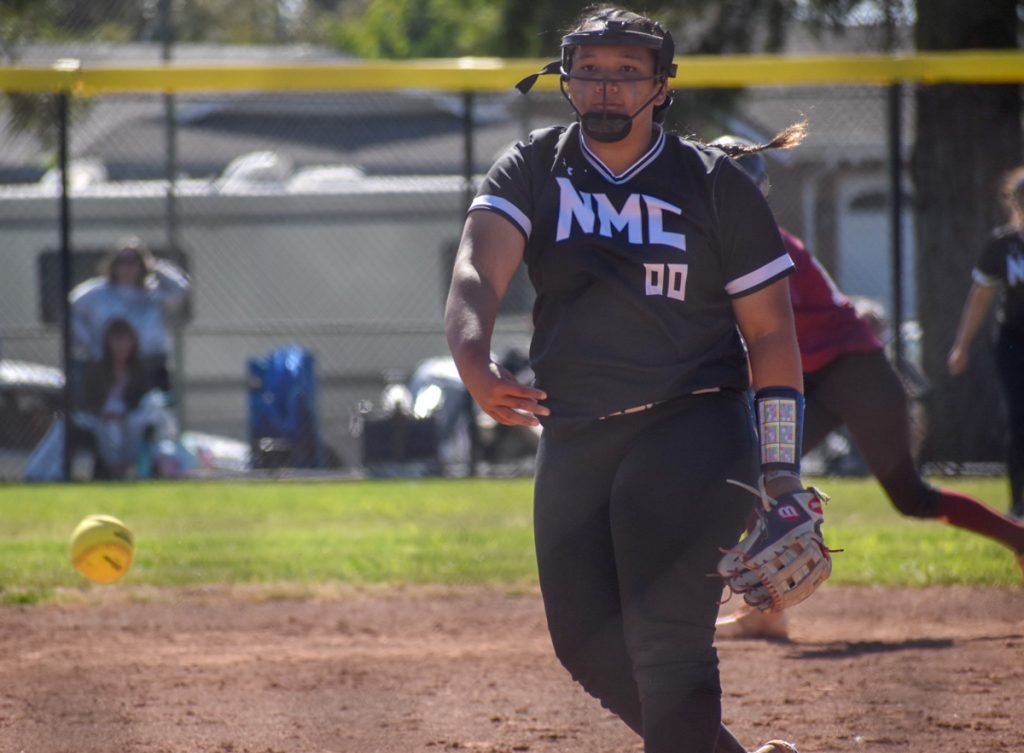 Joslyne said that a tough regular season schedule with games against San Benito High, who won the D-II title, and Notre Dame of Salinas, a runner-up in the Open Division, got them ready for the postseason.
She mentioned that most of it was mental preparation because facing powerhouse teams can take a toll on the players, especially if the games end up in a blowout.
"But then I kind of saw how it helped my team never to give up," Joslyne said.
It paid off in the semifinals against No. 7 Notre Dame of Belmont after the Condors blew a seven-run lead. The Tigers took an 11-10 lead in the top of the sixth but Joslyne noticed that their spirits were still high and they continued to cheer from the dugout.
She said their coaches didn't sugarcoat what was going on, and they pushed the team to stay focused.
"Especially when coach Lome [Visesio] would always say before all the games, 'They have your bone, are you going to get it?' And we would say 'yes,'" Joslyne said.
Holmes would emphasize that they needed to play as if it were their final game, which was almost the case against Notre Dame-Belmont. Gaby hit a grand slam home run in that game, which got Joslyne riled up because it gave her high hopes for the future of North Monterey County softball.
"We just kept going through it with a good mentality, cheering and keeping our heads up high," Joslyne said.
Holmes said at the end of the day any given team can win as long as they put in 100% effort.
"Prove it to yourself," he said.
Joslyne said that being able to win a CCS title alongside her sister as a teammate and her dad as the coach meant everything to her. She even considered the rest of the team as her sisters after everything they'd been through during the pandemic.
Most of the girls didn't get a chance to go out or talk to each other off the field. So, being able to see other people and bond with the team was a relief.
"I made a new family in softball," she said. "I felt like being able to win with not only my biological sister but my softball sisters was everything I could ask for in life right now."
Next year, the Condors will be without the services of Joslyne along with seniors Alexia Pacheco, Bekah Bueno and Sahvannah Rivera.
Joslyne hopes to continue her softball career at Monterey Peninsula College and she will try out for the team next spring.
"Where the wind takes me, I'll follow," she said.