Ten artists helped dress up a section of Pacific Avenue in downtown Santa Cruz last week during the first-ever "Color Our Street! Chalk Art Event." As part of the monthly First Friday Art Tour, the project gave artists an open slate to create original art on the pavement inside a section of Pacific Avenue, the main business street in Santa Cruz, that has been closed to motor traffic during the coronavirus outbreak.
"It just feels great to be able to share something positive and to leave something here for everyone in the community," said Linda Cover, an artist who was a major player in the Pajaro Valley Unified School District for more than two decades. "The range of the art out here is wonderful; it's a wide open gallery. It's fun to be youthful."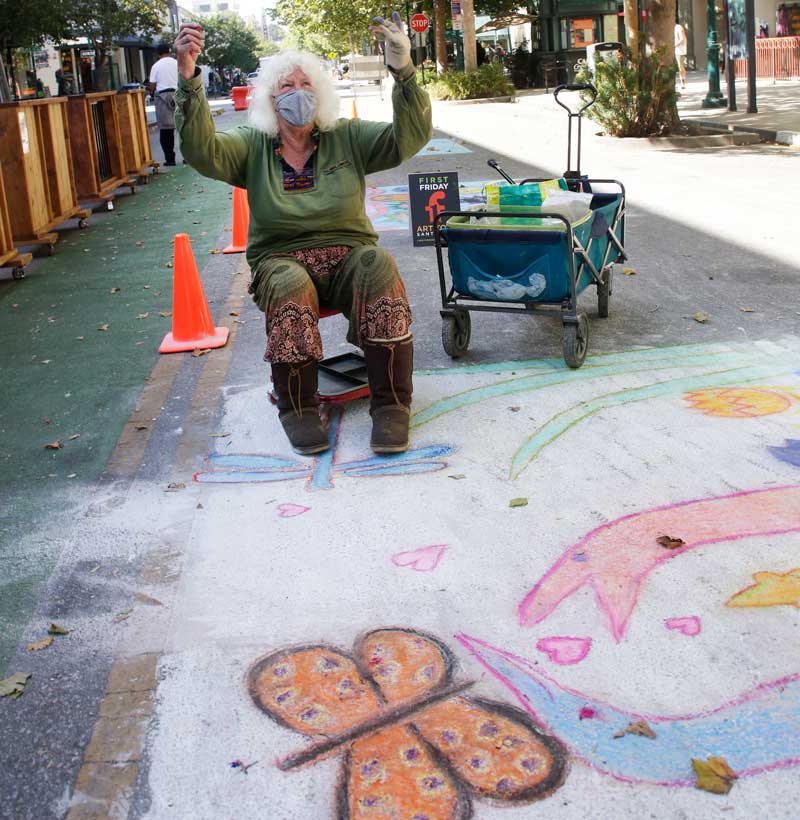 First Friday Santa Cruz collaborated with MeloMelo Kava Bar and Downtown Santa Cruz to bring the project to fruition, said First Friday director Bree Karpavage.
"We simply wanted these artists to express where they're at today," she said. "The topic is a free range. It can be Black Lives Matter, masks or a flower—the artists chose their own direction."
From Wednesday through Friday the artists took to the pavement with chalk and, in some cases, pastels, as the public was welcome to get a glimpse of art in progress. Karpavage said Downtown Santa Cruz provided the chalk while MeloMelo Kava Bar pitched in gifts for the winners.
Dennis Scott of Santa Cruz created a giraffe as his central topic.
"I started chalk art creations once the coronavirus lockdown went into effect," he said. "It's a lot of fun and I'm happy to be able to participate out here today. People really seem to enjoy watching this go on."
Sarah Jane of Aptos painted a portrait of a young woman, in profile, with a tear coming from her eye.
"I wanted to do something to express some of the craziness that is going on right now," Jane said. "It feels good to be able to bring this out into the public. It feels good to reminisce about times before this Covid thing took over and to be a part of something meaningful when you've been locked away for so long."