A sense of normalcy returned to Santa Cruz County last week as the local high schools kicked off the cross country season. Watsonville High School squared off against Harbor High School on Feb. 18 in Santa Cruz Coast Athletic League competition, which was the first prep sporting event in the area in more than a year.
Watsonville High senior Layla Ruiz blazed past her competitors, and teammates, as she placed first in what was a mere 2-mile exhibition race for her. The Wildcatz's senior standout never looked rattled at any point during the race but there were signs of frustration as she had to take time to read and react before putting on her mask to pass up individuals on the track at Harbor High.
"I want to be respectful of other people," she said. "I was trying so hard but at the same time you're trying to race, so it's really difficult to be putting that mask back on."
Ruiz will meet with head coach David Knight and the rest of the staff to see what kind of adjustments they can make moving forward. However, wearing a mask is just one of other funky changes they've had to adjust to.
Ruiz was running on an all-weather running track, which attracted some unwanted heat that she wasn't anticipating and she still had a great outing, dusting off any of the rust she had after not racing competitively in more than a year.
Due to the Covid-19 pandemic, all California high school sports were shut down in March 2020. As state and local authorities along with the school districts developed plans to allow sports to reopen, cross country was the first sport to be given the green light to start. Official practices began on Feb. 1 with strict protocols in place including temperature checks, wearing a mask and social distancing.
Santa Cruz Coast Athletic League officials last month invited Watsonville, Pajaro Valley, Monte Vista Christian and St. Francis high schools along with Ceiba College Preparatory Academy to compete in a condensed 2021 sports season, which has been delayed several times because of the pandemic.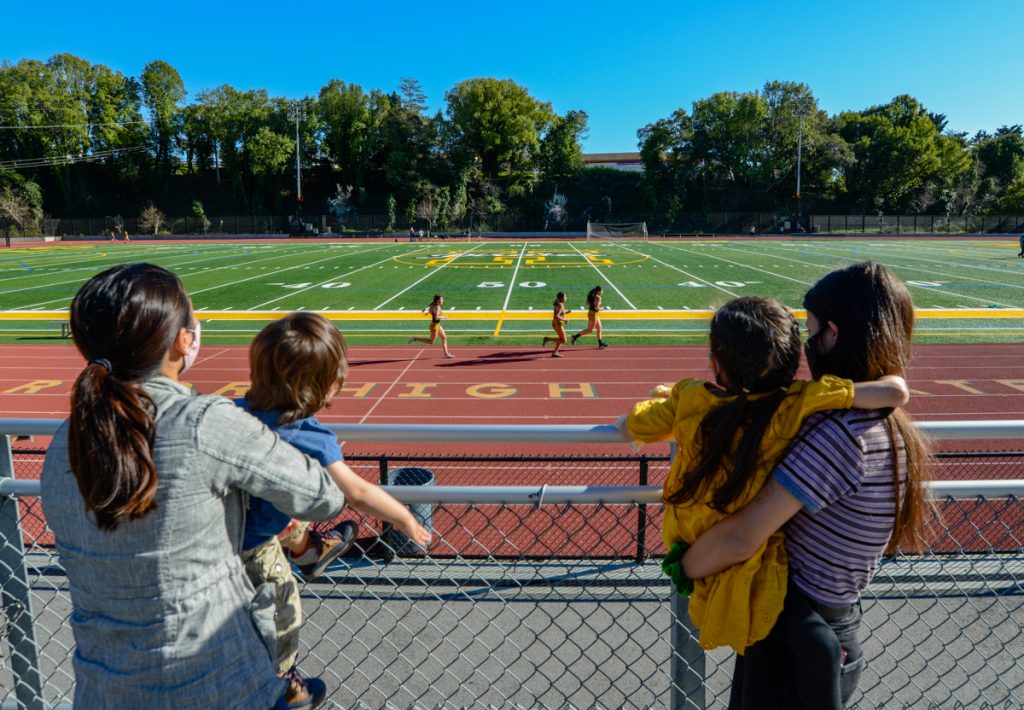 Knight was over the moon as he finally got a chance to watch both the boys and girls teams compete for the first time in more than a year. He said it was noticeable that both teams hadn't raced for quite some time but overall they had some great performances.
Knight mentioned that Ruiz ran a strong race and it looked like she had a tough time adjusting to the new guidelines. He said every time she passed someone on the track she kept having to bring her mask to cover her face, which would have messed with her psyche.
"It was definitely an interesting type of race where you're passing a lot of people and you're distracted because of your safety," he said. 
Knight wasn't aware until a couple of days prior to the race that they'd be racing on a track at Harbor High instead of the usual cross country course that is held at the University of California Santa Cruz.
He said the fact that the race was on the running track, there were no hills and it was only two miles forced them to make some adjustments. Still, he looked at last week's meet as an opportunity to see where the girls and boys teams stand as of now.
"It was definitely weird to be running a cross country race on a track and wearing a mask," he said. "But the great energy I saw from the team and the happiness is the best thing that we saw today, for sure. It was worth it even though it was kind of weird."
Knight was impressed with the way sophomore Dahlia Barranco finished the afternoon and he was glad to see that the girls were able to accomplish the goals they set out for that day.
Ruiz mentioned that she'll also be using the time in these shorter races on the track to practice her pace so that she can be ready for a three-mile race.
"This is kind of like a workout, just taking in those paces so that I can account to know how my body feels at a certain pace and to be able to hold that for other races to come," she said.
Knight also enjoyed watching senior Domingo Martinez and junior Sebastian Abonce working together as they placed first and second, respectively, in the boys race. Knight mentioned that he saw some really good pack-running from the rest of the group, especially the up-and-coming freshmen Jesus Vega-Lopez and Omar Delgado.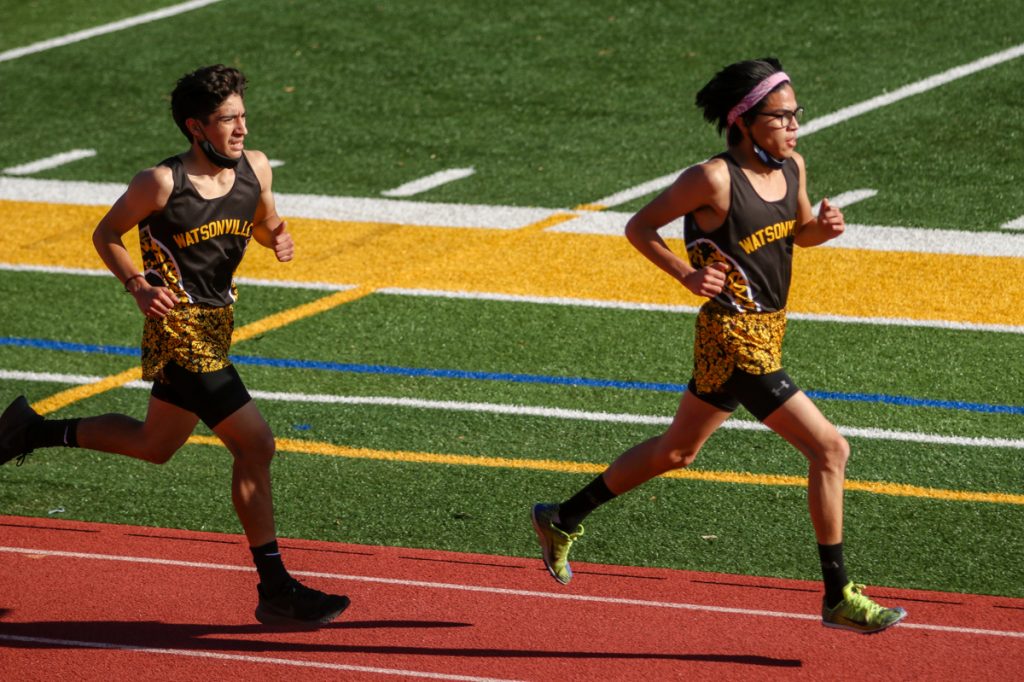 "It was special to see everybody out here competing," he said. "It's only going to get better from here."
Martinez said it felt good to finally get back out to compete and there's still going to be some things getting used to, especially having to run on a track. He wasn't looking forward to the changes and he was disappointed because he was expecting to run on a cross country course with the usual features such as the rugged hills.
"But at least I get to run, so that's always a plus," he said. 
Aptos High School's senior tandem of Kirsten Martin and Susana Estrada finished behind the Boothby sisters of Scotts Valley High. Amber, a sophomore, and Ashlyn, a freshman placed first and second respectively for the Falcons in their duel meet league opener against the Mariners.
"After waiting so long for these races to start, this first race felt really good," said Amber Boothby after the race. "We're just really happy to be out here."
Martin and Estrada, who are both slated to continue their running careers at Cal Poly San Luis Obispo, along with a deep Aptos lineup won the girls contest, 25-30.
Martin said they're more motivated than ever to get back and it's good to have a routine going, which has resulted in some major improvement since they started conditioning.
"I think that we're getting better this season," she said. "It's nice to have that motivation again."
Estrada said it's been tough on her because she wasn't sure if there was going to be a season or not, especially after last year's track and field season was canceled.
"Knowing that the season's actually gonna start is fun to have and a good motivation to finally race because it's really been a long time," she said.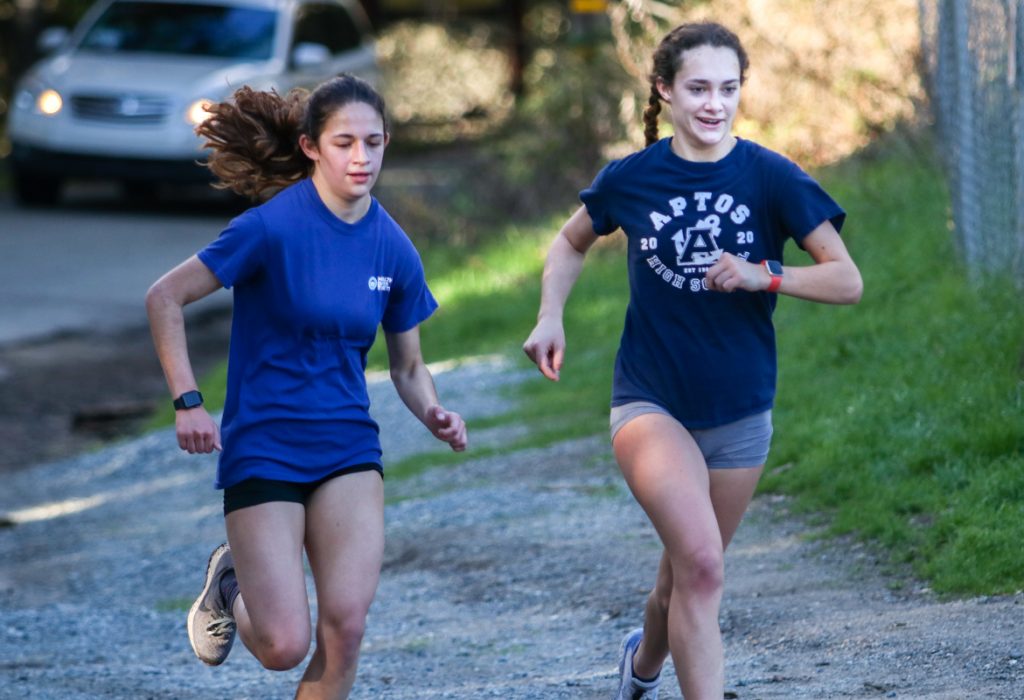 Both the boys and girls teams didn't train last summer but Mariners coach Dan Gruber had them running again in the fall. He said now they're hungry for more and they've been consistent since the start of conditioning.
He also believes that just about every other team in the county is feeling just as anxious as them to get out and run. 
According to CIF guidelines and Covid-19 modifications, they recommend that cross country meets should use staggered, wave or interval starts. They're also enforcing that masks will be worn at all times by everybody at the meet except when they're engaged in competition.
Gruber isn't worried about the kids not wearing their mask during the race. He said most of them aren't running close to each other and the league protocol is far more stringent than the one provided by the CIF.
He said the SCCAL is having the runners go to the starting line with their mask on and then they'll be instructed to take them off just before the start of the race. Gruber is hopeful that he'll soon get vaccinated, that way it's one less thing to worry about.
"I'm fairly healthy but I don't want to get [Covid-19]," he said. "But I've been pretty good and we keep a distance."
Senior Ben Laughlin believes they're all in pretty good shape to be concerned about other runners not wearing their masks. He mentioned that having a healthy set of lungs is critical when they want to go full speed, anyhow.
"I'm not too worried about it, we're all staying cautious," he said.
Gruber realized how much he truly missed spending time with the students.
"This is the year where competition is great but it's more about getting out and participating this year," he said. "We've always been competitive but we always had a really good social component on our program and that's probably even more highlighted now."
The Mariners are scheduled on Feb. 25 to race in a meet against Soquel High School and Monte Vista Christian at MVC in Watsonville. The Wildcatz will compete on that same day in an all-Watsonville meet against Mount Madonna School, Pajaro Valley and St. Francis high schools.
Additional reporting by Scott Goodrich