WATSONVILLE—National Night Out unfolded Tuesday night in a wealth of Watsonville neighborhoods as an effort to bring the community closer to its law enforcement officials.
With a format similar to a block party, Watsonville Police and Fire, Santa Cruz County Sheriff's deputies and city officials welcomed scores of people to free barbecue meals, live music, games and information tables for informal get-togethers.
National Night Out typically takes place on the first Tuesday of August. Several communities across the country held the event two months ago, but the city of Watsonville pushed its rendition of National Night Out to October. It took place in nine locations in Watsonville and at the Santa Cruz County Sheriff's Center at Mesa Village Park on Green Valley Road.
"It just feels good to be out here again with the community," said Sheriff's Lt. Roy Morales as he handed out free plastic Sheriff's hats to area youths. "I miss this. So do these people; you can tell by the crowds."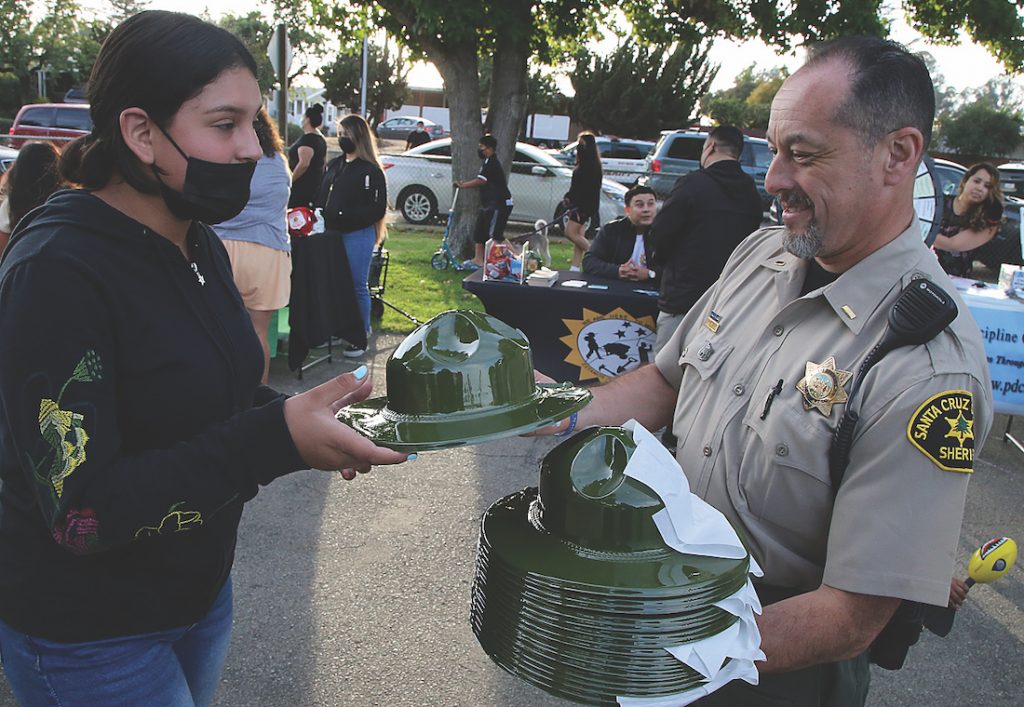 The event is designed to strengthen the relationship between neighbors and police and bring them together under positive circumstances.
"Everyone is happy to be out here meeting each other," said Maria Rodriguez of the Community Action Board. "You see all ages here; everyone is engaging and being responsible and they look happy. We're all happy to partner with the Sheriff's Office out here today."
At the Youth Center in downtown Watsonville Sgt. Rudy Lopez pulled into the event in a special pink patrol car, designed to highlight Breast Cancer Awareness Month. There, officer Lacey Kane and other WPD officials mingled with the crowd, handing out free police badge stickers and helping kids get photos of themselves in the pink car.
"We were really looking forward to this," said Courtney Baker, who was joined by her husband and two children. "The kids really enjoy it and it's a great way to meet our police. They don't get enough credit."