APTOS—Santa Cruz County Sheriff's deputies shot a man late Tuesday in Aptos after he allegedly fired a gun at them during a car stop, Sheriff's Office spokeswoman Ashley Keehn said.
Eli Burry, 40, of Soquel, is facing charges for weapons violations and violent felonies.
According to Keehn, deputies were investigating a suspicious vehicle at 7960 Soquel Drive at the rear of Aptos Village Square at about 10:50pm. When contacting the two people in the car, deputies noticed Burry, who was driving, was armed with a handgun.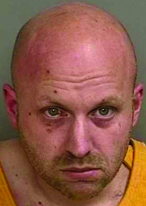 As deputies were attempting to detain Burry, he fired one shot. One deputy also discharged their weapon several times, striking Burry. The deputies rendered medical aid, and he was taken to a hospital. He is expected to survive, Keehn said.
The deputies and male passenger were not injured.
The California Highway Patrol assisted Sheriff's deputies in closing down a section of Soquel Drive in the area. Central Fire and American Medical Response paramedics assisted in treating the victim.
Burry has had previous run-ins with local law enforcement.
On March 5, 2020, he was arrested on a host of charges at his home on the 2700 block of Main Street in Soquel, Keehn said. During that search deputies found 444 grams of methamphetamine, packaging and scales, 17 firearms—including two that were unregistered assault guns—two shotguns, several handguns and over 5,000 rounds of ammunition. He was booked into Santa Cruz County Jail on $1 million bail. Burry had since posted bail.
Aptos Village Square flanks the much larger Rancho Del Mar Center along Soquel Drive and includes Uncle Kwok's restaurant, Jansen Music, Showtime Pizza and Fleet Feet.
The Santa Cruz County District Attorney's Office is now investigating the officer involved shooting. The names of the deputies involved and the body worn camera footage is expected to be released next week.