SANTA CRUZ COUNTY—El Sistema Santa Cruz/Pajaro Valley, a nonprofit aiming to bring music education and performance to students, has been selected as a finalist for a prestigious national award.
The Lewis Prize for Music announced 10 finalists for its fourth annual Accelerator Awards last week. The selections were made from a total of 249 applications from 47 U.S. states and territories.
"It's very rewarding, being part of the 10 finalists," said El Sistema executive director Isabelle Tuncer. "It was a surprise. We never expected to be selected. It feels really good. Even if we don't end up in the top three, it's already pretty significant."
The Lewis Prize for Music is a philanthropic organization founded in 2018 that partners with other nonprofits across the nation to invest in music education for young people. The top three Accelerator Awards finalists are granted $500,000, and 13 semi-finalists receive $15,000 each.
El Sistema went through three rounds of applications, including a three-and-a-half-hour-long interview and presentation. Community members, PVUSD Superintendent Michelle Rodriguez, as well as representatives from the Arts Council, Community Foundation Santa Cruz County and more sent letters in support of El Sistema throughout the process.
"If [The Lewis Prize] wants to accelerate us, all of the community will benefit," Tuncer said. "That's always been our thinking—it's not only us, we need to lift up everybody."
El Sistema brings free music instruction and activities into local schools, starting with introductory sessions as early as kindergarten. Students learn basic rhythm and pitch before they gradually start playing instruments. They attend concerts and can eventually perform in an orchestra.
Receiving an Accelerator Award would allow El Sistema to expand its work throughout the community, Tuncer said.
"We want to create even more pathways," Tuncer said. "El Sistema has always been a place where students learn how to be leaders. We want to create a way for them to not only become musicians, but also have training in things like stage management and art-adjacent work."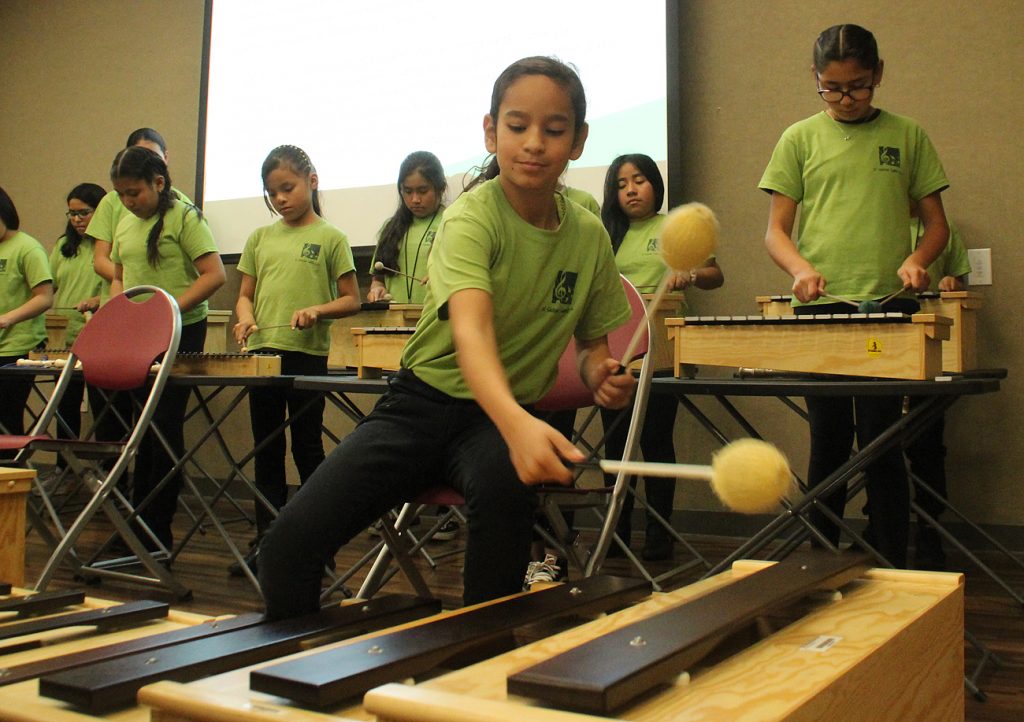 Hiring more teachers is also vital, she added. Because funding for music and art in schools had been lacking for 20 years, many colleges halted certain training programs.
But the recent passing of Proposition 28 in the Nov. 8 election has Tuncer excited for the future. That proposal dedicates $1 billion annually from the state's general fund to arts and music education in public institutions. 70% of the funding will be allocated to every public school based on enrollment, and the remaining 30% will be given to schools serving economically disadvantaged communities, such as Watsonville.
"We see a little shift in what schools could look like," Tuncer said.
El Sistema leader Amalia Diaz said that the importance of music education goes beyond advancing students' academic scores—something that is often cited as the main benefit.
"It's the right of human beings to have access to music education," she said. "Even if their other subject scores don't go any higher. Music is feeding something more than that. It's feeding the spirit, the soul."
Added Tuncer: "Music is another way of learning. When you learn music you use your fingers, it's a kinetic experience. There are many examples of students not doing well academically, thriving in music. And that's what brings them to school."
Leader Camilo Ortiz says that being part of El Sistema has been a "very rewarding" experience.
"When we think of the big picture of how this program can impact the child, the school, the family, everything—it's just so rewarding," he said. "We can really see the change in our kids. There are so many good stories from students of how music helped them open up a different way to express themselves, giving them a space to belong."