Several words come to mind when describing longtime Aptos High football coach Randy Blankenship.
Most will say he's stern when it comes to his coaching methods, while others might call him caring, enthusiastic and motivational.
Yet, it might take just one word when talking about his impact on the sidelines: legendary.
Blankenship, 70, announced earlier this season that he was stepping away from the sport for good, retiring after an illustrious 50-year coaching career.
"I never thought I'd get to 50 [years of coaching]," he said. "I wanted to coach until I retired. I retired and kept coaching, and that Covid thing happened…I still enjoy it, the losses hurt. It's really, really hard on me, but I think a lot of kids are proud of what they did. I'm proud of the team that was out there for us tonight."
Prior to Aptos' regular season finale against Soquel High on Nov. 3, Blankenship was honored and recognized for his success in front of about 2,000 fans who were in attendance.
Standing beside him was his wife, Rhoda, their three children: Clint, Senta Turpin and Beau, and grandchildren.
Randy and Rhoda are moving to Arkansas to live near Turpin and two grandchildren. Clint lives in Houston and Beau was Aptos' secondary and scout teams coach before he decided to step away from the program, as well.
Blankenship spent his final season taking time to enjoy all the little moments. He knew about the decision to retire for three years mainly because of the Covid-19 pandemic, which forced players to wear a mask underneath their helmet and over the mouthpiece.
"[The seniors were] laughing but that's maybe why they've been so resilient this year," Blankenship said. "These guys kept putting on a show every week even though we came up short. I don't know too many teams that can do that."
Aptos went 1-5 in Pacific Coast Athletic League Gabilan Division play and finished with a 2-8 overall record this season, which ended with a 26-14 loss to Soquel High on Nov. 3.
Aptos senior quarterback Matt Hood enjoyed his final two years playing under Blankenship and had nothing but respect for the longtime coach.
"He pushes us till he can't anymore and even though our record wasn't too good, he pushed us like we were gonna win a Super Bowl or something. It was a blast," Hood said.
It meant the world to Hood having Blankenship rely on him as one of the leaders on offense and the entire team.
In 2022, Hood felt he couldn't step into a leading role right away for the Mariners. However, he knew someone had to put their foot in the ground and push his teammates.
"I kind of developed it as not more of a vocal leader but leading by example," Hood said. "As I got more respect from coaches and teammates, I was able to push the guys as hard as I could."
Standing across the sidelines in the regular season finale was Soquel High head coach Dwight Lowery, a Soquel and Cabrillo College alumnus who also played in the National Football League.
Lowery returned to his alma mater for a shot at his first head coaching stint. He said Blankenship certainly elevated the level of football at the high school level since he arrived in Aptos in 2010.
"Just because we're labeled as a surf town, that doesn't mean that you can't put together a team to go out and compete and win, and win championships and play at a high level," Lowery said. "I'm thankful for that, being from this area. Because football kind of gets a little bit of a stigma depending on who you talk to, or how they feel about the game. What he's done has been much more deep than just playing on the field."
Proven winner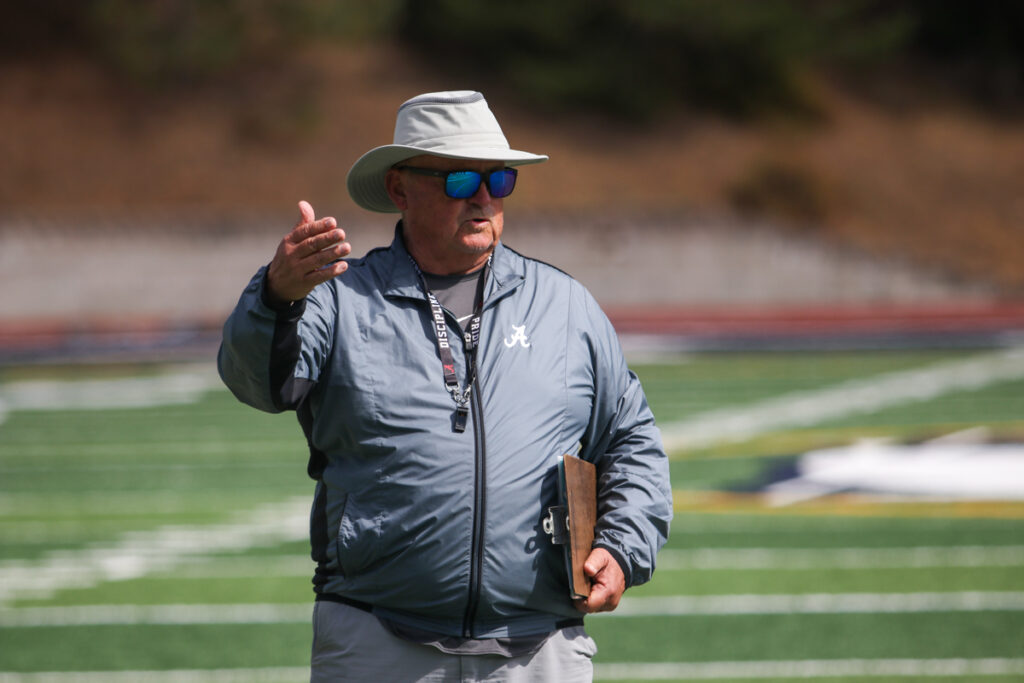 Blankenship won four Central Coast Section championships during his 14-year tenure at Aptos including three straight titles from 2013-15, and most recently in 2018. He recorded 300-plus victories and is one of the winningest coaches in California history.
On top of his section title runs with Aptos, Blankenship won four section titles in his eight seasons with Clovis West and one during his two-year stint at Fallbrook.
He also coached 10 seasons at Mira Loma in Sacramento, seven seasons at Nevada Union in Grass Valley, one year each at Granberry in Texas and Capistrano Valley, and eight seasons at Madera.
In 1998, Blankenship was selected as the Cal-Hi Sports State Coach of the Year for a championship season at Clovis West. Two years later he was named NFL High School Coach of the Year.
Blankenship is proud of all the wins, yet it was his ability of bringing in homegrown players who were not recruited or transfer students that was most gratifying to him.
Former Aptos athletic director Mark Dorfman was in charge when the school hired Blankenship to take over the football program.
"He can be a hard coach, but he distinguishes between football and the person," Dorfman said. "He'll criticize you as a football player but he'll hug you and love you as an individual. I think a testament to that is how many former players from all the years he's coached came back to all his games this year."
Dorfman saw the passion Blankenship has for the game and, above all, the student-athletes.
Some of Blankenship's former players from up to 40 years ago stood on the sideline to support their coach on his final ride.
"I hope I had an impact on the kids," Blankenship said. "I know there's so many of them turned out to be great, great young men but your parents had a big part in that."
Everlasting memories
Hunter Matys was the starting quarterback under Blankenship when it captured the CCS Division III championship in a thrilling 35-34 win over Sacred Heart Prep in 2018.
Matys built a bond that season with Blankenship, who was keen on Matys' football skills since he was a sophomore.
"Senior year, I really bought into his philosophy of coaching and stuff like that," Matys said. "In doing that, I also developed a really close relationship with him."
The Mariners on Sept. 8 played a non-league contest at Mission College Prep in San Luis Obispo where Matys attends school at Cal-Poly San Luis Obispo. He got a chance to roam the sidelines with his former coach, only this time as a spectator.
Matys said there were plenty of times Blankenship was hard on the players and that's only because he truly cared about them.
"He just wants you to pay attention to all the little details," Matys said.
All of those small details have helped Matys become effective in both athletics and life.
"I've always paid attention to detail and I think a little bit of that stems from the fact that through high school, coach [Blankenship] was always honest about being passionate about what we do, and just focusing on the little things," he said.
Dorfman said before and after each game Blankenship had a genuine heartfelt handshake that constantly remained the same, win or lose.
"There's no artifice about him," Dorfman said.
One of Dorfman's favorite moments was when Aptos became the first Santa Cruz County school to qualify for the CIF NorCal Playoffs in 2018.
They lost in the opening round to powerhouse McClymonds High of Oakland, yet the Mariners hung in for the entire game and never gave up.
"You don't outcoach Randy," Dorfman said. "We're rarely the biggest team, we're not the fastest team but you don't outcoach him. He's got an answer for almost everything. Most of the time it works."
Blankenship saw the picture was bigger than just football. He understood the sport is important in the players' lives and for the community of Aptos, yet it was a means to an end and he never lost sight of that.
Blankenship took a small public school on the coast of California and turned it into a football powerhouse. He would make it a point to play not just the best teams in the section but the best of what the state had to offer.
And that's because he always believed in his players.
"We did well and the kids had to believe in themselves to be able to accomplish all that," Dorfman said. "We've been all over the place and it's been a great ride."
Enjoy your retirement, Randy. You deserve it.