Since 2017, Esperanza Community Farms in Watsonville has provided affordable organic produce to hundreds of local families, while aiming to promote healthy eating, sustainability and economic justice. 
And now, thanks to a $50,000 grant from the No Kid Hungry Centering Equity Fund, Esperanza has linked two of its programs to also bring fresh, organic salads to a local school cafeteria. 
In 2020, during the height of the Covid-19 pandemic, Esperanza helped guide the formation of a farming co-op to help local BIPOC farmers. Members of the 9 Organic Farmers Co-Op work together on everything from managing their finances to improving crop production. They cultivate 25 acres on eight separate farms.
More recently, Esperanza piloted the Farm-2-Cafeteria (F2C) program, which brings a salad bar full of locally-grown produce twice a week to students at Pajaro Valley High School (PVHS), located just up the road from the farm. The program was conceived by students who visited Esperanza and wanted to bring more veggies to their school.
The new funds will help bring these two programs together, allowing the crops the co-op grows to supply F2C.
"At Esperanza, it's the food supply chain we want to make visible," said co-leader Mireya Gomez-Contreras. "I'm hoping we can inform the public about it. And teach each student about where their food comes from."
Gomez-Contreras said that the first time students visited Esperanza, she was surprised and delighted at their enthusiasm.
"They were super excited, putting their phones down, just amazed at everything," she said. "They obviously wanted to be part of this, play a role. Only 30% of their students eat the school lunch [at PVHS]. I didn't even know what to do with that number when I heard it from their principal. It needs to change."
Co-leader and owner of ALD&Y Organic Farm Guillermo Lazaro agreed.
"They need to know where their food comes from, how to eat," he said. "They have to have that experience."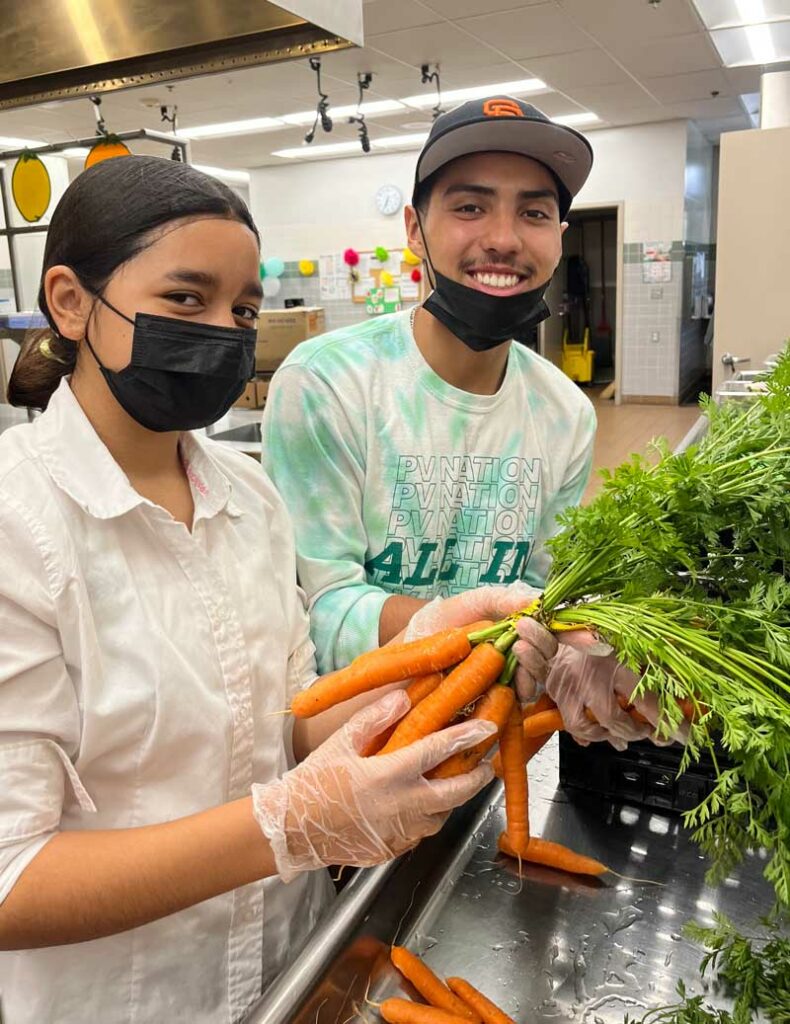 F2C is made possible through a partnership with Watsonville Wetlands Watch's Climate Corps Leadership Institute (CCLI), which meets at the Fitz Wetlands Educational Resource Center at PVHS.
CCLI recommended two students, Jesus Basulto and Karla Leyva to help coordinate the project.
"It's been an awesome experience," Basulto said. "I've learned how to harvest vegetables, how to clean them. I've also enjoyed working with other farmers and learning from them. "
During the first three days of F2C, Basulto said they gave out 180 salads to students and staff. It takes about five hours for him and Leyva to wash and cut the vegetables, set up the plates, pack the bowls, serve and clean up.
But Basulto said that bringing healthy food to his school is worth all the hard work.
"People have normalized eating chips for breakfast," he said. "That's not healthy. Bringing fresh, organic salads literally from right down the street will convince students and educate them, taking them a long way in their health and their life."
Esperanza originally applied for the No Kid Hungry grant last year. They were approved, which helped fund grab 'n go packs for 400 kids along with their regular CSA. Then the national grant program invited the organization to reapply again this year.
Gomez-Contreras said the funds will help keep things going for a couple of years. After that, the nonprofit hopes that the school district will step in and help subsidize the program.
"We want to work with the schools," she said. "If they don't step in and take an active role … Well, we can't do it all. We're not teachers. So we're giving it two years to see what's possible."
Added Lazaro: "All the pieces are right here. For me, incorporating the district is very important. This is not about the money, it's about our local families, our schools, and making everything work together."
For information on Esperanza Community Farms, including the upcoming food justice conference they will hold at PVHS in September, visit esperanzacommunityfarms.org.