WATSONVILLE—For the first time in 10 years, Watsonville's Esperanza del Valle (EDV) will be returning to the Henry J. Mello Center for the Performing Arts for a weekend of dancing, music and cultural celebration.
The nonprofit folklórico dance group was founded in Watsonville in 1980 by Janet Johns and Frances Urbina. They marked their 40th anniversary in 2020, and last November held a special performance at the Crocker Theater at Cabrillo College in Aptos. On Father's Day weekend (June 17-19), they will be bringing that same show back to where it all began.
"We are really excited to come back," said Johns, current executive and artistic director. "It's like coming home. This is where Esperanza started, where we're from. We were artists in residence back when the Mello first opened its doors. Although we serve the entire region, our foundation is here in Watsonville."
EDV aims to preserve and promote the art of folklórico dance in Santa Cruz County and beyond. The group learns from master teachers from Mexico, occasionally traveling to different regions of the country to research and learn about dances, traditional outfits and more.
"We work closely with the keepers of this tradition," Johns said. "We are so fortunate to have built a strong relationship with these teachers, and they say they feel honored when we bring them here, as well."
The 40th anniversary performance, "Celebrando 40 Años de Esperanza," honors the work of those master teachers and features signature dance regions including Veracruz, Jalisco and Nayarit. An original choreodrama, "Los Dos Hermanos" and music by Cuatro con Tres will also be presented.
Assistant director Ruby Vasquez said people might be surprised at the diversity of the music, dancing and outfits.
"There are stereotypes about what's considered Mexican dance," she said. "People think of sombreros and big colorful skirts. We will have that, but they will also see the diversity of Mexico. I would like to welcome folks who have not seen this type of show before. I think they'd be pleasantly surprised by all the different styles and costumes that each region uses."
Dancer Alex Santana described dancing with EDV as "freeing."
"It gives me a sense of freedom I don't really get anywhere else," he said. "Sometimes I even forget I'm dancing. I'm just in my own head soaking in the music, the instruments … I get lost in it."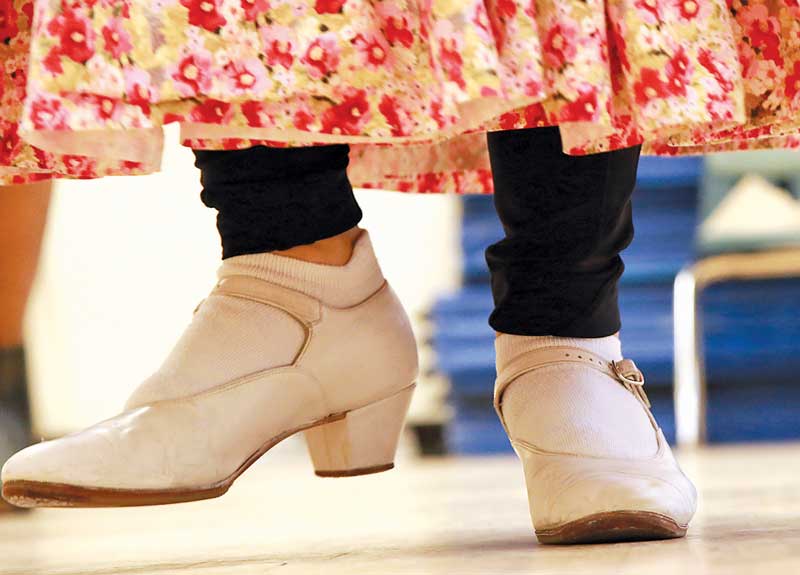 Santana has officially been part of the group since 2015, but says he learned from EDV teachers when he was growing up. Not a lot of other boys were being encouraged to learn dancing, he noted.
"When I was growing up, when I said that I danced, they would be like, 'Oh you do that girly thing?'" he said. "They said boys should only do sports, like play soccer. Which I did—but I found no joy in it. Dance is as much if not more physically taxing on the body and requires so much more endurance. But there's still this disbelief that boys shouldn't do it. Even if it's something cultural. Sadly, I think the mentality has very much persisted."
Vasquez agreed.
"It's always a bit harder to get boys to join for that reason," she said. "But those who do are super committed. Alex, for instance, is an amazing dancer."
Johns called it "incredible" that EDV has existed for four decades as a volunteer-led organization. They also do not ask their dancers to pay for their outfits, only their shoes—and if they can't afford it, she said, they make sure to cover those, too.
Johns encouraged people to check out EDV during their summer rehearsals, which will start up not long after the performance weekend.
"Our door is always open," she said. "We really hope the word gets out. So many students right now are really excited about folklórico. It's spreading. Even though we've been doing this for 40 years, it just seems like there's a movement growing. Which is wonderful."
In addition to its two public performances on June 18 (8pm) and June 19 (3pm), EDV will also be holding a special performance on Friday, June 17 for local students. Pajaro Valley Unified School District's (PVUSD) Extended Learning is helping with theater expenses and purchasing the house so students and their families can attend. Migrant Education is also involved.
"We're really excited about that," Johns said. "We're getting great support from PVUSD and the City of Watsonville, and all of our sponsors. We couldn't do this without their support."
Vasquez said she is especially excited for young people in South County to come to the performance.
"For our kids and youth to see something that reflects such a big part of our Watsonville community is so important," Vasquez said. "Many of them are second, third generation children of immigrants. It's so important to their identity that they see these traditions being maintained and valued."
Added Santana: "Performing in Watsonville, we're going to be more accessible to the community where most of us are from, and that we represent. We're doing this for that community. We put in countless hours, after work and on the weekends, for the benefit of passing down this appreciation of culture."
Celebrando 40 Años de Esperanza will be held June 17-19 at the Henry J. Mello Center for the Performing Arts, 250 East Beach St., Watsonville. Tickets are $16 for general admission, $13 for seniors, $10 for students and $8 for children. To purchase, visit bit.ly/3NEFOjm. For updates, follow EDV's Facebook page.