The Santa Cruz County Farm Bureau (SCCFB) was honored with five County Activities of Excellence Awards, and was a finalist in the statewide Innovator Awards at the California Farm Bureau's 104th meeting in early December.
A local delegation of five attended the annual meeting in Monterey between Dec. 4-7. This included bureau president Dennis Webb, first vice president Peter Navarro, second vice president John Pisturino, executive director Jess Brown and CJ Miller, Chair of the Young Farmers & Ranchers Committee.
SCCFB won awards in the categories of Membership, Policy Implementation, Leadership, Ag Education and Public Relations. In addition, they were an Innovator Award finalist for their annual National Agriculture Day Poster & Poetry Contests, a contest for local students where they can have their artwork and poetry published on placemats at local restaurants.
"We were very honored to receive these awards, and especially be considered for the Innovator Award," Brown said. "To be selected from just three finalists in the state is amazing."
Also highlighted at the meeting was local ranch owner Robert Stephens' dog, Ray, who received second runner-up in the California Farm Bureau's Farm Dog contest.
Ray is an Australian Shepherd who serves as a watch dog and cow herder on Elkhorn Ranch, a cow-calf operation in North Monterey County. Ray is a companion to ranch owner Robert Stephens.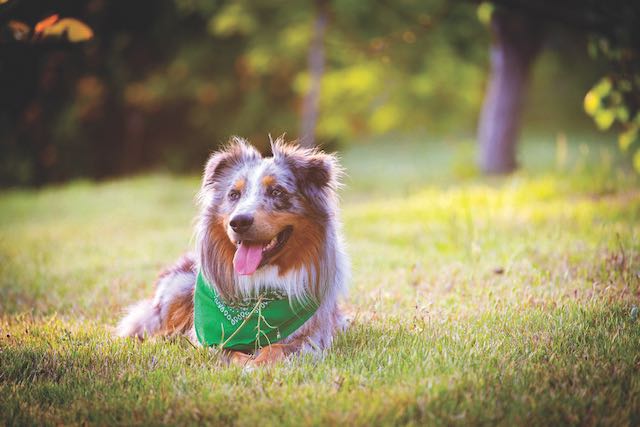 "Ray is donating part of his winning prize money to our Agri-Culture organization," Brown said. "It's good to have a philanthropic dog in the area!"
Nonprofit establishes new scholarship 
Agri-Culture is an education non-profit with 16 endowed funds, scholarship programs, an agricultural leadership program, land conservation program, farmworker housing assistance, and various educational programs.
Recently the organization announced the establishment of a new scholarship fund: The Frank Prevedelli Memorial Scholarship Fund.
The Prevedelli family have farmed apples in Watsonville since 1945. Frank Prevedelli, who died in January 2022, was a well-respected member of the local agriculture community, along with his wife Silvia Prevedelli, and was known for his innovation in the industry.
"It's great news that the family and friends of Frank came together and put together the funds to start this endowment," Brown said. "They are carrying out his legacy at the farm. They have always been leaders in the industry. It's so nice to see Frank honored."
On Dec. 12 the Prevedelli family announced the creation of the scholarship at a special event at Prevedelli Ranch and gave $25,000 to establish the fund.
The Frank Prevedelli Memorial Scholarship Fund is open to all students who attended a high school in Santa Cruz County and major in agriculture or a field related to agriculture. The endowment will be given in perpetuity, for future generations.
Brown said that students can apply for any of the scholarships they qualify for at the same time.
"There might be two or three scholarships they are eligible for," he said, "and they can easily apply on the same application and be considered for all of them. Plus, any student who wins can apply again the following year. We are really trying to help students with their education in any way possible."
Applications are now open for all of Agri-Culture's 2023 scholarships.