CORRALITOS—Late Monday morning the Five Mile House in Corralitos was bustling with activity for the first time in 12 years.
Blossom's Farmstore & Coffee Shop now occupies the landmark Spanish-style building on the corner of Freedom Boulevard and Corralitos Road, which has housed various businesses since it was originally built in 1929 as a service station.
The new shop sells products made with herbs grown at Blossom's Biodynamic Farm, located two miles away on Merk Road, as well as items from other small businesses and local farms. An attached coffeehouse offers drinks and food.
Owners Delmar McComb and Carin Fortin were on hand Monday to make last-minute touches and welcome customers.
"There is so much history here," McComb said. "A lot of people have a special relationship with this building. They worked here, or came in as customers years ago. I think it means something to them to have it open again."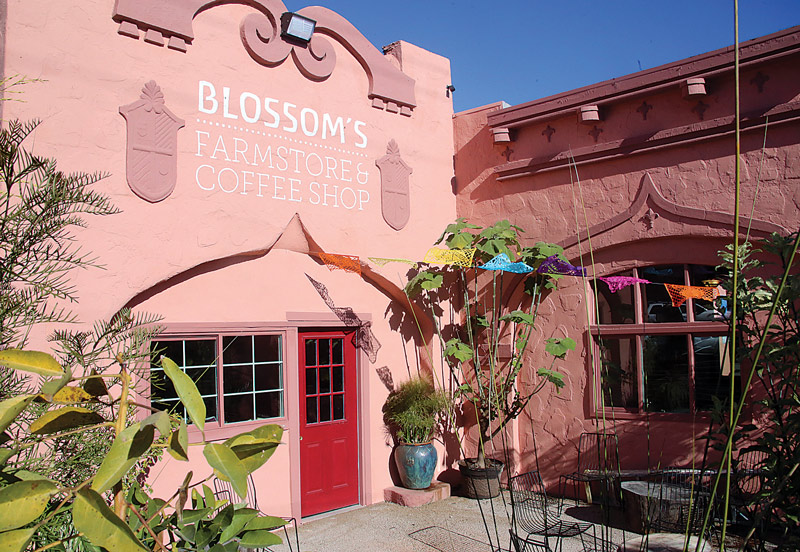 One customer, Mark Damiani, said he has known McComb and Fortin for years and was eager for the store to open.
"I've been hoping for a place like this that is for the community, run by community people," Damiani said. "There's this great sunroom, a place for locals to meet over a cup of coffee. It's exciting."
Blossom's Farm creates everything from skincare products such as salves and powders to bitters and tinctures with its homegrown herbs. Biodynamic farms like Blossom's utilize the philosophy that everything used at a farm should be grown there. The aim is to be completely self-sustaining.
That approach is also an important aspect of the new store, said Fortin.
"Nearly everything we sell here is produced locally," she said. "It's a relationship where everyone supports each other."
Katy Thompson, owner of Copper Moon Apothecary, stopped by Monday morning to drop off some of her soaps to sell at the store.
"For so long it was Santa Cruz this, Santa Cruz that… we didn't have anything like this down here," Thompson said. "Now it's all about places like Corralitos and Watsonville. I love that."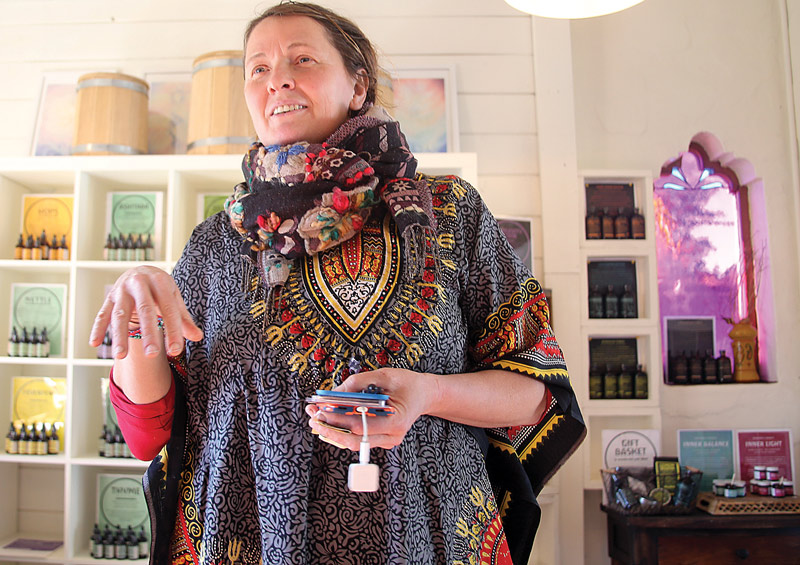 McComb said there were coffee customers in line right when they opened at 6 a.m. Monday. The cafe was bustling for most of the morning, and they made a few retail sales as well.
He and Fortin admitted they had not done much marketing on social media—instead, it was word-of-mouth, consistent mailing list updates and appearances at local farmers markets that helped them gain attention.
"Also, just being nice," Fortin said. "Connecting with people… that is very important."
Customer Jewels Marshall said she moved to the area a month ago from Boulder, Colorado.
"I've come by here a number of times and have been anxious to see them open," she said. "I already like the feel of this place. I can see coming here as a regular. I wish them luck."
For information visit https://www.loc8nearme.com/california/corralitos/blossoms-farm/5514714/.
•
Note: Reporter Tarmo Hannula contributed to this article.