For 20 years the Bicycle Film Festival (BFF) has been celebrating bicycles through art, film and music. Originating in New York, it has popped up in 100 cities across the globe, from Paris and Tokyo to Istanbul and Mexico City.
And now the festival is coming to Santa Cruz County.
While the pandemic prevents organizers from holding in-person events, BFF will offer a virtual version of the festival hosted by two local organizations: Community Bike Collective (CBC) and Bike Santa Cruz County (BSCC).
"In a year of a global pandemic, economic strife, a contentious political period… the bicycle boom worldwide is optimistic news to celebrate," BFF founding director Brendt Barbur stated in a press release. "We hope to offer a positive respite from all of this for people."
The festival will be held June 11-20 and feature a curated list of short films for Santa Cruz County audiences. The festival is meant to be enjoyed by everyone, from avid cyclists to brand new riders and everything in between.
"It's a way to celebrate all things bikes, and everything they can do for a community," said CBC President Kymberly Lacrosse. "I think we realized that during the pandemic—bikes are a way to get to work, to exercise… They offer freedom, are good for the environment and bring people together. I think Covid has made [that] message more poignant."
The films selected for the Santa Cruz festival include topics such as: Jim Denevan, a Santa Cruz artist and chef who creates "land art" by bicycle; a bird's-eye view of the Black Lives Matter protest ride in New York; the story of a young woman and her bike in Iran, and more.
"Expect films that are inspiring… that are rooted in the arts, about personal expression, and that represent experiences of bikes all over the world," Lacrosse said.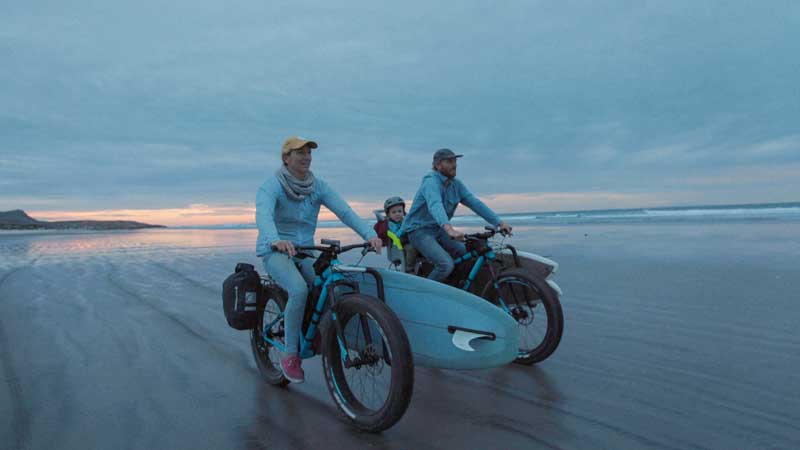 The festival will act as a fundraiser for CBC and BSCC, who now share a space in Watsonville. CBC is a volunteer-run nonprofit aiming to provide access to quality bikes for youth, and offer them a safe, healthy experience through the sport. BSCC's mission is to promote safe bicycling through advocacy, community building and education.
Together, the organizations are fundraising for a matching grant from the The Outride Campaign, launched by the Specialized Foundation, which aims to bring awareness of the benefits that cycling can provide to youth with ADHD. The funding will go directly to support youth programming, including the upcoming summer Bike Camp.
Fernando Avalos, 16, has been involved with CBC for two years after a friend introduced him to the program. He said he appreciates the support and open-mindedness of the organization, declaring "they would never leave a person behind."
"Riding makes me feel more appreciative of myself… it expands my imagination, to go as far as I want," he said. "To ride a bike, you need to have a clear mind. Your mind has to be on-point. Your body has to be stiff one moment and then flexible. After every ride, I feel amazing."
CBC and BSCC are still looking for additional sponsors and promotions for the festival. They are offering bulk tickets, where a sponsor can buy a large amount of tickets to be gifted to local youth. Individual tickets are offered on a sliding scale from $10 to $30. 
For information, to watch a trailer and to order tickets for BFF Santa Cruz, visit bicyclefilmfestival.com.