One facet of the stay-at-home, and work-from-home coronavirus ordeal is an uptick in home gardening and landscaping. With extra time spent around the home, some folks are putting more time, and money, into the land that surrounds their homes.
"They're stuck at home more and now they're realizing they have an irrigation problem or overdue projects," said Jamie Strange, account manager and marketing director for K&D Landscaping of Watsonville. "Now, we're getting about 20 calls a day. People have more time to take a deeper look at their yards."
Strange said K&D offers a wealth of information and tips on their website for beginners and advanced gardeners.
"We're a great resource," Strange said. "Our website right now has so many blogs; we push out two a month that range in topics from residential to commercial and on how to improve on even the most basic garden themes. We also recommend the CLCA.org website."
Strange said that in March, when the coronavirus lockdown went into effect, the crew at K&D had to hit the "reset" button.
"We haven't skipped a beat yet," she said. "The entire team just stepped up and figured how to work through this. We're full force now and staying on top of this."
Strange said that all employees have their temperatures taken at the start of each shift and are required to wear face coverings.
"All of our crew are social distancing and we've been trying to embrace digital communication more; we go virtual when it can work," Strange said. "Paying more attention to your yard is a good way to stay calm and focus. It boosts your morale in a time like this."
---
K&D offers advice during heatwaves, fires
The Central Coast of California is known for its Mediterranean climate—mild winters and warm to hot summers. Due to this temperate weather, local plant life can be thrown into a state of shock when things turn more extreme.
Justin White, CEO of K&D Landscaping, said that the coast's recent heatwave has hit hard. Currently, the company is focusing its efforts on water conservation.
"Wasting water is bad all-around…For plant health, for costs, everything," he said. "We are focused on our irrigation systems and how to use them efficiently."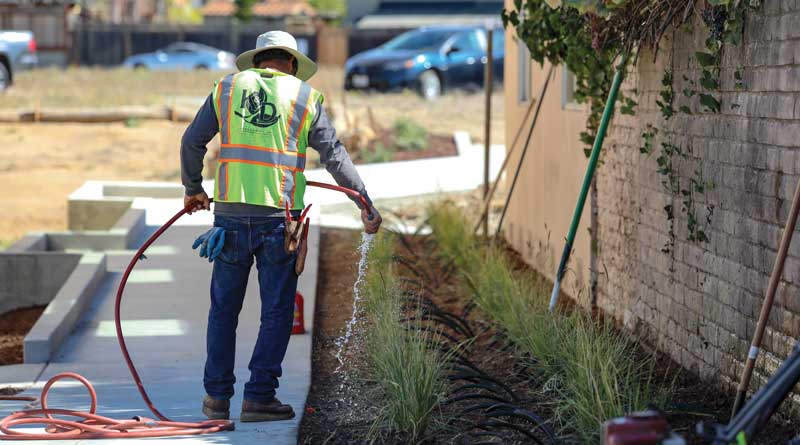 Some plants are more susceptible than others, White said. Succulents and other drought-resistant plants can survive hot spells, while more tropical ones cannot. The best thing to do is analyze your yard and discover which are which.
White said that the leading cause of plant death during heat waves is drowning due to over-watering. People tend to go overboard, and unfortunately symptoms of over- and under-watering tend to look the same.
White's advice? Be prepared for your yard to show some stress, and don't panic.
"Root systems breathe, just like we do," he said. "They need that oxygen-to-CO2 transfer. If a plant is saturated, it can't breathe. Simple as that."
The fires that have battered parts of California recently have also taken a toll. K&D has been offering resources to its customers, especially those living in rural areas, on fire safety, including partnering with Cabrillo College to create a special course.
White advises that if possible, people should leave a 100-foot "defensible space" between their house and anything that can easily catch on fire, such as overgrown or dried-out bushes, hedges or trees.
"This gives firefighters the best chance at saving your home," he said.
People's health is also at risk during heat waves, from heat exhaustion to smoke inhalation. White said K&D has been making sure its crews monitor themselves closely. Drinking enough water, making sure there is shade nearby and taking regular breaks are vital.
"Coupled with the fact we are all wearing masks during Covid…we have a very serious safety hazard," he said. "For our crews, and for everyone working outside…Listen to your body. Stay cool, and take care."
For information on K&D Landscaping and its various resources, visit kndlandscaping.com.