Two weeks ago, Amelia Loftus, owner of Hidden Fortress Coffee Roasting, was on the brink of closing her cafe in Watsonville just shy of its five-year anniversary.
The shop, located at the end of a sleepy business complex on Hangar Way, had been struggling to retain old staff and find new, qualified candidates to replace them. Loftus was running the shop for almost a month by herself—roasting the coffee, managing the store and doing barista duties.
"I'm coming apart at the seams," she said. "I really don't want to close the cafe, but I'm not sure if I can do this all by myself anymore."
The shop was offering $20 an hour for qualified applicants, but Loftus said those have been very hard to find. And now that restaurants are open again and hiring, the pool of applicants is diminishing even further.
"I'm done hiring out of desperation," she said. "I need people with experience. I don't have time to nurse a new employee. I have so much on my plate, I can't be the best boss on top of that."
Hidden Fortress' situation is not unique. Since the pandemic began, food service has been one of the hardest hit industries. After the initial closures in Spring 2020, many businesses were able to reopen, but by then, employees had moved on.
For the past year and a half, food and drink establishments have been subject to constant changes as Covid numbers fluctuate across the country.
At Freedom Meat Lockers in Watsonville, manager Will Panis said the labor issue has been difficult.
"We used to get applications all the time, but that changed," Panis said. "It's harder to get labor now. It feels like many people just kind of walked away from working."
Panis said that he hears from restaurants and other businesses they supply about these shortages. He added that Freedom Meats is currently taking applications for a deli worker at their recently upgraded deli counter.
"Maybe things will change now that school is starting up—I don't know," he said. "But the labor force has certainly changed. It's not about a meat shortage… We get plenty of product, we just need the labor."
Andy Stone, Workforce Development Board Director for the County of Santa Cruz, said that lower wage-workers have been more impacted by Covid-related layoffs than higher-wage workers. Those who were making less than $27,000 a year saw a one-third employment decline during the pandemic. Conversely, workers making over $60,000 only saw a decline of about 6%.
Many of these low-wage positions are in food service, he said.
"It's not an accident that these jobs are not filled," Stone said. "A lot of retail… and food service workers were laid off at the start of this crisis. It's unsurprising that there has been hesitancy by workers to return to these jobs."
Shaz Roth, CEO of the Pajaro Valley Chamber of Commerce and Agriculture, said that she has received many calls from restaurants, offices, and even temporary employment agencies who are struggling to find staff.
"It's a nationwide problem," Roth said. "It's everywhere. Restaurants have been cutting their orders, cutting back on tables. It's really been affecting their business. They just can't cut it without the manpower."
The Chamber's role in the city has changed over the past year, Roth said. Once a resource for businesses to use for promotion and networking, it is now trying to keep up-to-date with rules and regulations, financial assistance and more, to help places survive.
"We've been having to adapt to their needs," she said. "It's been so hard to watch them struggle. These are businesses that have thrived over the years, but have had to cut back because they just can't get enough people."
From Roth's perspective, a major issue is that so many people are taking advantage of federal unemployment benefits, and have been incentivized to stop working and stay home with family.
Roth said that a local business owner claimed that one employee requested to be paid "under the table" so they could keep receiving benefits.
Stone said it is more likely a mixture of things, including unemployment benefits but also concerns about the Delta variant, childcare and more.
"I don't think it's possible to pinpoint one specific thing that's creating this gap," he said.
Loftus called the pandemic a "game-changer" in dealing with the public, with employees better understanding the realities of their jobs.
"[Food service] is a much harder job now," she said. "Not only do you have to serve people with varying degrees of niceness, but now you have to serve some who are unwilling to cooperate with your store policies, who are abusive, taking out their issues on you."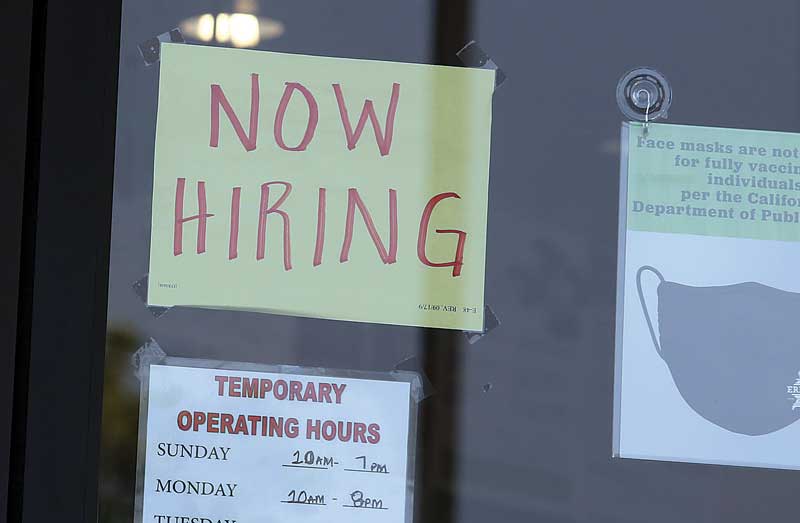 Ella King, who owns Ella's at the Airport on Aviation Way, recalled an instance a few months ago, in the throes of the worst staffing shortage she'd ever had. The restaurant was operating with just one waitress, who was also acting as a bartender, plus two hostesses who were also bussing and waiting tables, and taking to-go orders.
A restaurant patron from out of town complained to King that her previous waitress hadn't offered her a sample of wine before she ordered.
"She said to me, 'I thought maybe in Watsonville, people did things different,'" King said. "She didn't seem to realize that the waitress she was complaining about was 17 years old, and probably hadn't had a glass of wine in her life."
King said she was "incredibly grateful" for her small staff, who have been shouldering a huge, double workload.
"It's really hard because you feel for them—you're asking them to take on a herculean feat," she said. "But you still have to schedule them more than you're comfortable doing."
Tom Bruce, Founder and President of Central Coast Food and Beverage (CCFB) who also works with the Santa Cruz Small Business Development Center, said he recognizes people's uncertainty about returning to food service.
"With the shutdowns, and all the mortality … people who did work in the industry no longer have confidence it will be stable again," he said. "This is a legitimate concern… This industry is not always the most pleasant environment."
In addition, stricter immigration laws, and students taking classes from home has created a "vacuum" in an industry that was largely filled by new workers, Bruce said.
"Restaurant jobs are often temporary," he said. "People will start here when they arrive in the workforce, then move on to other careers. Not that hospitality can't be a career—but the lack of stability, and increased opportunities elsewhere… These are all contributing factors to the situation we're in."
Stone said he has noticed several businesses resorting to increasing wages and offering things such as hiring bonuses and benefits. However, even with these types of incentives, food service is still struggling to fill positions.
"Plus, not every business can afford to do that—and many that do might find themselves getting in over their head," he said.
Increased overtime, King said, has been a major fallout of the shortage.
"You just have to accept that you now have to regularly pay people overtime, which is not worked into our current pricing," she said. "I wasn't sitting on fat margins to start with. Now I have to always factor overtime into all my checks. How am I supposed to pass that extra money on to customers? I can't just suddenly change a sandwich that costs $9 to $13."
As more people return to dining out, King has noticed that many are now more cognizant of the issues happening in the industry. However, there are still plenty who are not living within the present situation.
"People will say, 'Wow, you're really busy—that's great!' They see that and only see dollar signs," she said. "They just don't have a concept of what it actually takes to make this all work."
King sees the future of her business shifting more toward catering events and casual dining, especially outdoors.
"If someone gave me a blank slate, what kind of establishment would I create? Definitely not white tablecloth, not anymore," she said. "I would probably be doing counter service, no matter how good my food is. I've been at this for 15 years, but I definitely know things are changing."
Added Bruce: "I don't believe we're ever going to go back to business as usual. Consumer trends are more about pickup and delivery now. I think we're looking at more streamline concepts, like 'fast-casual,' where there's not much service in the front of the house."
"At the start of the pandemic, we suggested to restaurants that they simplify their menus—don't have 35 choices, have 15," he said. "That will be a trend: simplification."
Last week, Loftus was able to hire a new manager who will help her with the mobile end of Hidden Fortress, which was given a boost recently when she purchased a new portable coffee trailer. And last week, a new employee was hired at the cafe. This will allow the business to remain open—for now.
Looking to the future, Loftus said the food service industry needs nothing short of a complete overhaul.
"What we're faced with now, is that we're going to have to completely rebuild the workforce," she said. "And that's a daunting task for small places like ours."