Phil Maas, a former head coach for the North Monterey County High football team, had one of the best turnaround seasons for any team in Monterey County. He took a group that went from winless to undefeated in the span of a season.
Maas shares some of those moments from that season in his new book, "The Heart of Football," which is a collection of his experiences as a coach and a player over the past 50 years.
"It's really not about Xs and Os at all," he said. "Through those stories, what I try to do is show the value of the game of football and in a lot of their cases how it's changed their lives."
The 75-year old West Los Angeles native spent most of his career at smaller high school and college football programs. He wanted to emphasize that playing the game is the same as any of the big programs so he centered the book around stories of other players and coaches from all over California and Oregon, as well.
In 1978, NMC did not have any seniors on the team and finished with an 0-10 overall record in their inaugural season. Maas came from Coachella Valley High School to coach the Condors the following two seasons (1979-80).
The Condors finished with a 10-0 overall record under Maas in his first season but they came up short against Salinas High in the Central Coast Section Playoffs. The following year, they finished 10-3 and made it to the CCS finals only to come up short once again. This time they lost to South San Francisco High School.
"When we came in, we inherited a really good group of football players and we won two championships in a row," Maas said. "Really, we didn't do much, we just turned the great players loose."
Art Frolli, age, who grew up in Prunedale, was one of the players coached by Maas and he was part of the first graduating class (1980) at NMC.
Frolli is included in Chapter 3, Toughness is a Virtue, which talks about his rugged attitude toward playing football. He also talks about going through life and "modifying his position" by being able to see the other side of things.
He mentions there's been a lot of negative stories about football such as concussions. But the book enforces some of the life lessons that players can learn by playing the game.
"Independence, toughness and the ability to work with others," Frolli said. "Unfortunately, during this Covid situation, this is one of the things that a lot of kids are missing out on. They're missing out on all those networking skills you learn in high school."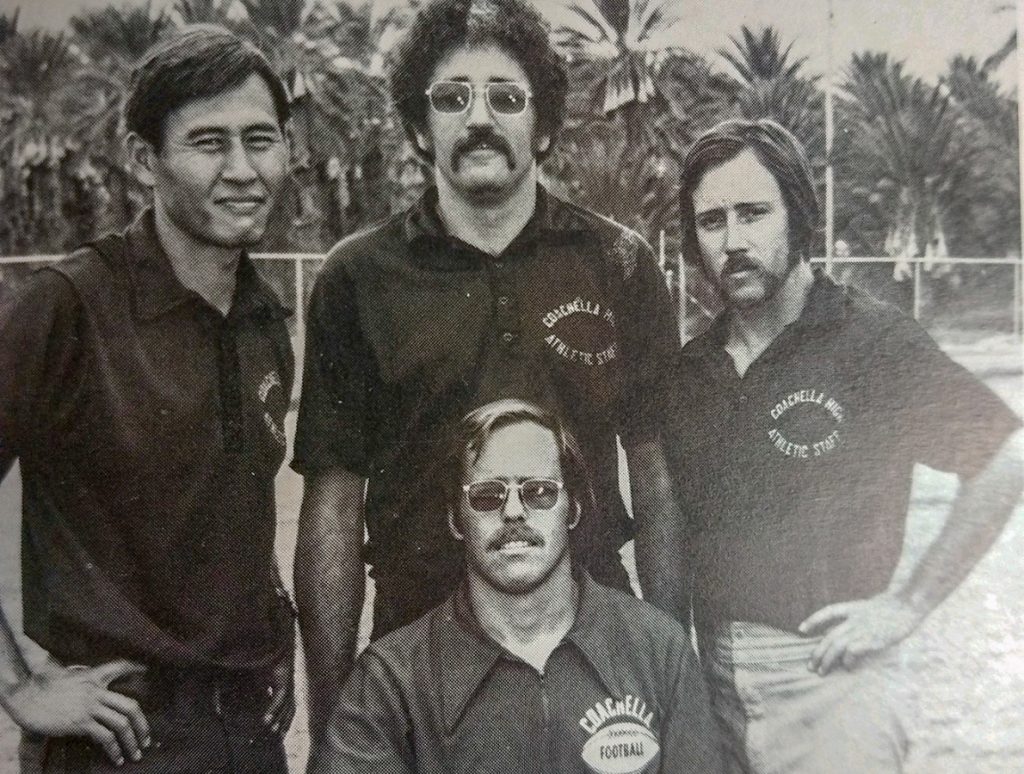 Aptos native Roger Sugimoto, 77, came along with Maas to NMC as his offensive coordinator. Before that, he remembers when they were trying to decide what type of offense they were going to run in their first season together at Coachella Valley High.
That's when school custodian Dennis Acosta walked in and made a suggestion that left both coaches scratching their heads.
"I'll never forget Dennis because he said, 'Well, why don't you guys run the mosca?'" Sugimoto said.
Acosta introduced them to the fly offense, better referred to as the mosca in the Central Valley, which is now known as the jet sweep. He said the offense was created by former Delano High School football coach by Gene Beck.
The fly is based around stretching the field horizontally. The offense uses a fast receiver to run behind the line of scrimmage before the snap, passing behind a quarterback under center or in front of a shotgun-based QB at the snap. The motion man is a threat as a rusher or receiver.
They brought that same style of offense to Castroville and Sugimoto continued to run with it as the offensive coordinator until he left in 1996. It's been 40 years since Maas left Castroville to coach at the College of the Desert in Southern California and then in Austria for three seasons. But it was enough to leave a big enough impression on Sugimoto.
"Phil loved the kids but he was a great teacher of life because he was disciplined and the kids learned and they respected him," Sugimoto said.
Maas mentioned another reason he wrote the book is that football at levels below the NFL and NCAA has gone mostly unnoticed.
"Don't get me wrong, I love watching those great athletes play but for me, the game is a lot more important than that," he said. "The importance of it is what it does for the lives of the young people that play it…We need to celebrate what our small high schools and programs do for the kids that play sports."