Todd Guild
Freedom Meat Lockers
One of my favorite things to do for lunch in Watsonville is head over to Freedom Meat Lockers, which in addition to its high-quality selection of carnivores' delights, also offers a deli counter.
Normally when I hear the word 'deli' I cringe, associating them with the flaccid, uninspired assembly-line dreck one can find at strip-mall franchises, all of which I will leave unnamed here.
Going into Freedom Meat Lockers, however, is a different story entirely. It's a different book, perhaps even a different library.
And the experience begins before one even walks in the door. That's when the aroma of smoking and roasting meat hits me, a multi-sensory experience that calls to mind post-hunt, primordial convocations around a campfire, and of smiling, aproned grandmotherly types pulling roasts from the oven, in a warm house full of family.
An efficient, no-frills operation to be sure, Freedom Meat Locker specializes in just that: meat, with a team of master butchers and salumists in the rear of the business handling sales there.
The place is known best for its sausages, so definitely pick up a few packs of these when you're there.
A team of women behind a counter near the door takes sandwich orders, and typically have a line during the lunchtime hours. Selections include tri-tip, skirt steak, pulled pork, smoked brisket and chicken breast.
I usually get the tri-tip with mesquite marinade on dutch crunch with "the works." It's enough for two meals, provided you are not the type of overeager gourmand as I.
If you have not yet been to this place, definitely give it a try.
The deli is open 10 a.m. until 4 p.m. The store is open from 9 a.m. until 6 p.m. every day but Sunday. It is at 160 Hi-Grade Lane, just off Green Valley Road between Holohan Road and Freedom Boulevard.
•••
Tony Nuñez
Delicia's Taqueria 
I love food that takes me back to an easier time and washes me in nostalgia. Being a Watsonville High School alumnus, that's an easy thing to find around downtown Watsonville, the location of our new offices and a hotbed for incredible eateries—most of which don't break the bank either.
Delicia's Taqueria at 130 East Lake Ave. is one of my favorite places to find such a meal. From their tacos to their burritos and whole fish, this mom-and-pop shop has held a special place in my stomach for longer than I can remember.
Recently, I got the super nachos with carne asada, which is a mountain of chips, cheese, sour cream, beans, meat and jalapenos. That mighty meal and a bottled Coke cost less than $8. It's a simple dish that can be easily made at home but, as the kids say today, it hits differently coming out of the back of that kitchen of laughing, hardworking ladies.
On top of the food, the vibe of this restaurant pulls me back down to earth and into the culture of Watsonville. There are no gimmicks here. This place does two things very well: service and food. The person at the counter is always nice, polite and quick. And the food is exactly what I expect every time. They are open from 9 a.m. to 8 p.m. on weekdays and on weekends from 9:30 a.m. to 8 p.m.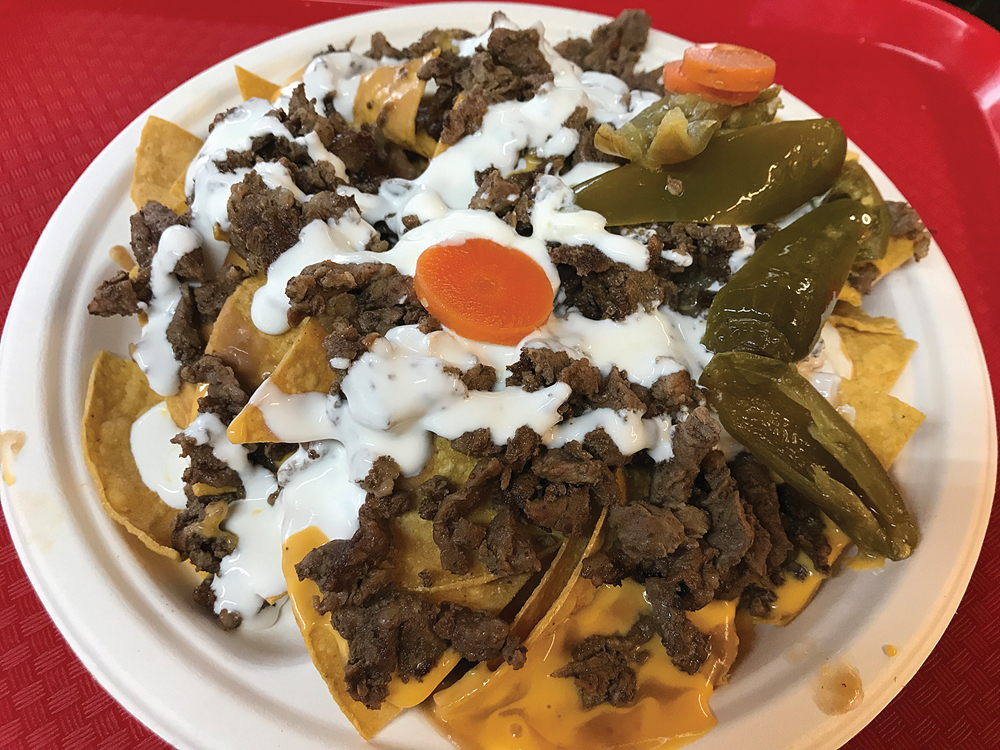 •••
Try This is a weekly column that celebrates local businesses — especially eateries, watering holes, coffee shops and the like.