George Couch was an ambitious 25-year-old when he came to Watsonville in 1973 and negotiated a deal to purchase a small Anheuser-Busch distributorship. It would not stay small for long.
His company Couch Distributing, which he runs with his brother Geoff, has since 1973 delivered hundreds of different products to customers in Monterey, Santa Cruz and San Benito counties from its Watsonville headquarters.
At the time of its inception, Coors dominated the local market, Couch says. But he envisioned a future in which the company would expand.
"I knew they were going to make a large marketing push, because California is the largest per-capita in total volume in the United States," he says.
It helped that his father was vice-president of marketing for the company's St. Louis, Mo. headquarters, he says, an upbringing that gave him first-hand knowledge of the industry.
When his father died unexpectedly in 1973, Couch says he reached out to senior executives August Busch III and Orion Burkhardt, who helped get him approved for the purchase from owner George Barsi, whose nephew Jim Barsi ran his eponymous liquor store on East Lake Avenue for 50 years.
"They gave me a shot," Couch says. "I was 25 years old when I bought the business. I came on out and took a shot at it. I was hoping to build a business, and I had a lot of faith in Anheuser-Busch."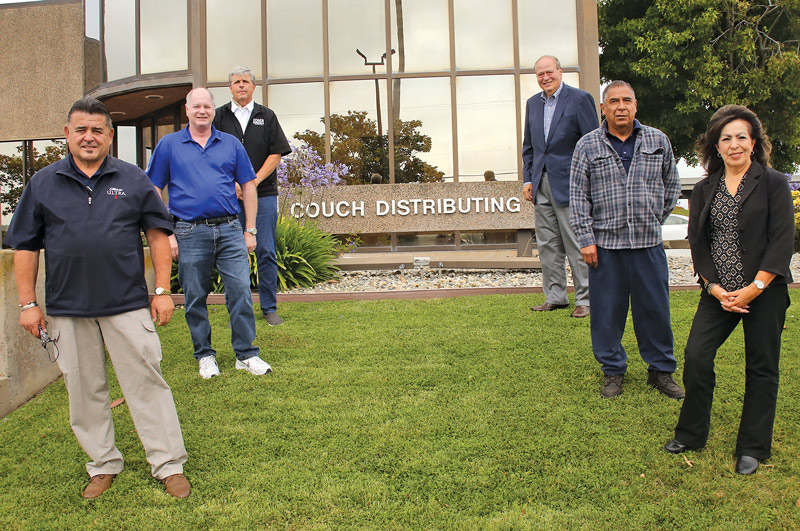 Couch Distributing began with just six route trucks, two salesmen and 11 employees, and a volume of just under 400,000 cases per year.
The company now distributes about 4.7 million cases per year to 1,850 accounts throughout the tri-county area.
Couch eventually purchased the rights to distribute Heineken and Guinness, and in 1996 purchased the rights to Grupo Modelo, which offers Mexican beers such as Corona, Modelo and Pacifico.
When the craft beer craze hit, Couch got on board with the Firestone Walker Brewing, a company best best known for the 805 brand. Anchor Steam, Ballast Point and Bear Republic are also part of that market.
Anheuser-Busch also has its hand in the craft beer market with Elysian, 10 Barrel Brewing Company and Golden Road. In addition, Couch distributes Kona Brewing Co. products.
All of this is possible thanks to the work of about 170 employees, of whom Couch speaks with the glowing wistfulness of a father talking about his family.
With an average employment of 10 years, Couch says that 35 employees have lasted at least 20 years. A handful have lasted longer.
"We try to make it a family environment," he says. "We expect a lot out of our people, but we try to take care of them well. We've been blessed that in 47 years of business we've never once laid anybody off."
Couch has the same praise for Watsonville.
"This is one of the most wonderful towns," he says. "I have nothing but good things to say about Watsonville. I was treated very well from the time I got here."
"We've been very fortunate," he adds.
Vice President of Sales Steve Vargas said he was hired at 19, and immediately took a liking to Couch.
He has also worked as a driver, a salesman and a supervisor through his 42-year career.
"George taught me everything I know," he said. "You get hooked, and you don't want to leave."