WATSONVILLE–The Pajaro Valley High girls' soccer team had what was arguably the program's best season to date. 
They won the Pacific Coast Athletic League Santa Lucia title and went to the Central Coast Section Division IV playoffs.
It was the first time the Grizzlies had accomplished either feat.
Before this season tasting a league championship and earning a trip to the postseason always seemed too far fetched.
But junior forward Jasmin Castillo helped make it all happen as the division-leading scorer blazed through defenders on a regular basis.
The coaches within the league took notice of her ability to score at any given second and turn around a game in a flash.
That was one of many reasons why she was named the PCAL Santa Lucia division's Most Valuable Player for the 2019-20 season.
Castillo said winning the MVP award is nice but there's no time to be complacent.
"Just because I received the award it doesn't mean I don't have to go to practice or I'll start slacking off," she said. "No, it gives me more motivation to become a better player."
According to the MBayPreps website, Castillo finished with a league-high 29 goals, including a nine-goal performance on Jan. 21 against Rancho San Juan High. She was second on the team in assists with five.
Castillo was also named to the all-league first team, which she admits she had no clue what that meant coming in as a freshman two years ago.
"When they told me that I got MVP, not just defensively but overall, I was really happy," she said. "I just feel like all the hard work that I put in during the season, practice and the games, it really paid off."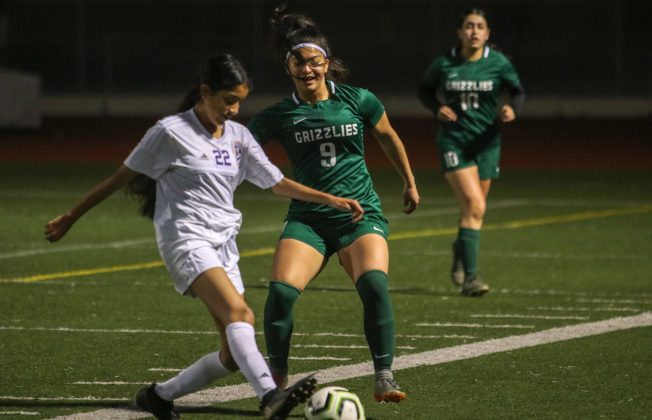 Castillo said she wasn't expecting to be recognized as the division's best player. Instead, she said she was striving to make the all-league first team, at the least.
Pajaro Valley coach Cesar Padilla said prior to the beginning of the season they set some goals for Castillo. He believes she went above and beyond them.
"She earned it. She worked hard all season," he said.
Padilla said she's a humble player and always seems to put the team before anything else.
"She's a hard worker and eager to learn more," he said.
Padilla said that Castillo is one of the most physical players he's coached. Plus, he mentioned she has a pretty mean shot and is capable of scoring in the blink of an eye.
"Jas can just go in and change the game in a matter of seconds," Padilla said.
Castillo also stepped up as a leader on a young team that featured just one senior, center back Gali Carrillo, who was also named to the PCAL Santa Lucia First Team.
Padilla noticed that Castillo mentored some of the younger players such as freshman center back Karla Leyva.
Leyva finished with a team-high 12 assists for the Grizzlies, who went 10-1-1 en route to a PCAL Santa Lucia championship.
"Both Karla and Gali were our two center backs and they were the untouchable players back in the defense," Padilla said.
Carrillo was also a mentor to Leyva, which Padilla said helped push the young star to the next level.
Other Grizzlies named to the all-league first team include junior Jocelyn Herrera along with freshman Kylie Montañez, who was second on the team in goals (10).
Junior Jacky Garcia along with freshmen Jocelyn Llamas and Katherine Burke, who made 83 saves as the starting goalkeeper, were named to the all-league second team.
Burke was also named to the Richard Chamberlin All-Sportsmanship Team.
Padilla said they surpassed all of the goals they set this season. The Grizzlies will lose just one player–Carrillo.
"Gali's a key player but we have a lot of girls that are going to step up," Padilla said.