ORANGE—It was the battle of David versus Goliath. The final showdown for the CIF Division V State Championship.
Mount Madonna, the small school nestled deep in the forest made up of 63 high school students, against University High, a juggernaut with about 1,500 students from the westside of Los Angeles.
The Wildcats student body section showed up with a cheering squad, a drumbeat core and a large pep squad to support the "home team" in a mach they were hoping would end with for a postgame celebration.
But the Hawks paid no attention to the theatrics as they defeated University in the state title match in four sets, 25-15, 20-25, 25-22, 25-8, on Saturday at Santiago Canyon College.
Senior Savannah Campbell had three aces and led the Hawks with 43 assists. She finished with a team-high 133 assists in the CIF NorCal playoffs and state championship game.
"We didn't let the band or the crowd shake us at all," Cambell said. "We talked about tunnel vision today and talked about focusing on our court, not focusing on what's on theirs."
The Hawks had a small, yet mighty crowd cheering them on and Cambell said they were able to feed off of them throughout the match.
"It's crazy that we did this and we've seen that (2007 state title) banner every single day in our gym and now we'll have our names on there," Cambell said.
It's the second CIF State Championship for the Hawks and first since 2007 under then coach Gabrielle Houston.
Current Mt. Madonna coach Erin Mitchell was a sophomore when the first group won a state title.
Going into Saturday's state title match, she said her message to the team was to stay present and take in every moment.
"I don't know if it worked or not but they handled the crowd really well in my opinion," Mitchell said.
Senior Paola Jacobs had 25 kills, seven digs and a pair of aces. She racked up a team-high 96 kills and also had 74 digs in the NorCal D-V playoffs and state title match.
Jacobs said she thought the team played well and she's glad this was her last match, which ended an illustrious high school career at Mt. Madonna.
"I was definitely a bit nervous," Jacobs said.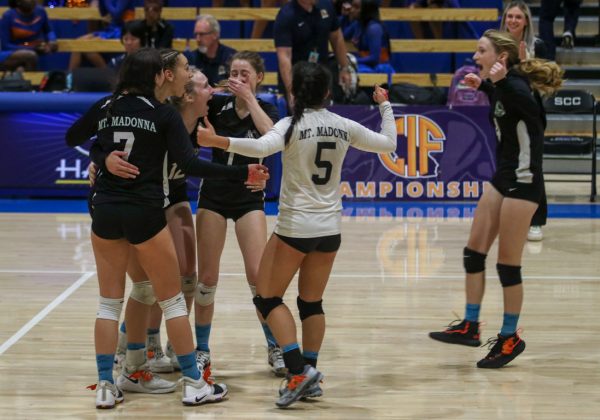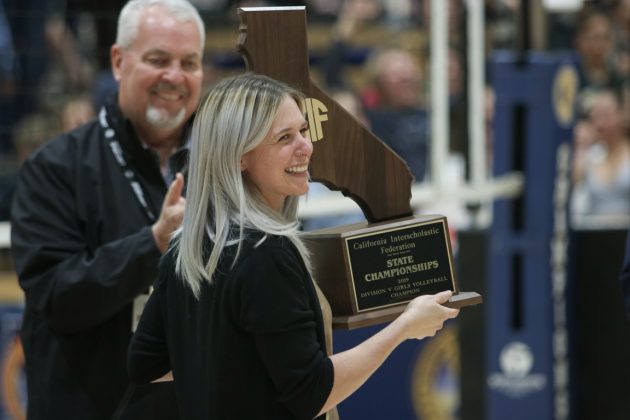 Senior Tabby Hardin-Zollo had two aces and 13 digs. Freshman Eve Willis had nine kills, while senior Anmei Dasbach-Prisk had 15 digs.
"I feel like this is something in the making for a long time," Dasbach-Prisk said.
In 2017, Dasbach-Prisk was a sophomore when the Hawks made a deep run in the NorCal playoffs but came up short against San Marin High in the D-V title match. They were eliminated in the quarterfinals last year against Shasta High.
Dasbach-Prisk said it planted the seed of setting the goal for this year's state title run.
The Hawks finished the regular season with a 20-9 overall record and placed fourth in the Santa Cruz Coast Athletic League, going 6-6 in league play.
They lost against Harbor in the league tournament semifinal but still clinched a Central Coast Section D-V playoff berth and received the top seed in the bracket.
The Hawks looked sharp from the get-go in the CCS opener and brought the "fire," which they displayed with a red and orange flame painted on their hands and a decal stapled on their shoes.
Cambell said it's a theme they've been playing off of to get them hyped up or pick themselves up during the match.
"It's kind of to reconnect physically in a way and to be focused," Cambell said.
The metaphor worked for Mt. Madonna. It won its CIF NorCal opener against Oakland Tech in three sets followed up with another sweep against Le Grand High in the second round.
It went on to beat Colfax High in four sets in the semifinal.
The Hawks defeated Nueva School in the CIF NorCal D-V championship.
The Hawks' win over the Mavericks netted their second straight CCS D-V championship and fourth title overall—2007, 2009, 2018, 2019.
University went into Saturday's match as the CIF SoCal D-V champion. It defeated top-seeded Mammoth High in five sets.
After an even start, the Hawks ran away with the first set helped out by a six-point serving run by sophomore Liana Kitchel. She had nine kills, 16 digs, five aces and served 27 of the team's 52 points earned.
The Hawks couldn't keep up the momentum in the second set and never seemed to catch up despite making a couple of small runs to extend the game.
However, Mt. Madonna came out firing in the third game and never gave up the lead. The Wildcats made a late-game run but Cambell's precision passing set up numerous kill opportunities for Jacobs, Kitchell and the rest of the team.
In the fourth, Kitchell went back to serve and ended her turn with 12-0 run to begin the set. The Hawks were finally playing like they expected to and Cambell said that's when they relit the fire.
"This could be our last game, let's make it the best game and we definitely did," Cambell said.
Kitchell went back to serve again at 23-8 and picked up the final two points to clinich the title.
"I feel like we knew we could do it because we hadn't played our best until we got to the fourth game," Mitchell said.
Mitchell admits it was nerve-racking in the first two sets but she was confident the Hawks would pull off the win, especially since they had yet to fully shine.
"We were going to find our fire, it just depended on which game it happened in," Mitchell said.
•••
Editor's Note:This article will be published in the Nov. 27 edition of The Pajaronian.