WATSONVILLE—The Pajaro Valley High wrestling team will go through some major growing pains this season as one of the youngest groups competing in the area.
There might not be a lot of experience on the roster sheet but the Grizzlies seem to be optimistic for the future and are ready to put in the work.
"This is a great group, lots of energy. They are willing to learn and they soak everything we teach them," said Pajaro Valley coach Bob Pursley.
Pursley, who began coaching at Harbor High School in the 1990s before making his way to Watsonville, is going into his fifth year with the program.
He mentioned the program continues to grow with numbers increasing almost every year. When he first started there were about six kids and now they average about 20 wrestlers.
The Grizzlies, however, have a roster of 14 primarily made up of freshmen and sophomores.
Pursley is still confident in the program's direction and already sees potential with this young group of 11 boys and three girls.
The longtime coach wants the youngsters to focus on growing their skill sets, yet he also sees them making a name for themselves down the road.
Pajaro Valley will compete in the Pacific Coast Athletic League Cypress Division, which is the lowest tier of the three divisions within the league.
"I really want to make it out of the league and grow strong as a team," he said. "We are young but we have lots of potential here. I want this team to really unlock all their skills."
Pursley believes some wrestlers have a shot of reaching championship rounds and winning some medals.
One of the top returners is sophomore Manny Juarez, who will compete in the 190-pound division this season.
"Manny has learned so much since starting wrestling last year, he works so hard and I am looking forward to seeing the results he puts up this year," Pursley said.
Last year, Juarez's season came to an abrupt end after a leg injury. He's ready to get back to work and make up for the missed time.
Juarez said although the team is young, he doesn't see it as an excuse and anticipates success for the program in the near future.
He realizes most of his teammates are still getting used to the grind but Juarez also knows there's plenty of potential. Especially with all of the progress they've made since the start of the season.
On top of improving his skills on the mat, Juarez wants to make a deep run at the Central Coast Section Championships in February.
"I'm pushing for finals in CCS," he said. "But I know it's not going to be easy, gotta keep pushing myself and work hard."
Jocelyn Santana, a sophomore, is a key returner for the Grizzlies girls' team.
Santana joined the team late last season and quickly made her way as one of the top wrestlers in the squad.
"Santana has lots of potential, she is super strong and such a fast learner. She is getting better each practice," Pursley said.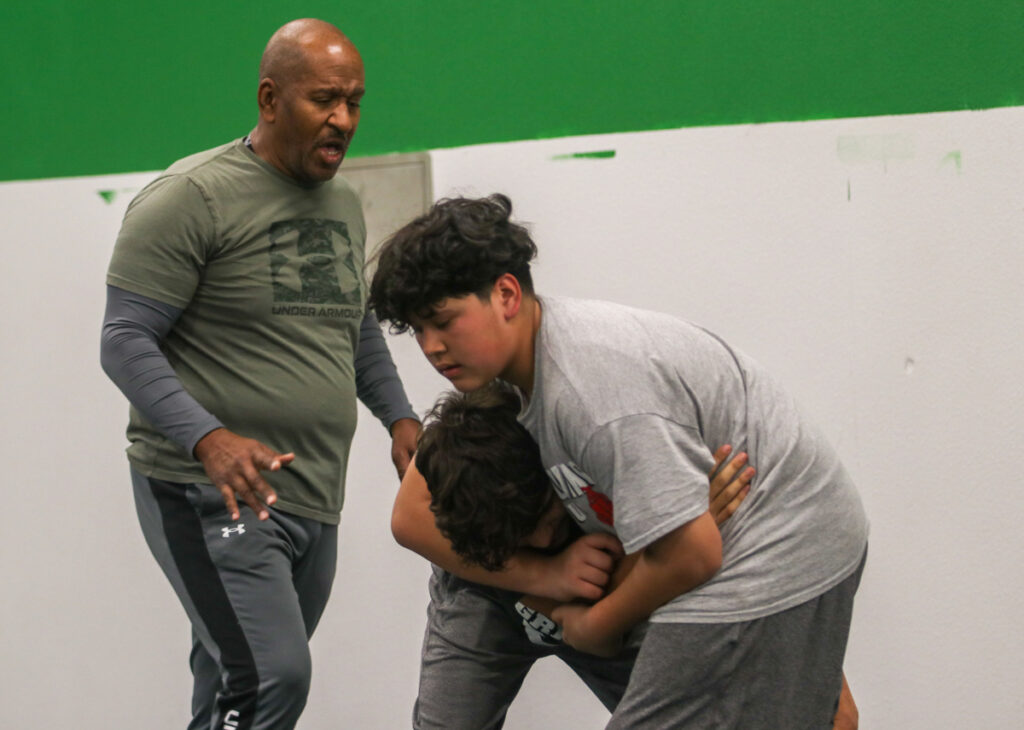 Santana said the goal is to push herself and become an all-around good wrestler for a shot of qualifying for the CCS Championships.
"I really want to improve all my skills. I am not where I want to be right now," she said. "Yes, I want to make CCS but I know what the skill level is there and I'm not ready yet."
Pursley also highlighted freshman Jose Perez and sophomore Brian Flores as other top wrestlers to look out for this season.
It'll be Perez's first year in the sport but Pursley noted his young stud already has so much raw talent.
Pursley expects to see great things from both Perez and Flores, who has so much natural talent.
"[Flores] makes it look so easy for him," Pursley said. "Watch out for him to make his name known this season."
Like many of the Grizzlies wrestlers, Flores and company will see how special the team can be. They are on the right path but they also have to trust the process.
"This team has so much potential and just wants to work to get better. Yes, I want to make CCS, but most importantly I really want everyone to improve and grow," Flores said.
The way the team works together will be a big key to the future success, Pursley noted.
"The chemistry has been great, they really push each other to get better," he said. "I love that they keep each other accountable and help each other out when they can."
Santana echoed Pursley's statement on team chemistry.
"Our team is great right now, we really work together and help each other out," she said. "We make sure no one is left behind."
Juarez emphasized the high energy during practices, which makes it all more enjoyable to attend and a motivational tool to help build on.
"All my teammates work hard and it gets me pumped up to go to practice, so much fun," he said.
Pajaro Valley will soon be competing for a PCAL Cypress Division crown along with cross-town rival St. Francis, Gonzales, Greenfield, Pacific Grove and Rancho San Juan.
Prior to league action, the Grizzlies begin the season competing in the Pat Lovell Holiday Classic at Aptos High School on Dec. 27-28 at 9am.
Pajaro Valley will begin league dual meet play at Gonzales High School on Jan. 16. The first round will be against Greenfield, followed by a matchup against Gonzales in the second round.
"This team will continue to work hard everyday and get ready for our first match. I'm really excited for them to show off what they got," Pursley said.