After a year of ups and downs, things are looking good for wineries in the Pajaro Valley. That is according to two long-standing wineries, both nestled in the Pleasant Valley area between Watsonville and Aptos.
Alfaro Family Vineyard-Winery was first established in 1997 by Richard and Mary Kay Alfaro. Richard Alfaro says that the winery has weathered the pandemic well—whenever they could be open, they were, and production kept moving forward despite the crisis and the devastating wildfires that hit California last year.
In addition, their vineyards are currently in "beautiful shape," he said, adding that they anticipate a good harvest later this year.
"We're doing fantastic," he said. "The local support has been overwhelming… We very much appreciate it. We're really excited about being able to open up more in the coming weeks."
On June 15, most Covid-19 restrictions across California were lifted. Previously closed businesses were allowed to reopen, vaccinated people do not have to wear masks in most places, and capacities can increase. Alfaro says that their team is 100% vaccinated, and are feeling comfortable with the rules changing.
Still, they plan to keep their wine tasting operation outdoors and they recommend reservations.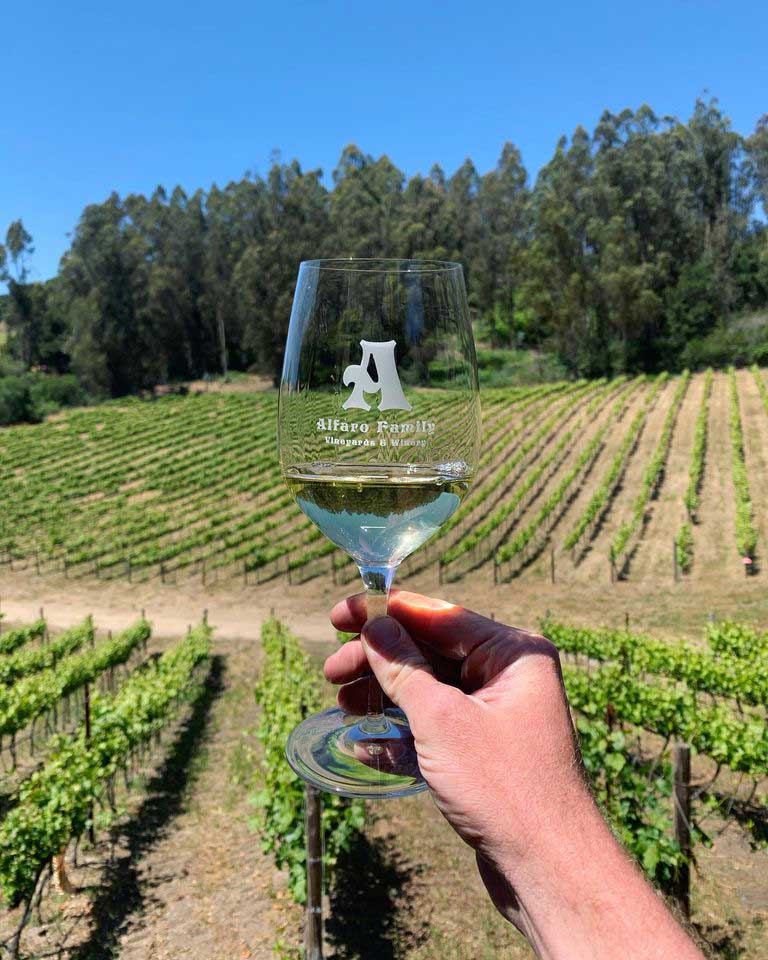 "From customer feedback… they seem to really like how we've been doing it," he said. "It's a better experience, more intimate. We thought, 'Let's just keep it this way!'"
Alfaro said they are also looking forward to having their food partners return. They had watched many of them struggle just to survive during the pandemic.
"That was probably the most traumatic part of the past year," he said. "It will be wonderful to see them coming back."
Not far from Alfaro Family Vineyard-Winery is Nicholson Vineyards (2800 Pleasant Valley Road). They too are looking forward to less regulations, said Marguerite Nicholson, who owns the winery with husband Brian.
"We're very excited about the Covid changes lifting," she said. "We have a beautiful outdoor space, with lots of shade… We want to invite more people to come by."
Like Alfaro, Nicholson's outdoor tasting and reservation system will remain. But in addition, Nicholson will soon start up its Summer Series, featuring more food options and live music. They have a special five-wine tasting flight available, and Marguerite Nicholson says they always have more wine options for people to enjoy based on their tastes.
Nicholson Vineyards just finished bottling their last cases of the season. Now, they are focusing on summer wine tasting as well as preparing for this year's harvest.
"The cellar will be quiet until we start harvest… we are anticipating a beautiful one this year," Marguerite Nicholson said. "The plants are very healthy."
Ryan Alfaro, son of Richard Alfaro and as of last year the winery's head winemaker, echoed that observation.
"We are really excited for this year's wine," he said. "The vines are extremely healthy. We didn't get lots of rain, so we had to water quite a bit. But the warm weather is good… as long as temperatures stay moderate. That was the main issue last year—those hot spells, going up into the 100s… and you never know when it's going to happen."
He added that last year, the winery went 100 percent estate, which means they now only work with grapes from vineyards they own and manage themselves.
"We've been trying to do that for years," he said. "2020 sort of kickstarted it… working close to home, having complete control."
Marguerite says that while the winery is their secondary business, it's what they most love.
"We have been blessed with the opportunity to be stewards of this land for almost 30 years," she said. "We raised our children here, now our grandkids are running around… It's just something that we love to do."
***
Wine trail
420 Hames Road, Watsonville
Estate-grown and bottled Chardonnay, Pinot Noir, Merlot, Syrah and Gruner Veltliner reflect the unique terroir of the Santa Cruz Mountains appellation. Tasting room is located onsite for outdoor tasting bars with picnicking areas overlooking the vines. Enjoy a flight of six-plus wines, complimentary for wine club members.
375 Falcon View Terrace, Watsonville
Based in the outskirts of Watsonville, Anatum Winery carefully selects fruit from vineyards that best represent the characteristics of California's finest grape growing regions. Reservations are recommended, and very appreciated. Walk-ins will be seated as physical distancing requirements and space allow.
Deer Park Ranch | Lester Estate Wines
1950 Pleasant Valley Road, Aptos
Well-known for producing a variety of expressions of Pinot Noir, Syrah and Chardonnay from a single plot of land, Deer Park Ranch vines have produced some of Santa Cruz Mountains' most desired and award-winning wines. Today, these grapes are the sole source of Lester Estate Wines. Tasting by appointment only.
2901 Freedom Blvd., Corralitos
El Vaquero is a family owned and operated winery in Corralitos that specializes in producing small lot single vineyard designate wines from Corralitos, Santa Cruz Mountains and neighboring appellations. An open air tasting patio serves more than 20 wines by the taster bottle, glass and bottle. Live music on select nights.
135 Aviation Way #16, Watsonville
Integrity Wines creates small-batch wines, hand-crafted and carefully sourced from vineyards across California. Featuring reds, white and rose, and known for their Chardonnays and Pinto Grigios. Now offering virtual, interactive home tasting experiences and in-person tasting at Integrity's Watsonville location. Wine ships to all 40 states.
2800 Pleasant Valley Road, Aptos
Established in 2004, Nicholson Vineyards produces 1,500 to 2,000 cases annually, concentrating its small lot production on the use of fruit from the estate and other special vineyards primarily in the Central Coast Region. Currently holding outdoor wine tasting on weekends. Reservations recommended.
550 Hazel Dell Road, Corralitos
Windy Oaks aims to produce world-class Pinot Noir that faithfully represents its unique vineyard terroir, with no compromises. The winemaking begins in its vineyards, which they farm in a fully sustainable way, using organic and biodynamic practices. Open noon to 5 pm, for tastings every weekend, and Fridays, 1-5 pm. Reservations essential.