A 40-foot Sequoia tree rolled into downtown Watsonville Tuesday morning as ordered by the City of Watsonville as the centerpiece of its annual holiday celebrations.
The tree was lifted off a flatbed truck and hoisted into place in the plaza with the aid of a large forklift and stationed in the plaza.
A crew from the Christmas Light Pros of Monterey and Santa Cruz has been busy over the past few days draping strands of colorful electric lights across the landscaping, bandstand and the newly arrived tree.
"We're glad to be kicking off the holiday season which gets underway with the Holiday Tree Lighting on November 17 from 5 to 6pm," said Jessica Beebe, recreation supervisor at Watsonville Parks & Community Services. "The mayor will be there to welcome everyone and Santa will be our special guest."
While visiting the plaza event, Santa and crew will remind folks of the annual Santa Tour on Dec. 13-15, where Santa and his elves and others tour area schools and parks with their mobile musical performances.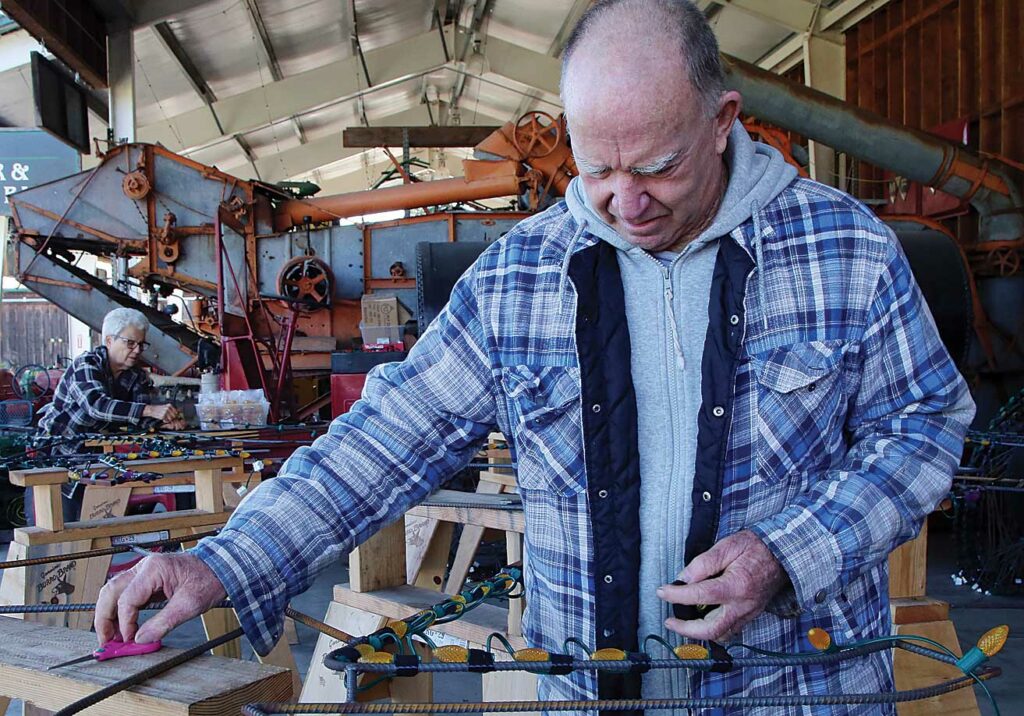 Meanwhile, preparations are also in full stride at the Santa Cruz County Fairgrounds for the fourth annual Holiday Lights drive-thru, which opens Nov. 24.
Event coordinator Dave Kegebein said a bigger and better show of dazzling lights and displays will welcome visitors. Lighted figures this year include tulips and poinsettias, large snails, a new set of reindeer, Santa's Workshop, gingerbread house and pink flamingos.
While the opening years saw attendance around 6,000 people, the last couple years topped out around 10,000.
Ron Haedicke, marketing director for the Fairgrounds Foundation, said, "The drive-thru will be a longer route this year—making it a 3/4-mile light experience with two million lights."
Visitors can tune in KDUB (FM 99.9 Spanish) and KAPU (FM 104.7 English) on their radio for accompanying holiday tunes.
On Dec. 1 and 2, the Fairgrounds Foundation will also host the Holiday Craft and Gift Fair, now in its 46th year. There will be 125 vendors selling unique and handmade gifts, everything from clothes, candles and food and candy.
"Fair-goers can keep up their shopping energy with a home cooked dinner and warm apple pie," Haedicke said.
All proceeds benefit the Santa Cruz County Fairgrounds Foundation and the Agricultural History Project.
Holidays Lights will run Nov. 24-Dec. 24 on Fridays, Saturdays and Sundays. Dec. 1 and 2 are walk-through-only during the Craft and Gift Fair. A ticket to the event includes the walk-through experience. (Note: There is no drive-thru on walk through evenings).
For information and tickets, visit fairgrounds-foundation.org.