WATSONVILLE—The Watsonville High School athletics department announced this week that Anthony Valdivia was named the new head coach of the varsity football program.
Valdivia, a Watsonville alumnus and former player from 2001-04, returns to the team after a 15-year absence.
"It's my school," he said "It's where I grew up wanting to play football from flag football to Pop Warner to being in high school. We're Watsonville High with black and gold in our blood."
Valdivia, 32, spent the past three seasons at St. Francis High School in Watsonville as an assistant offensive coach for the varsity program. He also served as Dean of Students and taught social studies at the private school on California's Central Coast.
He also spent time at Aptos High as the JV coach where he won three Santa Cruz Coast Athletic League championships, and learned the ins and outs of the Wing-T offense under coach Randy Blankenship, who has won four Central Coast Section titles with the Mariners.
Valdivia's first stint with the Wildcatz came in 2005-11 as head coach of the JV team. He was promoted to the varsity program during his last three seasons, and helped produce one of the top offenses in Santa Cruz County history during the 2009-10 season, the last time Watsonville won a league crown.
Since then, he's yearned to return to the sidelines that he once roamed as a coach and as a player.
"Ever since then it's always been the dream to return to Watsonville High School and to be their head football coach," Valdivia said.
Watsonville High principal Elaine Legorreta said they interviewed candidates from as far away as Sacramento. But she felt like Valdivia had the entire package when it comes to being a head coach.
"Anthony's been in our sites all along because we saw him growing over time," she said. "We heard what he was doing at Aptos High School and he was consistent with St. Francis."
Legorreta said one of the major qualities they looked for was a coach that could recruit and build from the freshman level up.
Valdivia will be a teacher at Watsonville High but it's still not yet determined what class he'll be teaching.
"We were concerned about somebody who was just as focused on classroom achievement, being a scholar, as well as developing people to be athletes," Legorreta said.
Legorreta said she remembers Valdivia being able to handle tough situations as a young coach at Watsonville.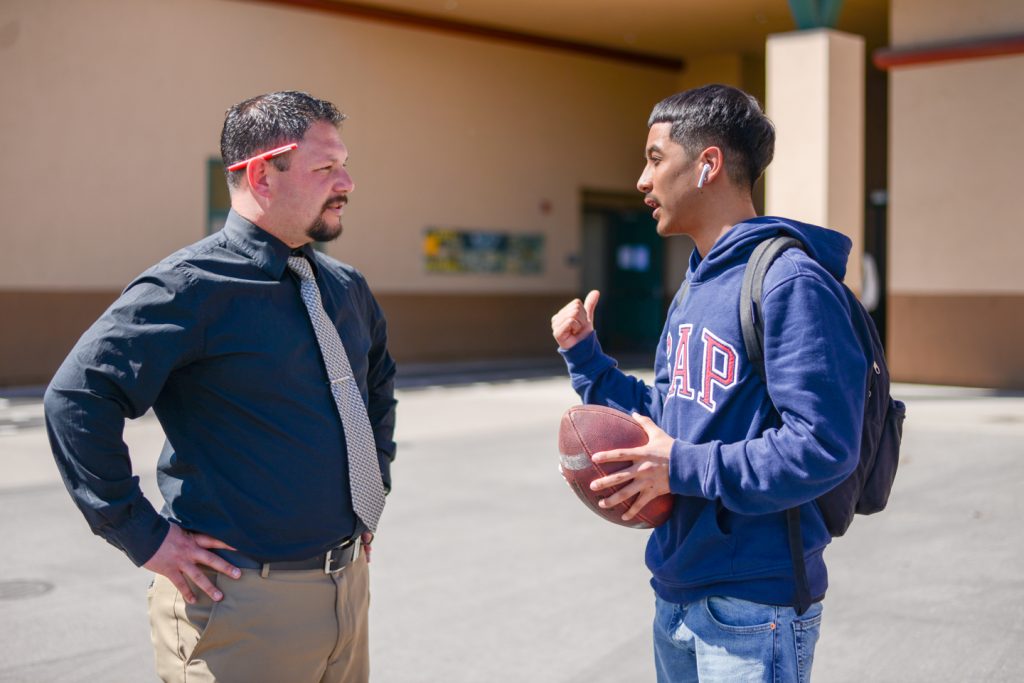 Valdivia said it's the perfect time to take over the program, especially after the Wildcatz closed out the 2019 season with a big-time win against longtime rival Santa Cruz High.
Valdivia took over for Ron Myers, who retired after 47 years of coaching, including two stints at Watsonville.
Myers spent 13 seasons as Watsonville's head coach. He previously coached the Wildcatz from 1984-90 and returned in 2014.
During his return, Myers went 24-36 overall and 12-24 in Pacific Coast Athletic League and the now defunct Monterey Bay League.
Valdivia acknowledged the job Myers did of building the program back from where it used to be. Myers pumped up the number of kids participating by the dozens and helped convince the Pajaro Valley Unified School District to invest in new pads, helmets and equipment to make the game safer.
"Now I'm super excited to take it over and try my best to guide them over the next hump and get us some more championships in the gym again," Valdvidia said.
The Wildcatz last year finished with a 3-7 overall record and they went 1-5 in Pacific Coast Athletic League Cypress Division play. They had enough talent to beat Santa Cruz, the CCS Division V champ.
The first order of business is hitting the film room to evaluate the roster that should be senior heavy once again.
Valdivia said assistant coach Rene Muñoz is keeping the players trained in the weight room, which they believe is crucial.
"The weight room is king," Valdivia said.
The current weight lifting class has 75 students and Valdivia believes that is a phenomenal sign.
He said it's a great opportunity to finish the job they started 15 years ago and it's a dream come true for him. But he mentioned the hard work has just begun.
"It's not a celebratory thing for me at this moment in time," he said. "It's permission to go ahead and start working…At the end of the day, with all due respect, it has nothing to do with me and it has everything to do with our football players."