WATSONVILLE—A new 50-by-54-foot colorful outdoor mural of a humpback whale was recently completed at Marinovich Community Center on Second Street.
Painted on the blacktop of the basketball court, work began on Oct. 25 by Watsonville artists Augie WK and Jessica Carmen.
"Once we were done and saw the overhead drone photos of the mural I was happy to see it turned out exactly as I wanted," WK said.
The mural, says Jessica Evanjelista, who helped raise funds for the mural's creation, will help educate residents of how the Pajaro River is a direct conduit to the Monterey Bay.
"Actions, behaviors and pollutants that Watsonville residents and businesses allow to enter the watershed end up very quickly in the Monterey Bay," she said.
WK said he used around six gallons of primer, six gallons of pavement conditioner and another six gallons of house paint. All that remains is an application of a protective sealer, weather permitting.
"I think public art should be daring," WK said. "While I am happy the city chose me to do this mural, I think they have a narrow perspective about what murals can be painted around the city. As a Chicano muralist I think we need to go beyond repeating the theme of Latinos always working in agriculture; it's like we're stuck in that; there's so much more."
The mural, WK says, not only highlights ocean conservation but also the migratory path the whales take along the California coast and into Mexico.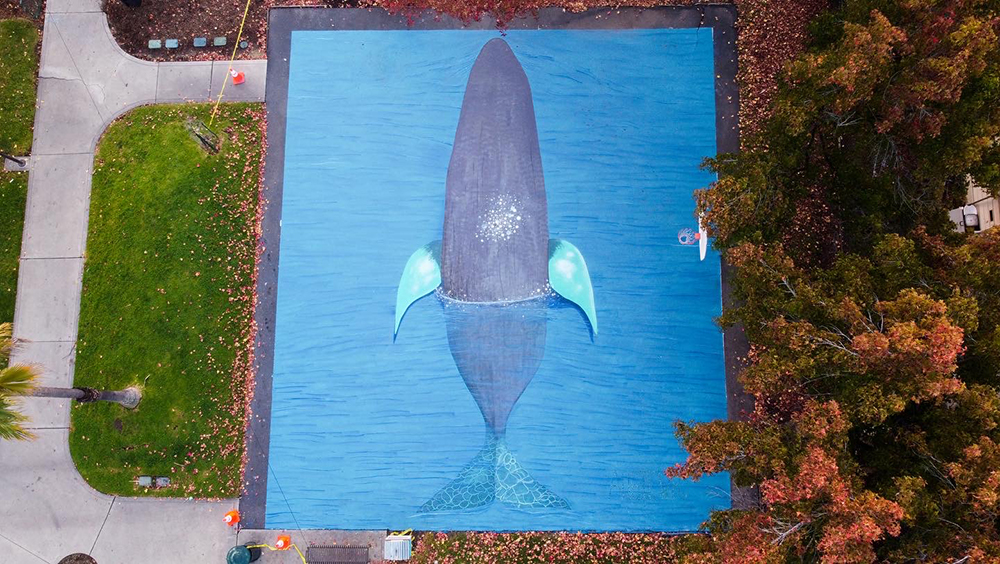 ---
To see more art from Augie WK, visit his Instagram page: @augiewk.