WATSONVILLE—Watsonville High junior Danisha Nunez was laser focused going into her 106-pound division title match at last week's CCS Wrestling Championships at Watsonville High.
But an attempt to overthrow Evergreen Valley junior Sabrina Tran backfired on her. In a blink of an eye, Nunez was pinned in 27 seconds, leaving her stunned and disappointed as she stormed off the mat in the championship Feb. 19.
Nunez placed second at the two-day tournament, but she still earned a state berth to this week's CIF State Championships at Mechanics Bank Arena in Bakersfield.
The top four girls in each of the 14 weight divisions earned a state berth to the tournament, which begins Thursday morning at 9am.
Other local athletes that qualified for a state berth include Aptos High sophomore Janie Houser, who won the 121-pound third place match in a 10-8 decision over Del Mar High sophomore Issa Smith.
North Monterey County High sophomore Mariela Ramirez-Paredes (106 pounds) was victorious in her third place match after a 2-1 tiebreaker win over Alvarez High senior Mirna Ramirez.
Scotts Valley High sophomore Danica Kelley punched her ticket to the state tournament after she took second in the 116-pound division finals. She lost in a 4-1 decision to Westmont High senior Sara Vela.
Joining her is teammate Kayse Martinovsky (131 pounds), a sophomore, who placed fourth after a loss to Los Gatos senior Veloria Pannell in their third place match.
The CIF State Championships will be held at Mechanics Bank Arena in Bakersfield. The first session for girls begins Thursday at 9am and the championships are set for Saturday at 6:15pm.
For more information visit https://www.cifstate.org/sports/wrestling/wr_champ_info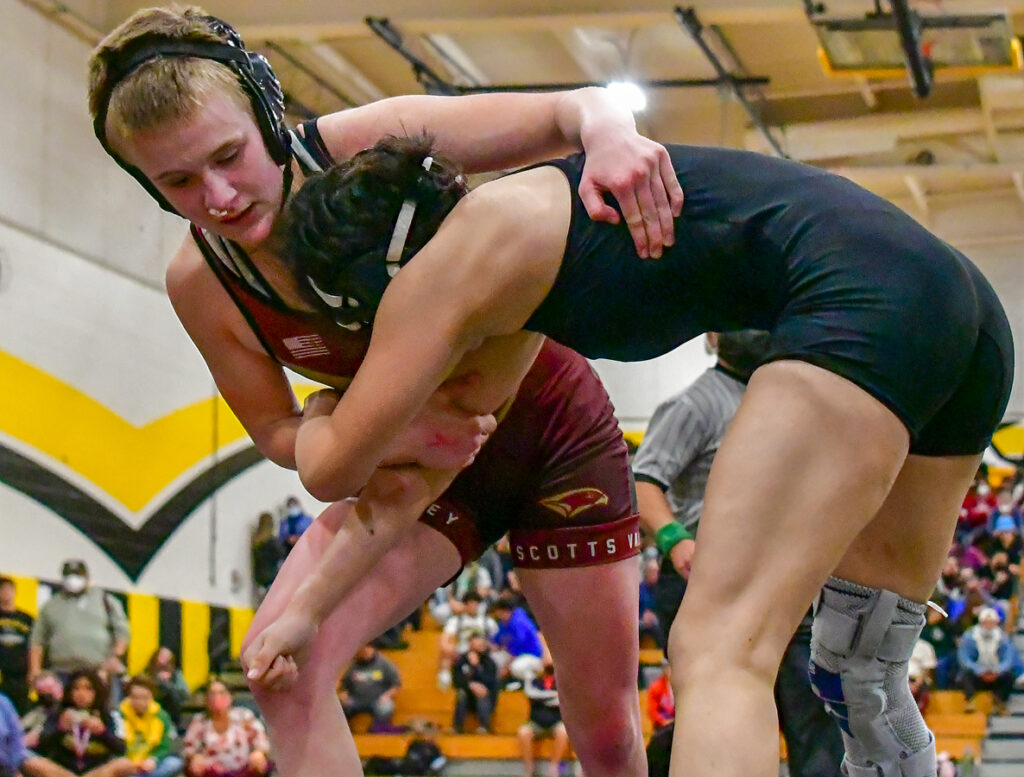 Boys wrestling
Vicente Mosqueda misses weight at CCS: Watsonville High senior Vicente Mosqueda was the No. 3 seed going into last week's CCS Wrestling Championships, which was hosted inside his school's gymnasium.
But he never got the chance to perform in his hometown after he failed to make weight in the 126-pound division. He took fifth in CCS as a sophomore, followed by an SCCAL title during his junior season and finally a Pacific Coast Athletic League Mission Division title Feb. 9.
Aptos High's Andrew Acevedo earned the No. 5 seed and won his opener against Palma High's Francisco Barragan. However, he lost two-straight matches that eliminated him reaching at least a spot in the third place match.
Gilroy High finished with a winning score of 312.5 for a 19th consecutive CCS team title. Los Gatos placed second (217), followed by Saint Francis (167.5) in third, Fremont (142.5) in fourth and Palma (115.5) to round off the top-5. Aptos placed 31st with a score of 29.
Girls soccer
Salinas 2, Monte Vista Christian 0: The Mustangs' season came to an end after losing to the Cowboys in their CCS D-IV semifinals match Wednesday evening. 
Elizabeth Pozas had a goal and an assist for Salinas, and Susana Juarez added a goal to extend their lead. Taylor Freitas was credited with an assist, while Veronica Borowski produced her 10th shutout this season for the Cowboys.
MVC, runner-up in the Pacific Coast Athletic League's Mission Division, finished the season with a 6-3-1 record in league play and an 11-8-3 overall record.
Girls basketball
Aptos 60, Saratoga 49: Freshman guard Miricole Baity finished with a team-high 23 points including six 3-pointers for the Mariners in Tuesday's CCS D-III quarterfinals win against the No. 5 seeded Falcons.
Baity also had seven rebounds and a pair of assists for No. 4 Aptos, and senior Erin Schmidt added nine points and five rebounds.
Senior forward/guard Jasmine Ackerman had an all-around game with nine points, six assists, four rebounds and three steals for Aptos,
The Mariners (16-9) will play at No. 1 Capuchino High (14-11), which placed fourth in the Peninsula Athletic League's South Division.